With iOS 13.2 (13.2.1 for HomePod), it's easier than ever to hand off music or a phone call from your iPhone to your HomePod. Such handoffs were possible before iOS 13.2.1, but they were a bit of a hassle (as we'll see below). Now, though, Apple provides a "quick way" and a "long way" of making these handoffs. Here's how to do both.
The quick way
If your phone is playing any kind of AirPlay-compatible media—such as a song on Apple Music or Spotify, a podcast, a YouTube video, a Netflix show, or even a phone call—you simply need to hold your iPhone around an inch away from your HomePod. After a one-second delay, the audio track will jump from your phone and start playing on the HomePod. That's all there is to it.
And this works both ways, too! If you'd like to hand over your music or phone call from the HomePod to your iPhone, simply bring your iPhone to within an inch of your HomePod and the audio will switch back over. Piece o' cake.
In both cases, you'll see a notification like the one below pop up on your iPhone if the transfer was successful.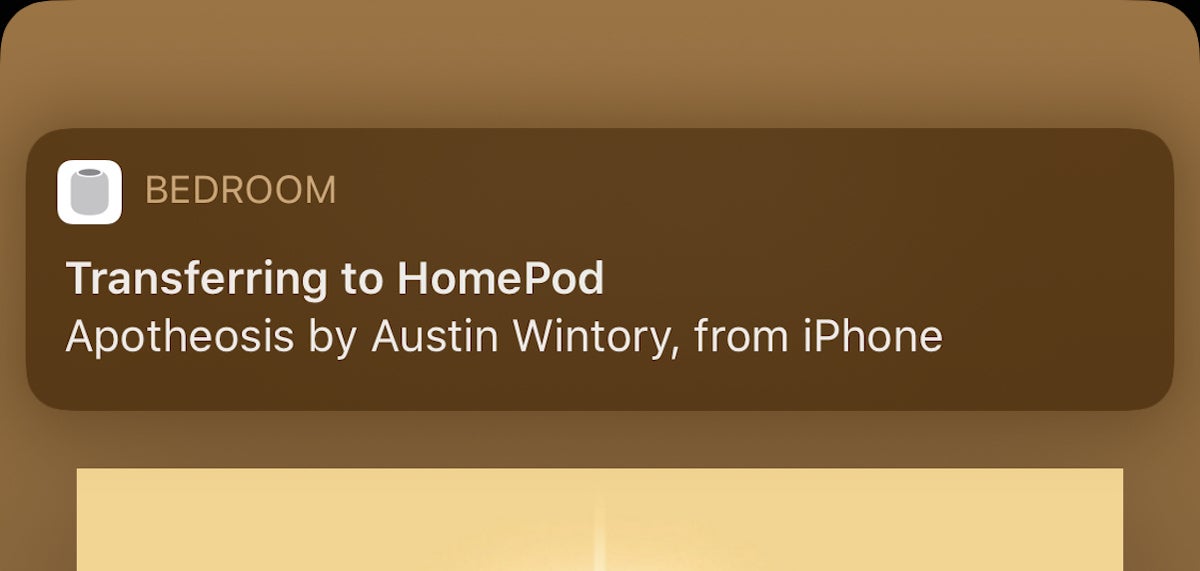 The long way
Here's how you had to do these handoffs before iOS 13.2, and this method is still handy if you're, oh, listening to music on your iPhone from the couch and don't want to make the hike over to the HomePod.
First, make sure you have AirPlay 2-compatible audio playing—again, be it an Apple Music or Spotify song, a movie from the TV app. (The steps are slightly different for a phone call, so we've put the direction for that below.)

You could go a number of ways from here. For simplicity's sake, though, open your iPhone's Control Center and then look at the audio playing in the box in the upper right-hand corner. If your audio is playing in that box, you can transfer it with AirPlay.

Press the AirPlay button in the upper right-hand corner of this box. It looks like a triangle intersecting three rings of concentric circles.

Another menu will pop up showing the various AirPlay device you can beam your audio to. Toggle the circle next to your HomePod's name.

The audio will immediately start playing on your HomePod. You can also pause your audio or adjust the volume from this menu.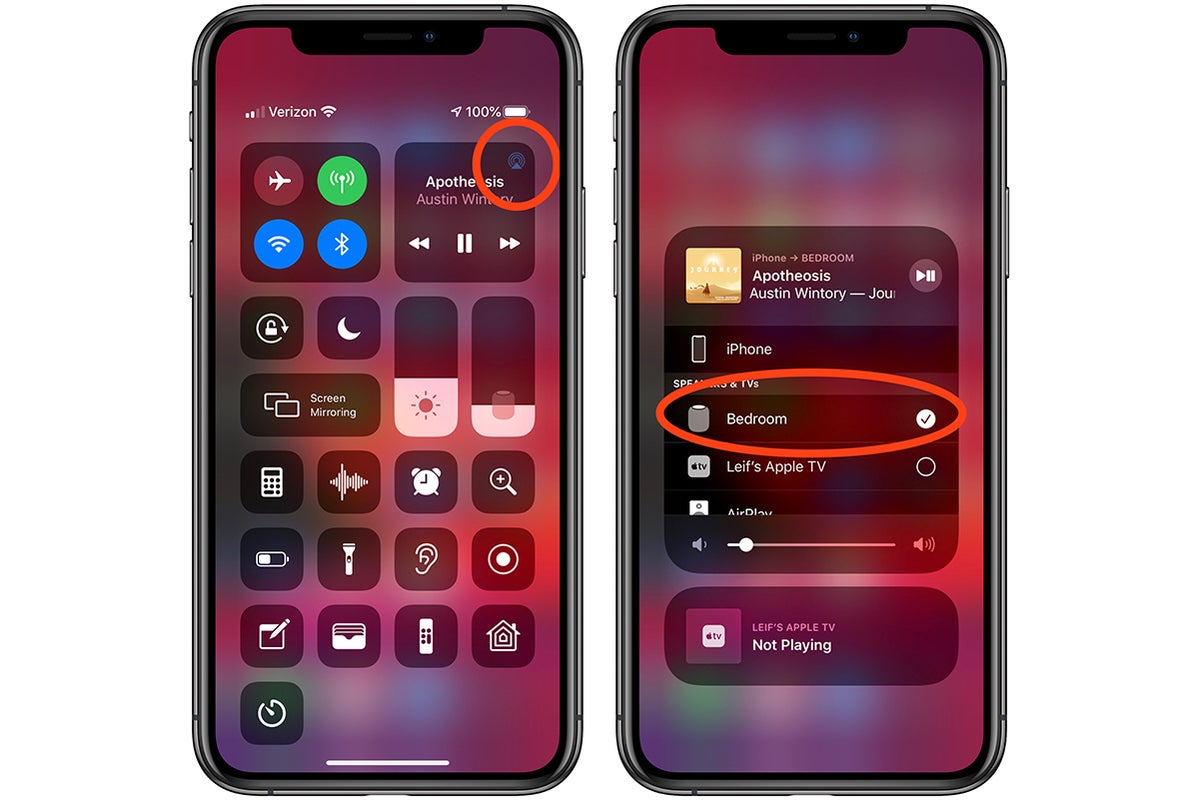 To switch your audio back over to the iPhone, simply toggle off the checkbox next to your HomePod's name. The audio should switch back over to your iPhone (and, depending on what you're listening to, it may even pause).
To manually hand off a phone call, press the Audio button that appears in the Phone app's interface once you've started making your call. You'll then see a a list of the audio devices you can beam the call to. Select your HomePod, and you'll be good to go. To send it back to your phone, just repeast the process and select your iPhone.
Troubleshooting
These steps should work by default, but if they don't, make sure both your iPhone and HomePod are running at least iOS 13.2.
If they are (and you're still having trouble), make sure Handoff is turned on by going to Settings > General > AirPlay & Handoff on your iPhone and checking to see if Handoff and Transfer to HomePod are toggled on.