At a Glance
Expert's Rating
Pros
Great sound
Great battery life
Good fit and options
Decent on-board microphone
Cons
Large and heavy
Huge charging case with a terrible speaker
Clunky touch controls
Poor build quality
Our Verdict
Phiaton's Bolt BT 700 true wireless earbuds last all day, but most everything else about them is noticeably worse than less-expensive options.
Best Prices Today: Phiaton Bolt BT 700
I can imagine an alternate world where Phiaton's Bolt BT 700 earbuds came close to greatness. Priced at $20 less than Apple's AirPods, these $140 true wireless earbuds could have undercut Apple on price and still offer users a lot of the same sleek features.
This is not that world. Despite onboard batteries that dramatically overperformed their advertised limits, the BT 700s are noticeably larger, heavier, and worse-sounding than other earbud options that cost much less. Worst of all is the combination charging case/bluetooth speaker, which sounds terrible and dramatically reduces portability.
Design
By the standards of the miniature true wireless earbud ecosystem, the BT 700s are pretty hefty. Each earbud is measures 24mm x 19mm x 16mm and weighs in at 6.5 grams. This is about twice as heavy as Apple AirPods and about 25% thicker than similar earbuds. The BT 700s come in white and black options, and they're big enough that either option will draw some attention.
All that extra surface area is used attractively, with Phiaton's swirling logo showing prominently and a flat, shiny dollop of color in my ears. They stood out enough that I got a few positive comments during my time with the BT 700s.
That said, after only a week of wear I started to notice the porous inner finish of the earbuds was already starting to look a bit messy. I don't have particularly filthy ears (I hope) and the earbud tips themselves stayed clean. From bluish-gray look of the inner surface where my hands handle the earbuds, I'd have thought they spent several days rubbing freely inside of a pair of jeans. I worry that the white edition won't hold up to extended daily use.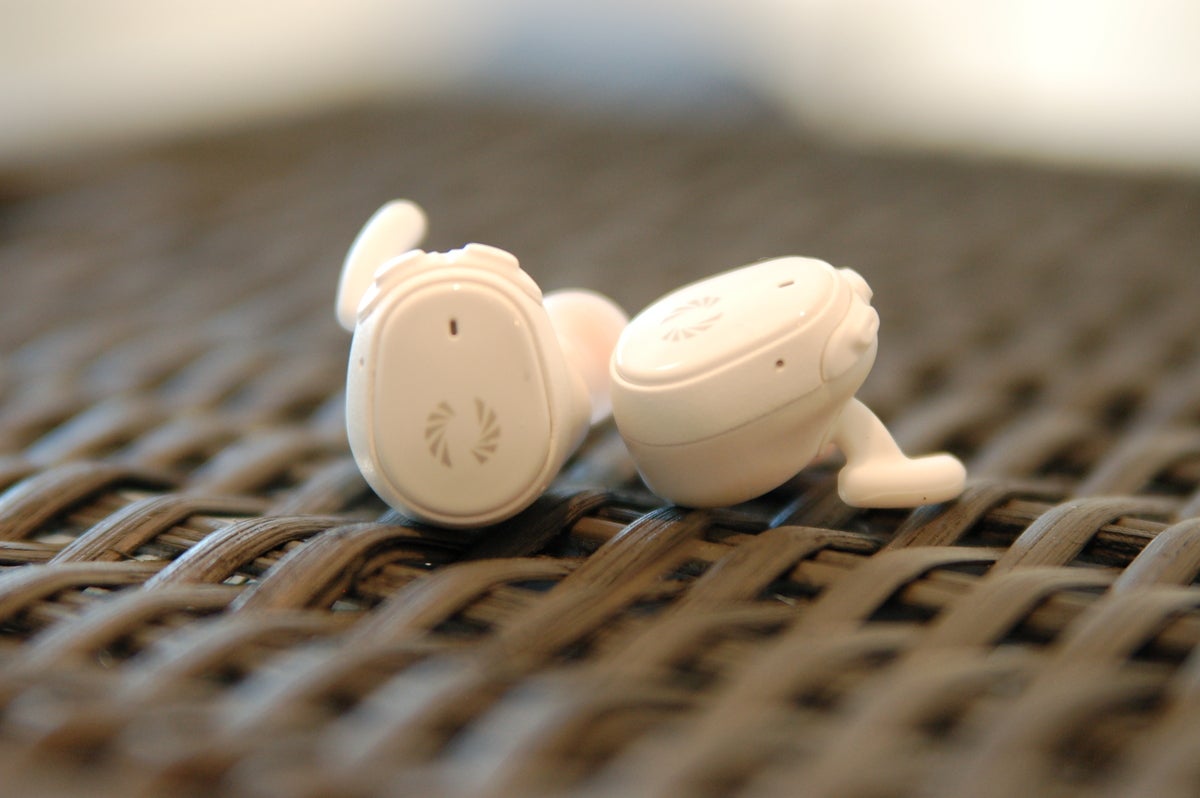 I was regularly frustrated by the touch-capacitive button on the main face of each earbud. It turns out that I have trouble finding an invisible, seamless, touch-sensitive spot on the side of my head. Toward the end of my week with the BT 700s, I got pretty good at laying my hand along my jawbone, cupping my chin, and lining up my finger with the touch-button—but that's way harder than it should be.
The capacitive buttons also caused problems when I took the earbuds out of my ears. If someone started talking to me on the street, for example, I usually paused my music and pulled out both earbuds, holding them in my hand. Most of the time, I returned the BT 700s to my ears to find that a random movement of my fingers or brush of my skin had been felt as a purposeful double-tap, and my music (or worse, my audiobook or podcast) had been carrying on without me.
Double-tapping the left earbud toggles an ambient sound feature, piping in a bit of the outside world. This should be an important safety feature—headphones blocking noise from traffic or other pedestrians is often blamed for collisions—but I found it impossible to use. The slightest air movement from air conditioning or a breeze filled the BT 700s with static noise, and even simple sounds like jangling a set of keys were distorted enough to be unidentifiable. The same pausing/un-pausing problems with the capacitive button also toggled the ambient sound feature on randomly until I really started to hate it.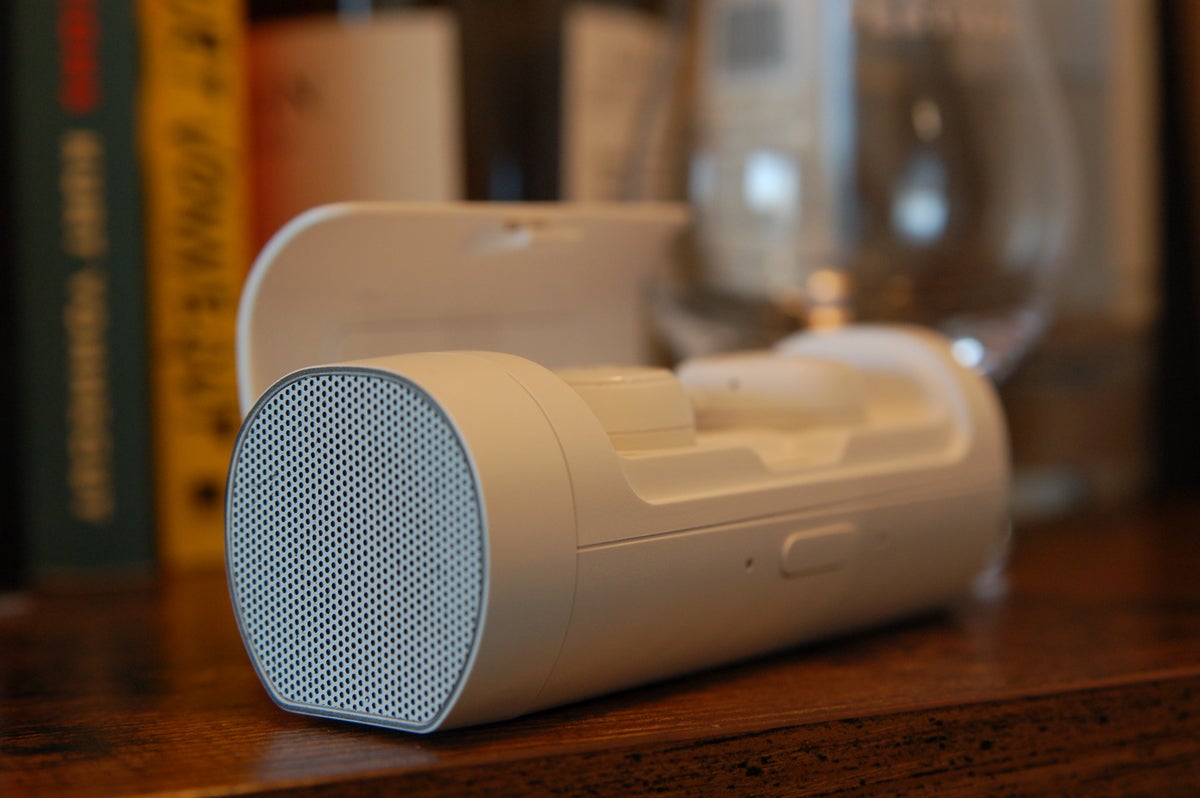 The charging case for the BT 700s is needlessly bulky: at almost four inches long and 1.5" thick, it is easily twice as long and thick as the Apple AirPods case; at 93 grams, it's almost three times as heavy. At least some of this size and weight comes from the charging case's on-board bluetooth speaker, a feature I did not like at all. The speaker is tinny and adds a fair amount of background noise and static to any track; The onboard speaker any modern smartphone performs much better.
This much extra size and weight going toward a speaker as bad as this one is a real shame, and a serious problem for earbuds that specialize in portability. I will never wear pants baggy enough to fit the BT 700 charging case in my pocket; it's so boxy and hard-edged that it could even be uncomfortable in some jackets.
Battery and Fit
The brightest spot of my week with the BT 700s was in observing its battery life, which regularly outperformed Phiaton's estimates. I expected to get about 5 hours of constant playtime out of the BT 700s, but my tests wrung between 6 and 7 hours out of them several times. I'm not sure where the discrepancy comes from, but it was a nice surprise. The BT 700s lasted just shy of an entire work day on several occasions. Pausing for lunch and a few meetings was more than enough to make the BT 700s last all day long.
Whatever its other faults, the case also charged the BT 700s pretty quickly, taking them from empty to full charge in a couple of hours. With 750mAh on-board to top up the BT 700s three times each, the case provides a lot of battery backup power. The case also has a standby time of 220 hours, which is enough for several days away from a charger under heavy use.
I was also impressed by the fit of the BT 700s. They come with four tip sizes (XS, S, M, L) that helped me find exactly the right size—for me, the small worked best. An extra silicone wing juts forward off of the body of the BT 700s, helping provide a little downward pressure and keep them in place. Largely thanks to this extra wing, I think, I never had trouble with the extra weight and size of the earbuds—even at the gym or on a trail run through the woods.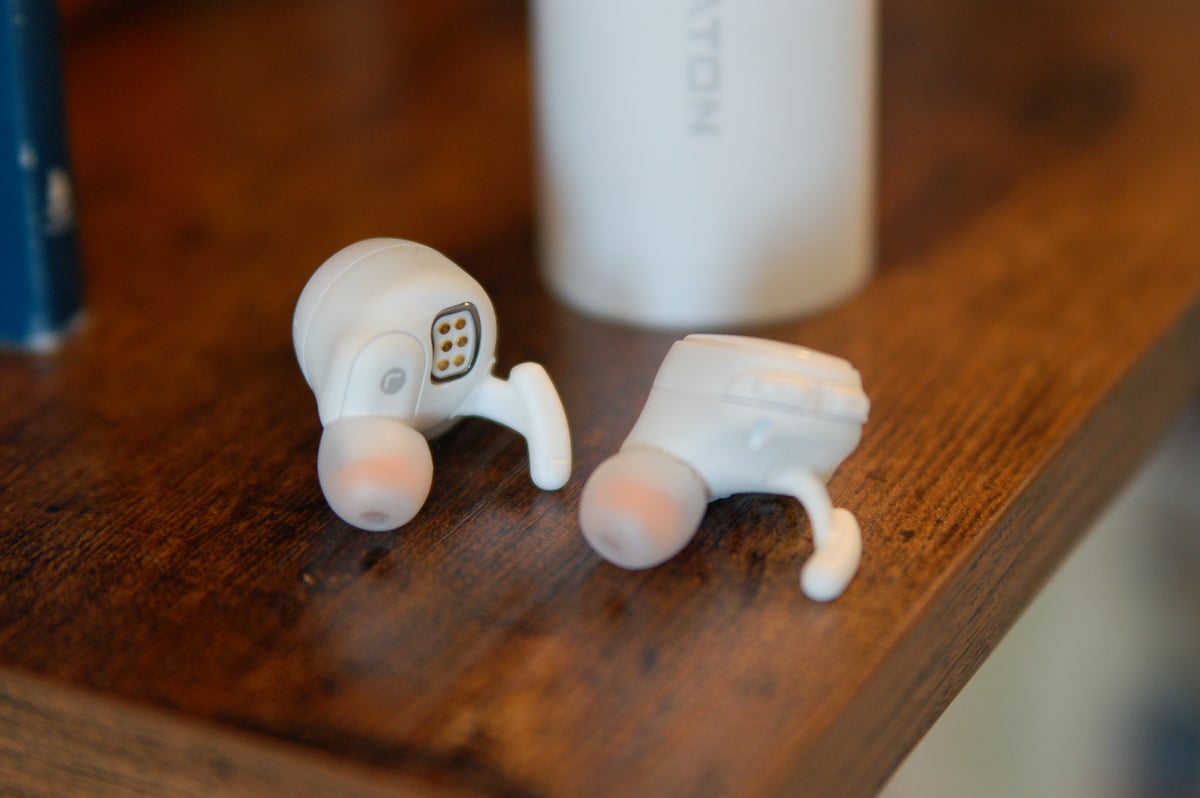 Sound
I had really mixed feelings about the sound output of the BT 700s. On the one hand, it's very good. It reproduces rich bass and bright treble, and it doesn't have any soft spots where the sounds gets muddy or overly bright. That said, I don't think it's as crisp or clean as other true wireless earbuds, and it's not noticeably better than some options that are much, much cheaper.
In a song like "Under Pressure" by Queen and David Bowie, the BT 700s reproduced the thump of the bass drums perfectly, and everything was clear enough to pick up little rings of resonance quiet guitars and amps during pauses for Mercury and Bowie to show off their voices.
I also played "Virus" by Deltron 3030. It takes a good pair of headphones to reproduce both the low notes of a drum track and the treble notes of a rapper like Deltron, and the BT 700s did great.
My biggest disappointment during my tests of the BT 700s came when I ran an aggressive bass shaker test and found that both earbuds picked up rattles and squeaks under heavy stress. This is a sign of poor build quality, components bouncing loose that might one day break completely and trash these $140 earbuds. I recently reviewed a pair of entry-level Monoprice earbuds for $50 that sounded rock-solid through the exact same test.
Bottom Line
Once true wireless earbuds pass a certain level of audio fidelity, they sound more or less the same for everyone but the most detail-obsessed audiophile. To justify higher prices, I think earbuds need to be exceptionally well designed, user-friendly, and have long-lasting batteries. The BT 700s have great batteries, but everything else about them falls below my expectations for this price range.
Best Prices Today: Phiaton Bolt BT 700