The iPad isn't quite as infamous for shattered screens as the iPhone, but that's no reason to let Apple's pricey tablet face the world naked. Instead, shield Apple's 10.2-inch iPad with one of these cases, which are the most promising ones we've seen since Apple announced the tablet in September.
We've had a chance to try out some of them, but we're still waiting on others. Once we've had a chance to try out a few more, we'll transform this into a "best of" list and update it as we receive other good models down the road.
For now, though, let's take a look at what we have to work with. Regardless of whether you want a keyboard case or simply something to keep that glassy display from kissing the pavement, we're sure you'll find something to like here.
Logitech Slim Folio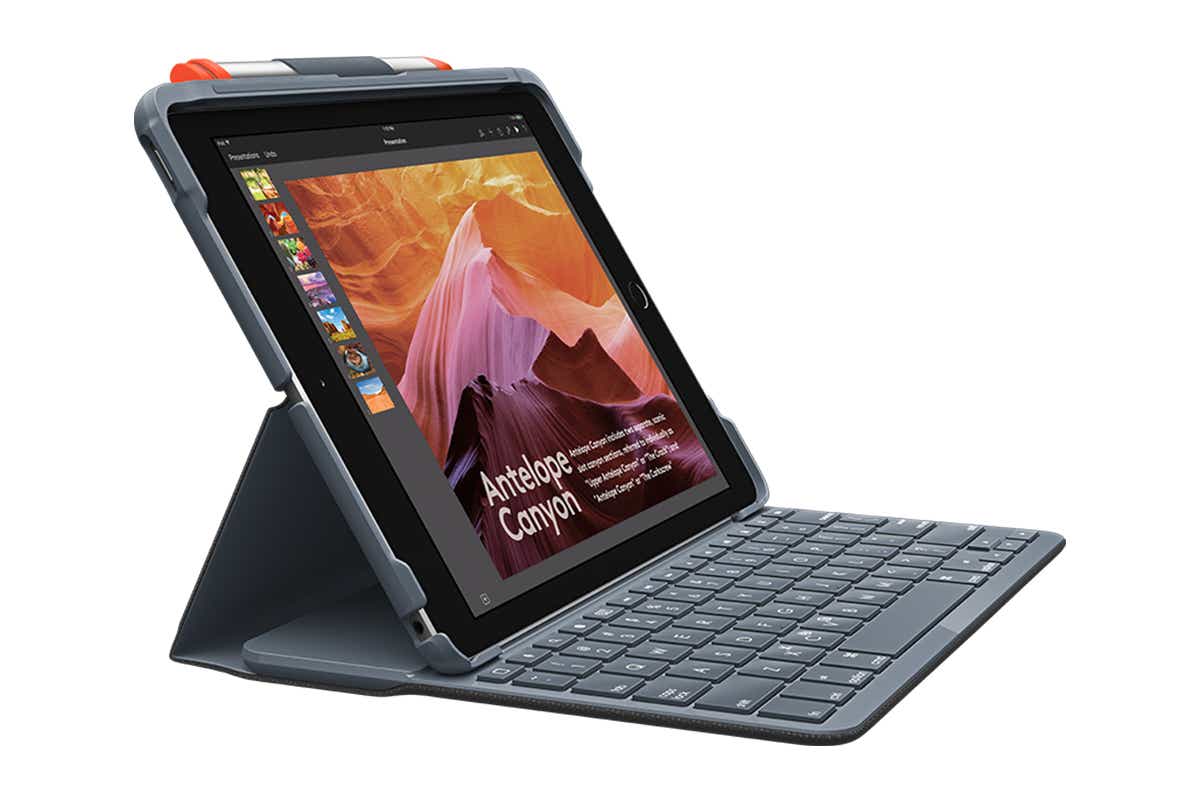 Colors: Black, graphite

Highlights: Logitech's Slim Folio demonstrates how hard it is to match Apple's Smart Keyboard in the "slim" department, but it's the better keyboard case for people who expect their iPads to take a few tumbles. For one thing, it's actually a case. Here, the iPad stays protected in a plastic shell that protects the back as well as the screen, and as a bonus, the backside sports a black fabric lining that both offsets the plasticky look and provides extra grip.

Like the Smart Keyboard, the Slim Folio offers only one display orientation in "laptop" mode, but you'll likely find the scissor-switch keys here more comfortable to type with than Apple's chiclet keys. You even get a slot along the side for stowing the Logitech Crayon or the Apple Pencil, and that's something you won't get with any of Apple's cases.

Unfortunately (but not surprisingly), the Slim Folio works through Bluetooth rather than the Smart Connector, so you'll have to charge it separately from the iPad itself. Also, like the orange-and-silver Logitech Crayon, its design lends it a "made for schools" vibe, so you might want to go for something more elegant if you work in an office. Note: This case will not ship until November.
Logitech Rugged Folio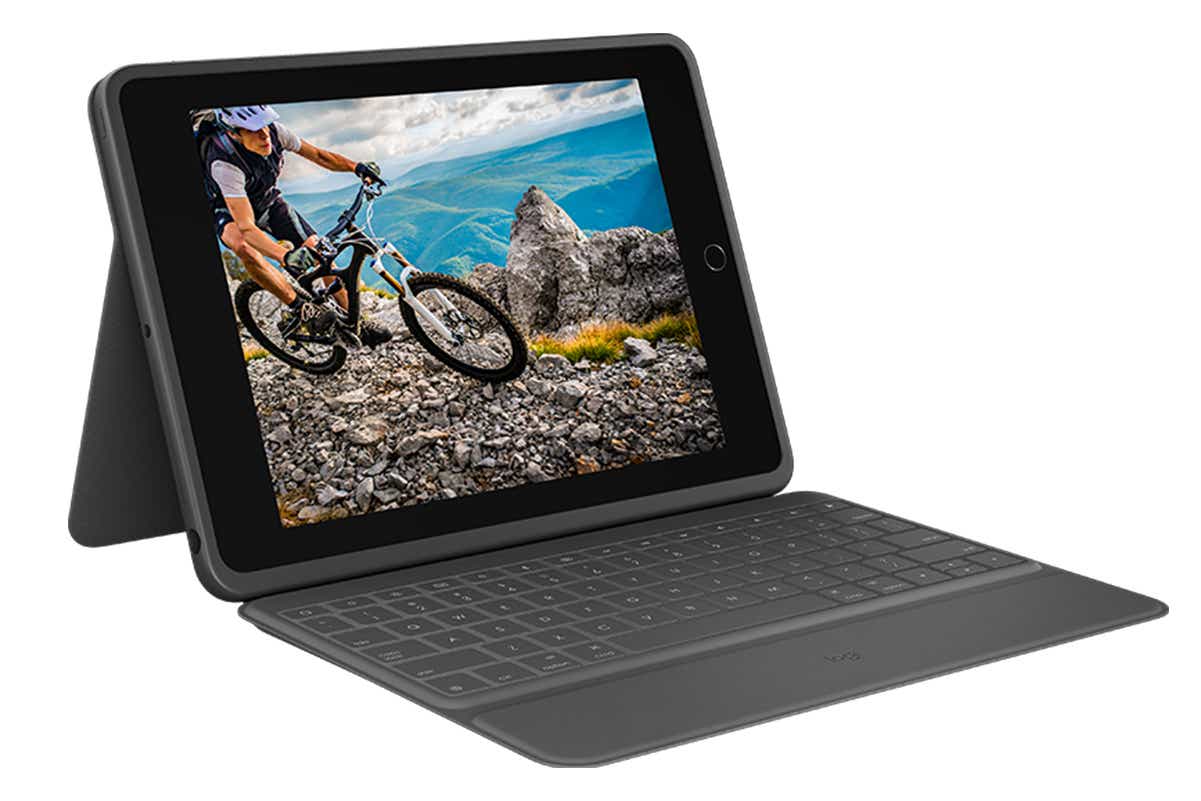 Colors: Gray

Highlights: Unlike the Slim Folio, the Logitech Rugged Folio makes no claims to thinness. This case is all about being tough, and it manages to pull that off while still looking fine and being more useful than many of its alternatives.

Features include a hard shell case that meets military drop test requirements, multiple viewing angles, and a quiet keyboard that's covered with a membrane that keeps out spills and dirt. It even pairs with iPad's new Smart Connector, so you won't have to charge it separately from the tablet.

If all that isn't impressive enough, you'll also find a magnetic latch that keeps the case closed, and under its flap you'll find a handy slot for the Apple Pencil. A row of iPadOS shortcut keys and a one-year warranty round out the list of the features that make this case so awesome.

Yes, it's $139.99, but the Rugged Folio justifies that price in ways that Apple's $159 Smart Keyboard does not.
Infiland Multi-Angle Case
Colors: Black, grey, navy, mint-green, white-marble, wine-red

Highlights: Here's a case for the more fashionable folks among us—and it doesn't hurt that its combination of a hard plastic case and a PU leather exterior means it's no slouch when it comes to protection. It's even get a sleeve along the back for storing documents or charging cables, a slot for the Apple Pencil, and it supports the iPad's auto-wake feature. Best of all, you can get this impressive case for a mere $23.95.

Other features include support for multiple viewing angles, as well as a magnetic flap that folds over the edge when you close the case, which keeps the cover from accidentally opening in a fall. It's a reminder that a low price doesn't necessarily point to a dip in quality.
Apple Smart Keyboard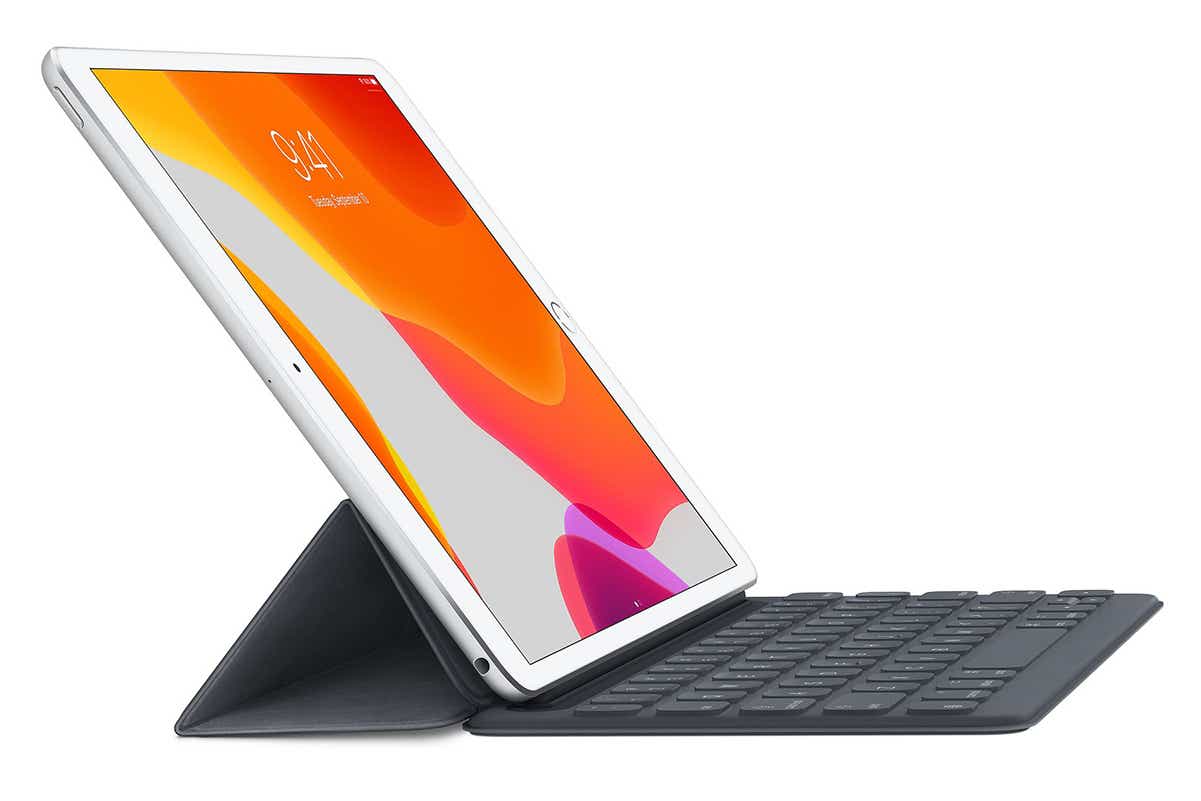 Colors: Gray

Highlights: Apple's own case is a lovely blend of design, portability, and utility. At $159, it's also ungodly expensive. If you bought the 64GB 10.2-inch iPad, keep in mind that this keyboard case costs almost half as much as the tablet itself.

You may still find this setup enticing if you crave a thin keyboard above all else. Other keyboard cases can't match this degree of thinness in part because, well, this isn't really a case. It's essentially a flap that covers the iPad's display, and there happens to be a keyboard connected to it. It's also thin in part because it connects straight to the iPad's Smart Connector on the tablet's side, eliminating the need for extra ports.

When you want to use it like a laptop, you simply have to fold the cover into a triangle shape and proper the iPad against it, but unfortunately you're stuck with a single display angle. As for the keyboard itself, it takes some getting used to. The keys are covered by a canvas-like material that keeps crumbs from slipping through, but it feels a bit like tapping on a tablecloth. At least it's quiet. If you crave protection and versatility along with style, you might be better off considering some of the other options.
Apple Smart Cover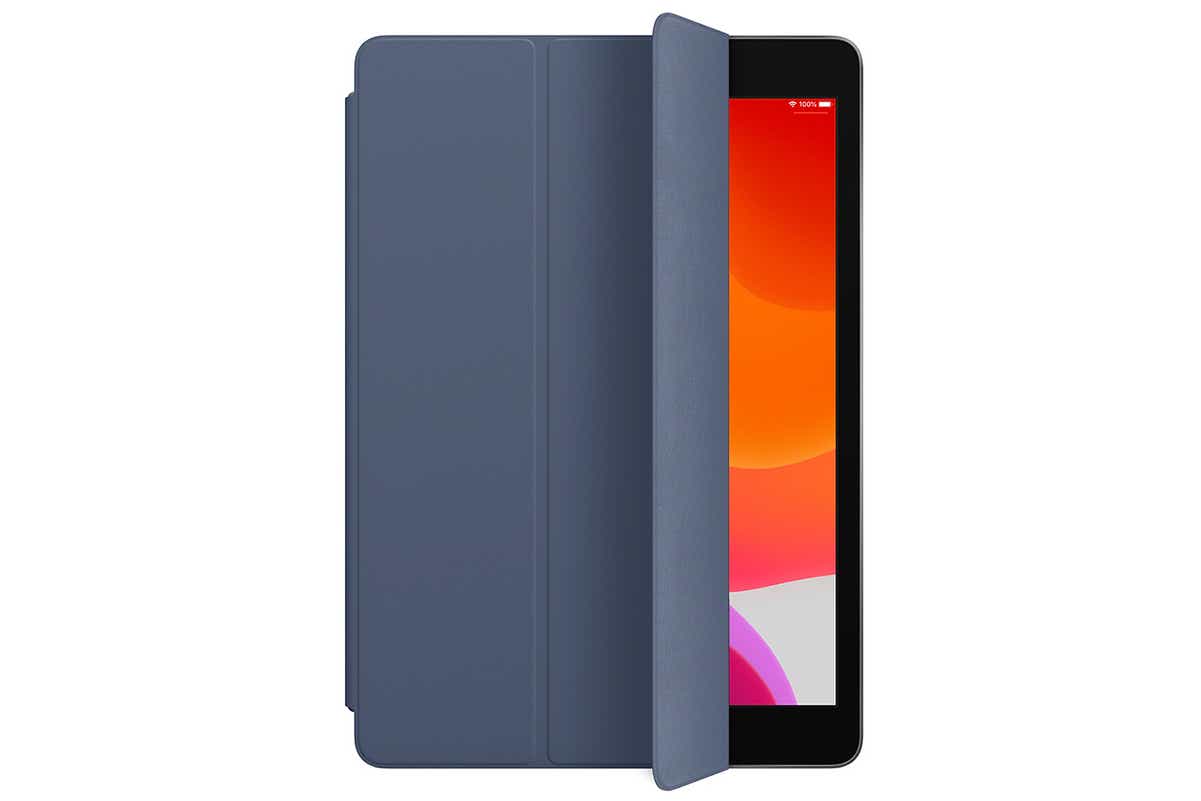 Colors: Alaskan blue, cornflower, papaya, charcoal gray, pink sand, white

Highlights: The Smart Cover is basically the Smart Keyboard…without the keyboard. Fortunately, that makes it a heck of a lot more affordable at $49, but even so, you'll have to deal with some of the same limitations. For one thing, nothing covers the back of your iPad with this case. Your screen may stay protected, but the backside remains exposed to the threat of all kinds of scratches and dents.

But this design certainly keeps the iPad slim, which may count as a plus if you frequently find your bag starved for space. Like the Smart Keyboard, it attaches to your tablet with a magnet along the side, and you can fold the cover into a shape that allows for two different viewing angles. Additionally, the Smart Cover automatically wakes and puts your iPad to sleep when you open and close it, and it comes in six different colors.

It would've been nice if Apple included a back for the cover, but it's not a bad accessory if you never plan on using a keyboard. You can also get this case on Amazon.
OtterBox Clear Case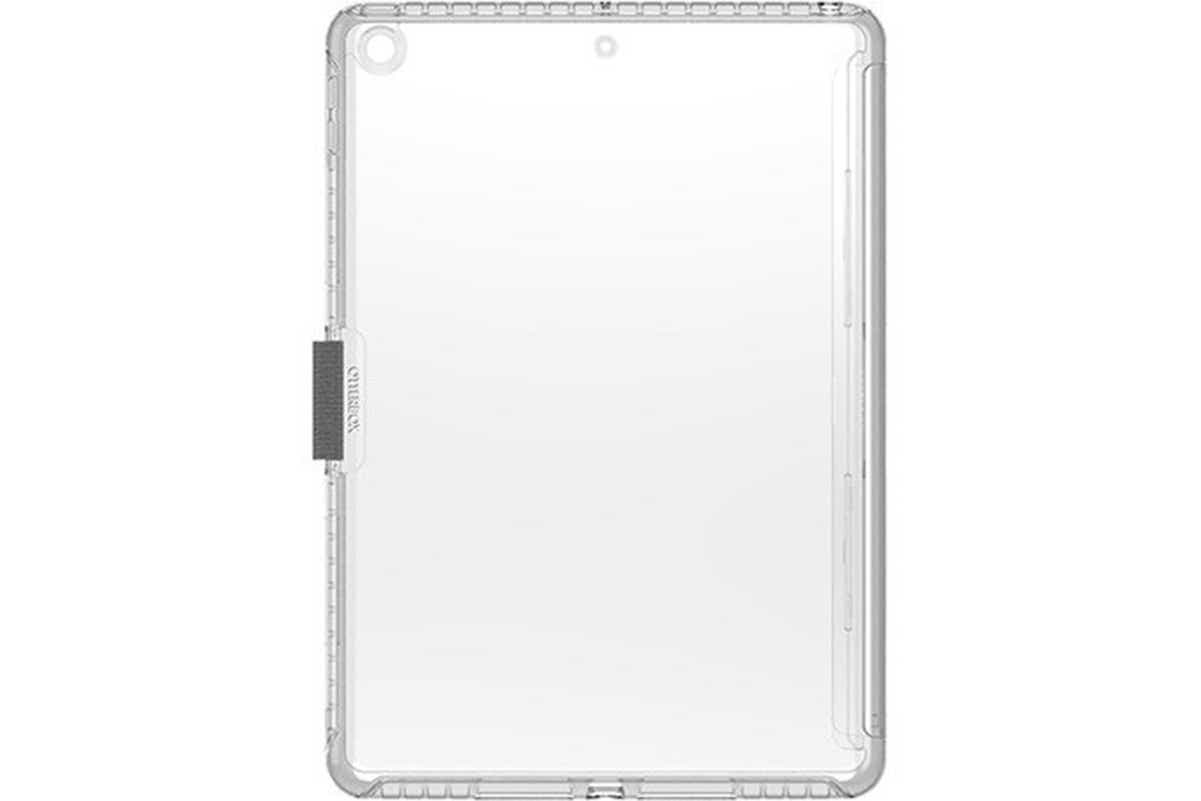 Colors: Clear

Highlights: "OtterBox" is an adorable name, but this brand is responsible for some of the most ridiculously tough cases ever to slip over an iPhone. Nowadays you can find OtterBox cases for iPads as well, and if you really want to go tough, we recommend checking out OtterBox's Defender Series.

OtterBox's Symmetry Series Clear Case is a little more impressive than it sounds. Yes, it's a clear plastic case that slips over an iPad, and so it protects your tablet from dents and tumbles while letting it almost look as though you're not using a case.

But it's the details that make the Clear Case stand out from its peers. For one thing, it's got a slot for the Apple Pencil. For another, you can remove the case's spine and attach either Apple's Smart Keyboard or Smart Cover.

I dislike the absence of an Apple Pencil slot and back protection on Apple's own cases. This case provides an excellent workaround—but it also means you'll be paying out the nose if you get both a Smart Keyboard and Symmetry Series Clear Case. If you're on a budget, that's, er, clearly not a wise decision.
Note: When you purchase something after clicking links in our articles, we may earn a small commission. Read our affiliate link policy for more details.
Leif is a San Francisco-based tech journalist. He's a big fan of fantasy RPGs, and you can find his previous work on IGN, Rolling Stone, VICE, PC Gamer, Playboy, Mac|Life, TechRadar, and numerous other publications.