At Apple's 2019 developer conference, the company announced Sign in with Apple, its privacy-protecting alternative to third-party logins long provided by Facebook, Twitter, and others. These alternative sign-ins let you create an account leveraging an existing account at another service.
Using third-party sign-ins—a consumer version of what's known in the corporate world as "single sign on" or SSO—reduces the number of passwords you have to create and manage, and centralizes control. You can see all the sites, services, and apps using your Twitter login, for instance, at a page at Twitter.
Apple wanted to offer a similar option that's more oriented towards preserving privacy, as is the company's overall wont. Sign in with Apple discloses almost nothing to the app or site you're connecting with, and it's doesn't grant that other party any access to your Apple ID account. (With Twitter and Facebook, you often are asked to link some information or even provide posting rights when setting up a login.)
The most significant part of the Apple sign-in was the ease of creating an anonymous alias address. Apple presents you with an option in the initial account screen that lets you choose between a randomly generated address managed by them or the address associated with your Apple ID. If you choose Hide My Email, Apple creates a randomly "mailbox" (the part of an email address to the left of the at-sign), and then forwards email sent to it to your Apple ID account email.
Once you've set this up, however, you may not know where to go to make changes or revoke permission.
You can see a list of all your Apple-associated logins in one of three places:
In iOS 13 and iPadOS 13, go to Settings > account name > Password & Security > Apps Using Your Apple ID.

In macOS 10.15 Catalina, open the Apple ID preference pane and click Password & Security and then to the right of the Apps Using Your Apple ID heading, click Edit.

At the Apple ID site, log in and then below the Apps & Websites Using Apple ID label, click Manage.
Click, tap, or select an entry, depending on which place you're viewing the list, and then you have access to several pieces of information and actions: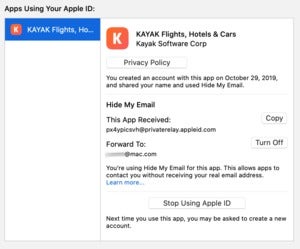 Forwarding email address. If you're using a forwarded email address, you can see what email address the app or site received, and tap or click Copy or Copy Email if you want to paste that elsewhere.
Forward To. Again with a forwarded address, you can opt to disable forwarding, but the account connection remains intact.
Stop Using Apple ID. Click or tap this option and confirm it, and the token that the site or app received that allows it to use your information is deleted, and if you're forwarding an address, it no longer works. If you didn't provide additional information in setting up an account with a site or app, it will likely no longer let you log in the next time you try.
This management section also lets you review the privacy policy of the site or app you've signed up with.
Ask Mac 911
We've compiled a list of the questions we get asked most frequently along with answers and links to columns: read our super FAQ to see if your question is covered. If not, we're always looking for new problems to solve! Email yours to mac911@macworld.com including screen captures as appropriate, and whether you want your full name used. Not every question will be answered, we don't reply to email, and we cannot provide direct troubleshooting advice.