At a Glance
Expert's Rating
Pros
Shoot multi-cam video using up to four iPhones or iPads
Free app, can be installed on all devices
Reliable wireless connectivity, start/stop recording on all devices with one tap
Cons
Unintuitive user interface
Basic, cumbersome editing tools
Editing can only be done in portrait mode
Our Verdict
Roland 4XCamera Maker enables shooting multi-camera video from up to four iOS devices at once, then editing them into a single take complete with transitions, split-screen effects, and fade in/out.
Best Prices Today: 4XCamera Maker 1.2
For video makers, the highlight of this year's September Apple keynote was undoubtedly the slick demo of Filmic Pro taking advantage of all four iPhone 11 cameras to record multiple angles at the same time. Multi-cam is a great way to quickly create dynamic videos without the time-consuming task of shooting a performance multiple times from different views.
Although Filmic Pro's multi-cam update isn't expected until later in the year, there are other ways to shoot and edit multi-camera video right now, using as many as four iOS devices you already own. Unfortunately, the app in question turns out to be cooler in concept than execution.
Multi-cam shooting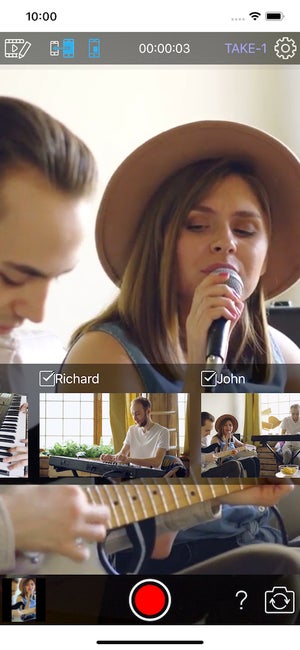 4XCamera Maker is a video app from Roland Corporation, the Japanese company dating back to the early seventies best known for electronic musical instruments like synthesizers and drum machines. In recent years the firm has diversified, porting some of its legendary technology to mobile platforms.
One such app is 4XCamera, which allows musicians on a budget to create split-screen music videos from up to four different performances using audio captured from the built-in mic or other connected hardware. 4XCamera Maker goes one step further by enabling users to wirelessly capture video and audio from up to four iPhone or iPad devices at once, then assemble them while keeping everything in sync.
Shooting is pretty straightforward thanks to an on-screen launch guide that walks users through the procedure. Place devices at the desired angles, selecting one to act as the master, which is also where you'll later edit the project. (Tripods or mounts are recommended for best results, but you can shoot handheld too, assuming you have enough people to operate those cameras.) Launch the app on each device (it's free to install and shoot without limitations), then tap Link on the master to connect each device. Tap record on the designated master, and all slave devices start recording at the same time.
Take two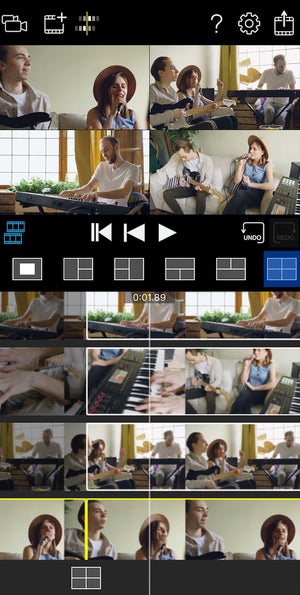 Prior to shooting, you can take a quick peek at the live image coming into each of your connected devices by tapping Link Preview from the master camera. Sadly, 4XCamera Maker offers no such preview during actual recording, but this is still a convenient way to double-check framing before the cameras roll.
If the first attempt wasn't the award-winning performance you were hoping for, simply tap the TAKE-1 button to shoot up to four more takes; you can also delete the current take by tapping the one already used. Once finished, tap the Editor button, which will wirelessly transfer footage saved on the slave devices back to the master, then create a new project with everything synced and ready to edit.
It's worth noting that you'll need to enable Wi-Fi, Bluetooth, and AirDrop on each device prior to launching 4XCamera Maker. I had no problems connecting, shooting, or transferring footage, and acquiring our test footage worked as expected, although the overall user interface isn't particularly intuitive. Thankfully a help option is just a tap away, complete with pop-up tool tips that explain what each button does.
Chop shop
In terms of actual editing, 4XCamera Maker leaves a lot to be desired. Although you can cut between angles, add transitions, create split screens, trim the start/end point of an entire project, and add new media from the Photos library, it's not entirely obvious at first how to do any of these things. Worse yet, there's no built-in tutorial that walks you through the editing process, like there was for shooting.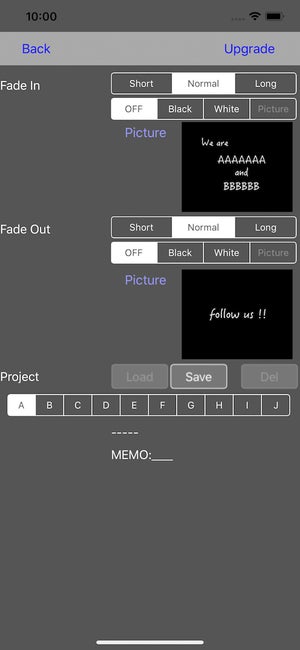 Aside from the aforementioned pop-up tool tips, editors are left to awkwardly tap around the UI before finally stumbling across the Edit Mode button on the left side of the screen, just under the preview window. That's what enables selecting different angles and choosing where to make cuts or add dissolves, wipes, and split-screen compositions. Swiping through the timeline displays a quick preview of edits, but there are also basic transport controls for play/pause, rewind to the previous edit point, or jump to the beginning of a project.
Of course, since recorded footage is saved directly to the camera roll of each device, you could always import it directly into a more robust editing app like LumaFusion, but that defeats the purpose of using something like 4XCamera Maker in the first place.
There are a few basic settings for fade in/out options and saving projects, otherwise the only other feature is a vague in-app "upgrade" promising to unlock "full editing functionality." There's no indication what that $3 purchase actually gets you (presumably unlimited editing), but we couldn't tell the difference either way in our tests. (Pro tip: Roland Go: Mixer Pro owners can skip the upgrade cost by connecting their existing hardware to the app.)
Bottom line
4XCamera Maker eases the task of acquiring multi-camera footage from iOS devices, but clunky editing tools keep this app from reaching its full potential.
Best Prices Today: 4XCamera Maker 1.2