It's too early to tell, but the best message from For All Mankind may be that man's greatest losses occasionally propel us to our greatest victories—though this beautiful space drama certainly doesn't start out on a high note. It's June 26, 1969, only about a month before Neil Armstrong and Buzz Aldrin were scheduled to kick around a few rocks on the moon, and instead the world is watching grainy footage of a Soviet cosmonaut hopping out of a lunar module. He utters no all-inclusive, "One giant leap for mankind"—instead, he says his achievement is for, "My country, my people, and the Marxist-Leninist way of life." All across the U.S., American faces go glum.
And so, history changes. In the first three episodes, the shifts are subtle: this isn't Amazon's The Man in the High Castle. Importantly, though, the Americans don't give up. Indeed, For All Mankind suggests that if the Soviets had beaten us to the big gray marble first, important changes might have happened more swiftly than they did in our own world, for both better and worse.
Sometimes For All Mankind takes its alternate history in predictable directions, such as when President Nixon starts bellowing about the need for a lunar military base. It's less predictable at other times, such as when events lead to shifts in gender dynamics that took decades to unfold in our timeline—including one that, strictly speaking, never happened. (I'd be especially interested in it tackles race more directly in future episodes.)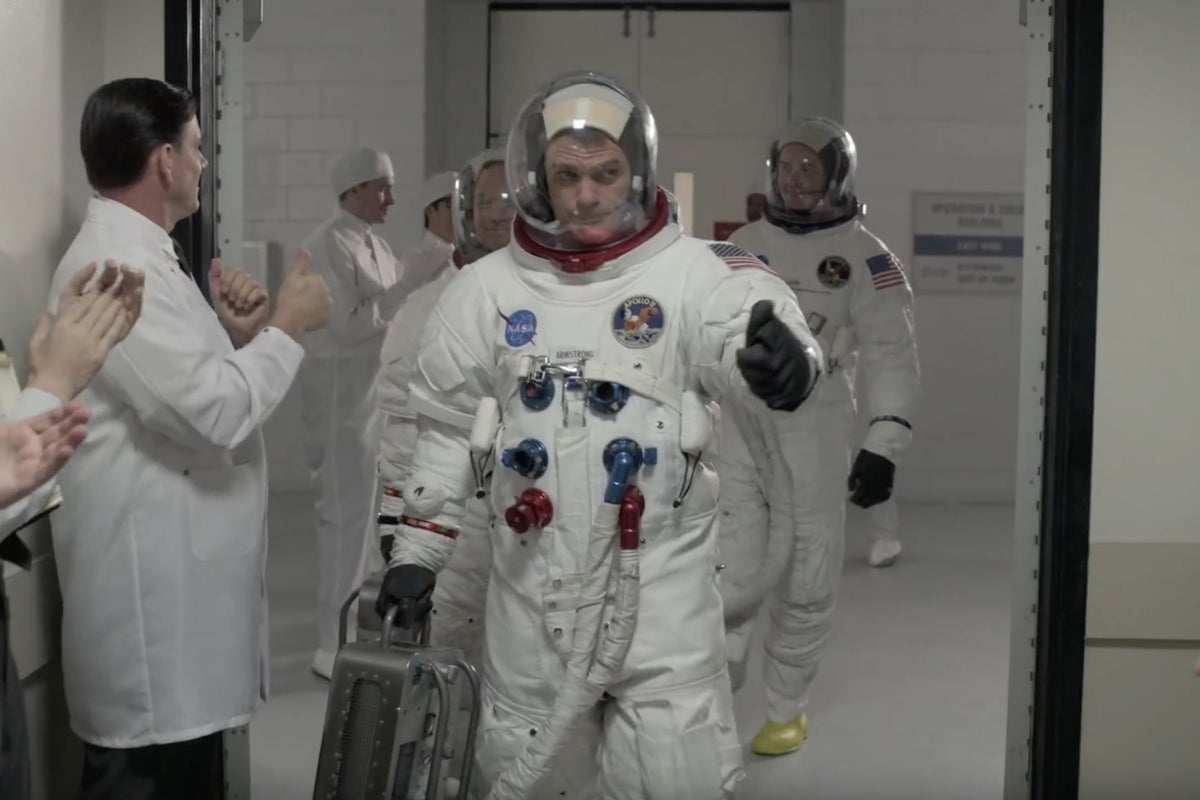 The consequences this butterfly effect sets in motion are subtly hinted at right there the show's title. They're an especially good fit for writer and producer Ronald D. Moore, who was responsible for the acclaimed 2003 Battlestar Galactica reboot and now uses Starz's Outlander series to critique the societal norms of past eras through modern eyes.
We may eventually get to a point where For All Mankind goes full sci-fi. For the moment, though, it's just as concerned with exploring what goes on behind the doors of our offices and homes as in exploring whatever's on the dark side of the moon (or to infinity and beyond). One of the standout characters for this approach is Karen Baldwin (Shantel VanSanten), who struggles to maintain a domestic life under the constant threat that her frustrated astronaut husband Ed (Joel Kinnaman) might end up on a corpse among the very moon rocks he wants so desperately to see.
It's not all optimism, or at least For All Mankind doesn't shy from the dark sides of the Cold War. In one sequence, we're reminded that Wernher von Braun (Colm Feore), the scientist behind designing many of the rockets for the Apollo program, was also responsible for making some of the Nazis' deadliest missiles. We see one of the heroes of America's space program (played by Matt Battaglia) make a sexist comment that would have been at home in any Mad Men script.
After all, For All Mankind is basically Apple's Mad Men. That's clear not only in the way it focuses on gender relations in the midst of arguably the most change-packed decade in American history but also in attention to detail. For All Mankind may not yet take us to other planets—well, there's the moon, if that counts—but it wastes no effort in bringing the late '60s back to life. Notably, Moore recently said the attention to detail is so extensive that even the ceiling tiles in the mission control set look the same as they did in 1969. It's all American, though, save for a side plot involving a young Mexican girl: Unfortunately, we don't get to see any Soviets apart from that initial sequence, although maybe that awaits in a future episode.
For a show about rockets and the people who make and ride them (and the people who love them), For All Mankind is currently a remarkably slow burn. That will likely change soon, though, and the third episode suggests history will veer in directions that will take us far beyond merely sticking flags in sand and riding buggies over the lunar surface. There's little to suggest the story will go where no series has gone before, but of Apple's initial offerings for Apple TV+, it's the one most capable of maintaining a steady orbit.
It's fitting it worked out that way. The backstory of For All Mankind kind of mirrors the situation Apple currently finds itself in with original content and streaming, as it's entering a space where rivals already have an undeniable lead. Some critics argue it shouldn't even try, it's so far behind. Judging from the initial reception to Apple TV+, it's likely even suffering a blow to its pride. Even so, Apple is throwing its money, ambition, and optimism behind this project and, while flawed, this particular show proves better than any other launch program that Apple should keep pursuing that vision. A single good landing is all it needs for now.
Like For All Mankind itself, that's kind of inspiring.