Emily Dickinson hardly seems like the ideal subject of a launch-day Apple TV+ comedy starring Hailee Steinfeld in the title role. Dickinson, after all, is probably poetry's most famous recluse—a woman who spent many of her 55 years sequestered in her bedroom while scribbling chipper lines like, " I heard a fly buzz when I died." If Apple had gone the Masterpiece Theatre route with Dickinson, all interest would have died, too.
Apple, though, wisely has the courage to think different. Consider one of Dickinson's first scenes, in which Emily's brother Austin (Adrian Enscoe) trots up on a horse.
"What up, sis?" he says, while sporting a richly designed getup that screams "prestige drama."
"Nothing, bro," Emily replies. "Just chillin'."
In order words, Downton Abbey this is not. Not long after, we find Emily barreling down the shadowy backroads of Massachusetts in a carriage with none other than Death himself, who happens to be Wiz Khalifa in a top hat. The ravishing reaper calls Emily "darling" and tells her she's the only Dickinson anyone will remember in 200 years, all while Billie Eilish's "Bury a Friend" thumps in the background.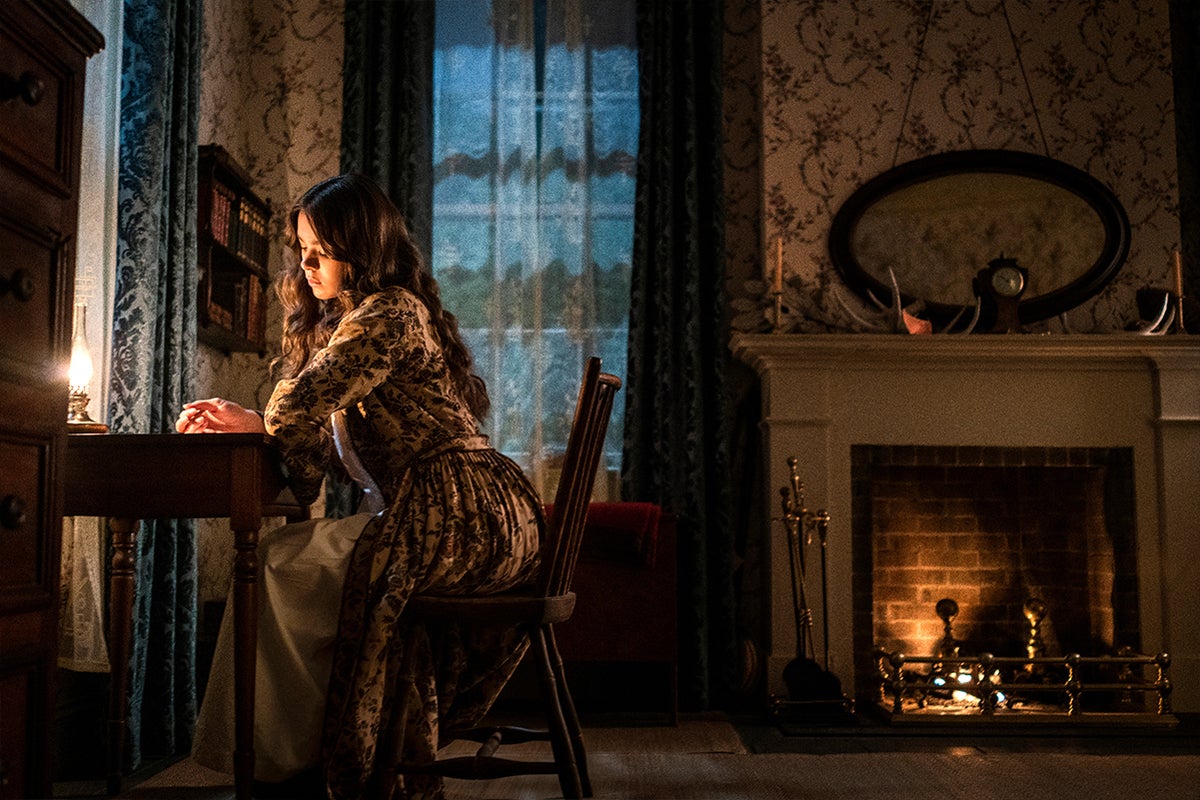 It's all so weird and delightful, and a welcome break from the weighty drama of The Morning Show, See, and For All Mankind. If you haven't guessed already, Dickinson is a member of that peculiar but pleasing genre—familiar from Baz Luhrmann's Moulin Rouge or 2001's A Knight's Tale—that makes the past relatable by accessorizing it with the slang and beats of the present. Fittingly for a tale about a poet, such an approach succeeds here in part because of its careful use of language. Emily's parents speak largely in the vernacular of the 1850s, while Emily and friends from her age group speak lines that could have been lifted from Snapchat or Instagram stories—with one crucial exception.
The show has the good sense not to alter the lines of Emily's actual poetry (although these only pop up in small segments throughout the three released episodes). The upshot? The juxtaposition of teen lingo with Emily's rhymes does an astounding job of highlighting how far ahead of Emily's time her poetry was while also calling attention to its timelessness. Those Billie Eilish tracks can't be an accident: They remind us that such macabre lines from a young woman can now go mainstream and top charts, while Emily herself—ever obscure in her lifetime—faced indignant rage from her father just for trying to publish a poem in an Amherst College literary magazine.
Dickinson doesn't dwell excessively on such awfulness, and it's for the best. (It doesn't shy from calling out Emily's privilege, as when her mother calls her a "spoiled girl from Amherst" when Emily has the gall to compare herself to a slave.)
Dickinson, above all, is a celebration of life and love. Fitting for a woman who once said in a letter that "the mere sense of living is joy enough." There's Emily herself, who defiantly announces that she has "one purpose on this Earth, and that is to become a great writer." It carefully outlines the nuances of her complex relationship with her father, a man who lets Emily laugh away the parade of suitors her mother sends her way, while also recoiling in horror of the thought of his daughter (gasp) publishing a poem.
But most importantly of all, there's Emily's romantic relationship with her best friend Sue Gilbert (Ella Hunt), who becomes Emily's sister-in-law after dire circumstances lead her to marry Emily's brother. Steinfeld and Hunt boast a chemistry that electrifies their every scene together, and it's heartwarming to see how their characters embrace their love even through every circumstance of their world prevents it from ever becoming public.
Dickinson could have been a tragedy with a background like this, but it never is. It's a tale about making the most of what you have to work with, and even with all the anachronistic twerking at 19th-century parties, its quiet optimism allows it to emerge as Apple TV+'s most consistently inspiring show. Its themes also make it a uniquely Apple creation. The Cupertino company typically does a better job of championing the relationship between art and technology than many of its peers, to say nothing of its vocal support for LGBT rights. It's a company that in 1997 famously celebrated "the misfits" and the "round pegs in the square holes," and those descriptions apply to Emily if they ever applied to anyone. All of these traditions manifest themselves in Dickinson, along with a spirit of goofy fun that's been dwindling from Apple's mainline products over the last two decades.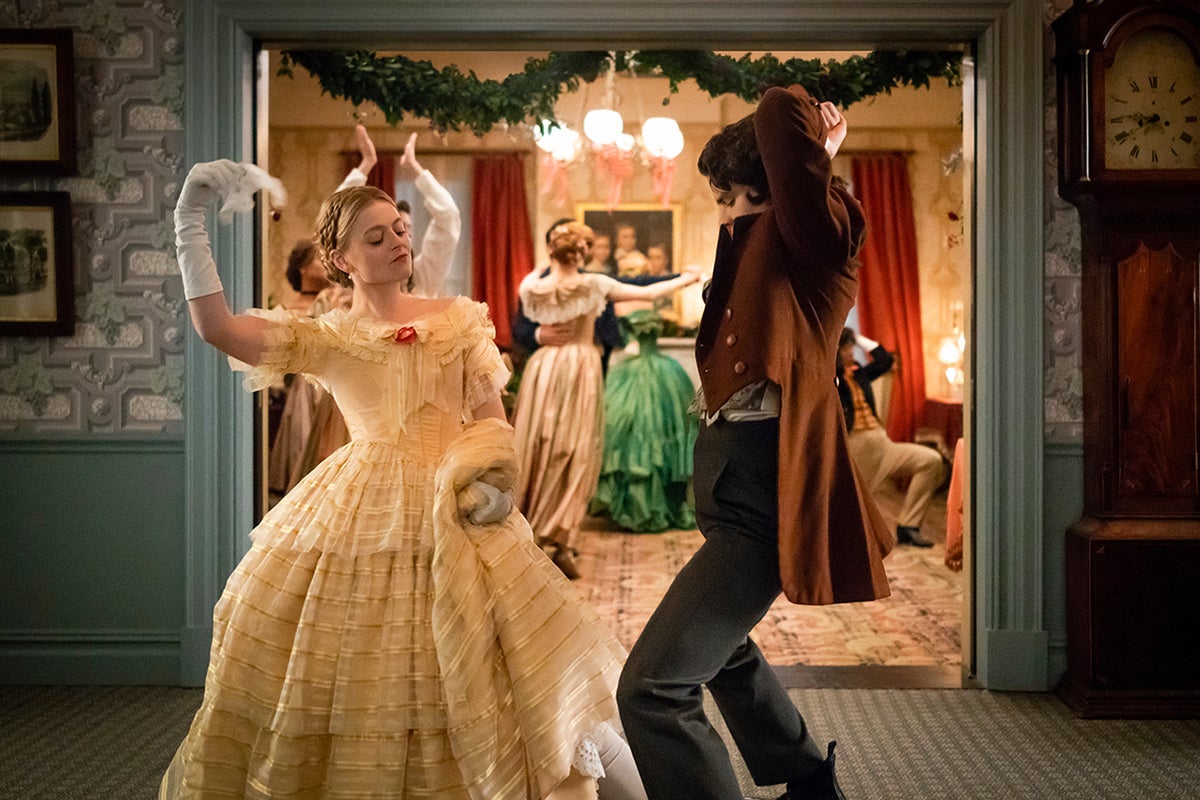 Like the best Apple products, Dickinson has the potential to appeal to everyone. Younger folks are the most obvious audience, and perhaps Steinfeld's performance will serve as a gateway to discovering the work of one of the finest poets America has yet to produce. But there's also plenty here to endear it to the other folks among us, whether it's the staggeringly lovely sets and costume design, the occasionally trenchant discussions of subjects ranging from slavery to gender relations, and the universally relatable despair of being unable to love someone as freely as you'd wish. Dickinson is both goofy and gratifying, and its 30-minute quip-filled episodes tend to provide more food for thought than a whole hour of The Morning Show.
"Tell all the truth, but tell it slant," the poet said in one of her most famous works, and it's an approach that makes Dickinson the most endearing program from Apple TV+'s launch lineup.