At a Glance
Expert's Rating
Pros
Wirelessly transfer photos, videos to wide range of targets
Easy to use, yet highly configurable
Previous customers retain paid features like Autotransfer
Cons
Basic features with built-in Camera
Free version limited to sending at lower quality
Limited online photo services (no Shutterfly)
Our Verdict
PhotoSync 4.0 enables more robust AirDrop-style transfers between smartphones and tablets as well as wireless transfers or backups of iOS photos and video to Mac, PC, Android, NAS servers, cloud storage providers, and more.
Best Prices Today: PhotoSync 4
Months before the introduction of AirDrop in iOS 7 and Mac OS X Lion 10.7, a clever little mobile app debuted that allowed iPhone and iPad owners to transfer photos and videos between devices using what can only be described as magic. And it continues to be better than what Apple has done.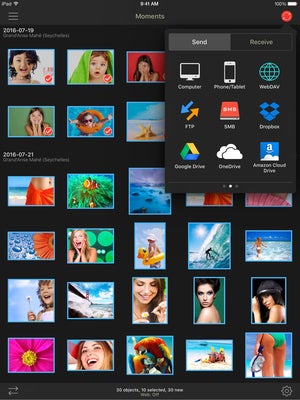 PhotoSync 4.0 is a nifty little universal iOS app for transferring photos and videos between mobile devices, desktop computers (via web browser or free Mac/Windows companion app), network-attached or cloud storage, and more. I've used this app for years when transferring iOS review screenshots to the Mac, because it has several advantages over AirDrop.
Cross-platform sync
For starters, PhotoSync offers an option to delete images once they've been successfully transferred to reduce unwanted camera roll clutter. The app can also be configured on a per-target basis to resize images, and on iOS devices convert HEIF and HEVC to more universal JPEG and H.264 files on the fly. This last feature comes in particularly handy when sharing photos shot on late-model iPhones with others who use devices that lack HEIF or HEVC support.
The voluminous list of potential destinations ranges from other iOS or Android devices to cloud storage (Dropbox, OneDrive, Google Drive, Box), photo services Flickr, SmugMug, and Google Photos (sadly, there's no support for Shutterfly), FTP, WebDAV, or SMB servers (with version 4.0 adding support for faster SMB 2/3), as well as wirelessly equipped SD cards from Toshiba or Transcend.
Premium features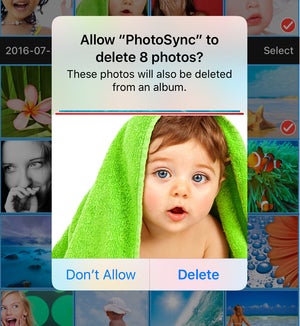 After years as a paid app, PhotoSync 4.0 is now free, with transfers sent at lower quality unless you purchase a one-time $5 Pro upgrade. Only senders are required to be Pro, so everyone can install the app and still receive full-quality photos and videos.
For the first time, there's now a Premium tier available as a $23 lifetime upgrade or ongoing subscription ($1 monthly, $6.49 annually). This option adds support for Canon EOS Wi-Fi cameras, iXpand Lighting/USB Flash Drives, and advanced Siri Shortcuts, as well as Autotransfer, a slick feature which allows users to start transferring content automatically as soon as you arrive at a specific location. (This and other formerly paid features remain available to previous customers without going Premium, with generous upgrade discounts available for those who do.)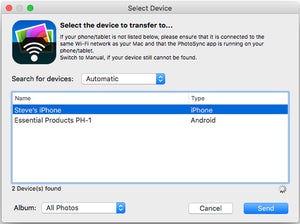 Another new Premium feature is PhotoSync Camera under the Receive tab, which provides an easy way to shoot video, photos, or Live Photos saved directly to a remote target, with or without the option to also save to your iOS device—handy when privacy is a concern or to save space on the camera roll. Camera is a fairly basic affair with no Portrait, Square, or other modes. You can switch between front/back lenses or toggle flash and location.
Bottom line
An indispensable iOS utility for transferring photos and videos between mobile devices and computers, to cloud providers, network-attached storage, and more.
Best Prices Today: PhotoSync 4