Considering how aggressively Apple highlighted The Morning Show in its marketing over the last year, it clearly intended this star-studded vehicle to do the heavy lifting of making Apple TV+ a premium streaming service that can compete with Netflix, Amazon and Hulu.
In practice, The Morning Show comes off a bit like a harsh Apple critic's perception of the company's products. It looks good, no doubt. It's outrageously expensive, even if we accept an Apple executive's statement that the show doesn't actually have a $300 million budget. And yet for all that, The Morning Show's first three episodes leave the impression that it's just OK—good, but not deserving of the hype and money that's been lavished on it.
If nothing else, The Morning Show proves beyond a doubt that Apple is willing to use that mountain cash pile it sits upon, considering the number of stars that trot across the screen. If you're not already wowed by the presence of headliners Jennifer Aniston, Reese Witherspoon, and Steve Carell, The Morning Show seems to say, why, here's Mindy Kaling, Billy Crudup, and even Martin Short! This kind of star power ends up leaving an impression, all right, and that impression is that The Morning Show proves better than many of its prestige drama peers that writers play a near-equal role in a show's success as its stars.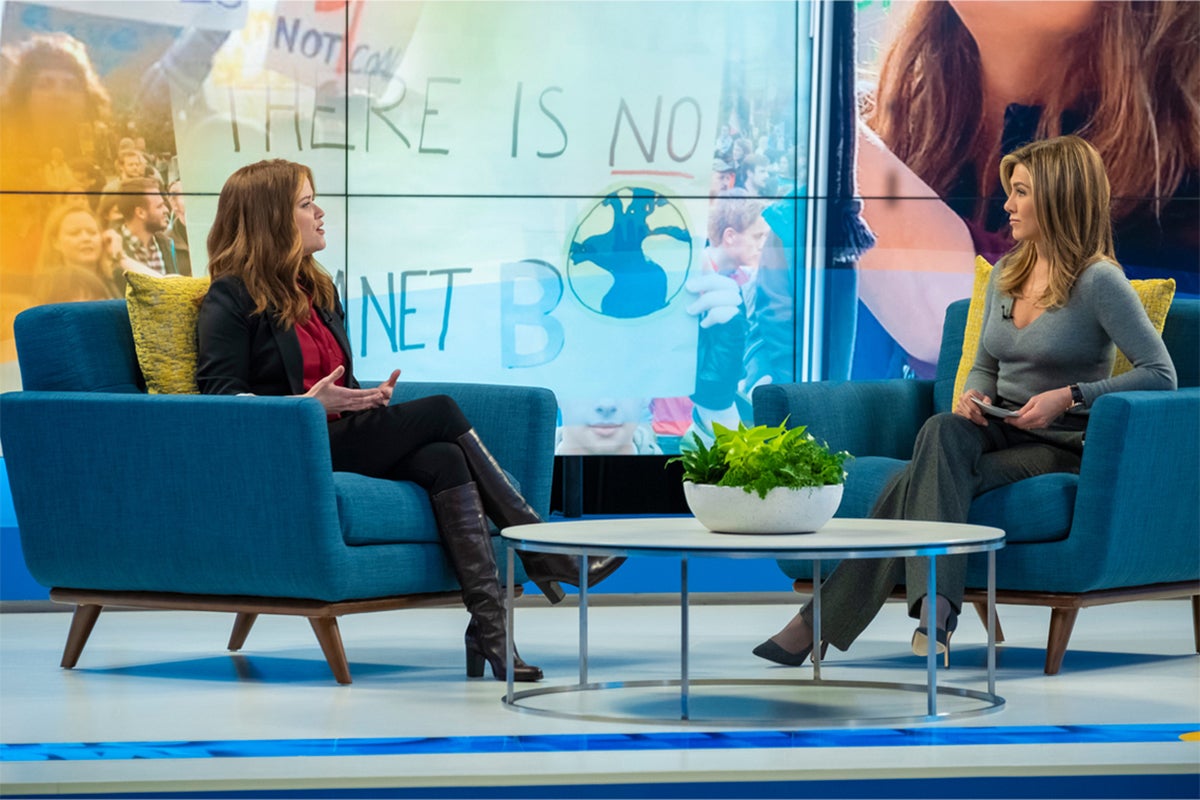 That's not to knock the performances. Aniston is in top form as Alex Levy, the co-host of a long-running morning show along with Mitch Kessler (Steve Carell), who was just fired for sexual misconduct. (The Morning Show emphasizes that Kessler's actions involved consensual sex, which suggests a redemption arc or further scandal down the line.) Witherspoon also does well with the role of Bradley Jackson, a plucky conservative Southern reporter who goes viral and whose star begins to shine in the wake of Kessler's ouster.
But it's hard to escape the impression that we're dealing with two warring storylines. Alongside the Kessler plot line, we have Levy and Jackson's arc, which focuses on the hectic day-to-day politics and squabbles inherent in running such a popular show. Stuff like this was reportedly the foundation of The Morning Show when it was still based mostly on Brian Stelter's 2013 nonfiction book, Top of the Morning, but the script was altered to include commentary on the #MeToo movement that rocked the world beginning in 2017.
At least in these first three episodes, these two plot lines never mesh as well as they should, leaving the impression that the story might have been better off focusing on Aniston and Witherspoon and letting Carell disappear from the spotlight. If it had, maybe we would have been left without lines like, "At first they came for the rapists, and I said nothing."
This is a show that concerns itself with emotions above all else, as there's never any question about how these characters feel. It makes for some genuinely watchable moments, but the trouble is that's it's seldom clear how The Morning Show wants us to feel about how them. It's unfocused, too, leaving it feeling more like a meandering, self-indulgent YouTube show rather than a tight and meticulously planned installment of Good Morning America.
A better script might have paired Top of the Morning with Ronan Farrow's new book, Catch and Kill, which outlines the frightening ways people in power led colleagues to be complicit in the actions of Harvey Weinstein and the ways in which NBC buried information before it could get to the public and discredited people who tried anyway.
Again, The Morning Show may improve. By the third episode, The Morning Show finally delivers a real reason to believe it has Important Things to Say—things about the way people in power often don't "do the right thing" until it's convenient or even advantageous. The Morning Show may be a slower riser, and maybe that's why Apple reportedly went ahead released the entire season to TV reviewers who have early access, as if to say, "But wait, you guys, it's actually good!"
We're used to that approach here in the Appleverse. After all, as a rule a thumb, it's wisest to buy the second generation of a new Apple product rather than the first, although that practice seems less ideal when we're talking television instead of technological hardware. The foundation here is strong enough to warrant hoping that the situation will improve in the remaining seven episodes or (heaven forbid) in the second season. For now, though, this morning show has me wanting to hit the snooze button.