iOS and iPadOS allow the use of multiple software keyboards, which can include those used in different languages and those used for alternative input methods, like Gboard. But you can run afoul of autocorrect suggestions if you've added a keyboard and accidentally swap between them.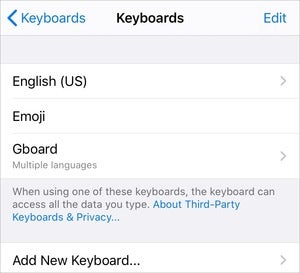 You can see which keyboards are active in Settings > General > Keyboards. This view typically lists your native language, Emoji, and alternative input keyboards. If you see a language here you didn't intend to add and don't need, swipe left and tap Delete to remove it. (Keyboards are added by tapping Add New Keyboard in the same view.)
Autocorrect makes suggestions for changing words and phrases based on the keyboard that's selected. Especially in the new iOS, with extra territory at the bottom of the keyboard, you may accidentally tap the Globe icon. With only a single language's keyboard installed and the emoji keyboard, tapping the globe swaps between the two and is noticeable.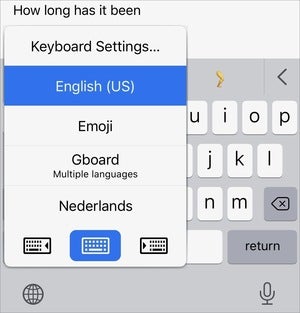 But if you have keyboards installed for multiple languages, you could be switching between similar keyboard layouts and see De acuerdo, Si, and No as options to tap instead of OK, Yes, and No. One Macworld reader found that English words were suggesting associated emoji—in Dutch! If he typed "been" in English, the keyboard suggested a leg, as "been" is Dutch for leg.
This Mac 911 article is in response to a question submitted by Macworld reader David.
Ask Mac 911
We've compiled a list of the questions we get asked most frequently along with answers and links to columns: read our super FAQ to see if your question is covered. If not, we're always looking for new problems to solve! Email yours to mac911@macworld.com including screen captures as appropriate, and whether you want your full name used. Not every question will be answered, we don't reply to email, and we cannot provide direct troubleshooting advice.