At a Glance
Expert's Rating
Pros
Comfortable design
aptX support
HearID features gives you a custom EQ preset for your ears
Dynamic and balanced armature drivers deliver rich, detailed sound
Cons
No active noise cancellation
Charging case is a bit large
Can't fiddle with EQ levels yourself
Our Verdict
Combine the Liberty 2 Pro's sweet sound with its comfortable design, its custom HearID EQ preset, aptX support, and impressive battery life, and you're looking at quite the bargain.
Best Prices Today: Soundcore Liberty 2 Pro
When I settle in for some quality headset time, a pair of wireless earbuds generally isn't the first thing I reach for. But Anker's Soundcore Liberty 2 Pro earbuds are making me rethink my listening preferences.
Armed with a unique coaxial configuration of dynamic and balanced armature drivers, the Liberty 2 Pro earbuds give you the best of both worlds: finely detailed treble and deep yet controlled bass, not to mention an impressively wide soundstage. There's also a HearID feature that generates a custom EQ preset tailored to your ears, aptX support for CD-like sound, and plenty of extra eartips and ear wings help to ensure a comfortable fit.
That's all pretty impressive for a pair of $150 earbuds, but there are some compromises you'll have to accept, including the lack of active noise cancellation (although there is uplink noise reduction for the four built-in mics), as well as a charging case that's a tad on the large side (albeit nicely designed).
Note: This review is part of our roundup of wireless and true wireless earbuds. Go there for details on competing products and our testing methods.
Design
The Liberty 2 Pro earbuds themselves are small and oval-shaped, measuring slightly over an inch long, about 0.6 inches wide, and (again) a little more than an inch when measuring from the tip of the earpiece to its oval base. The earbuds jut out of your ear a bit while you're wearing them, but not in an ungainly way, and you can use one of three included sets of ear wings to help keep them in place. Anker also includes a generous seven pairs of eartips in the box.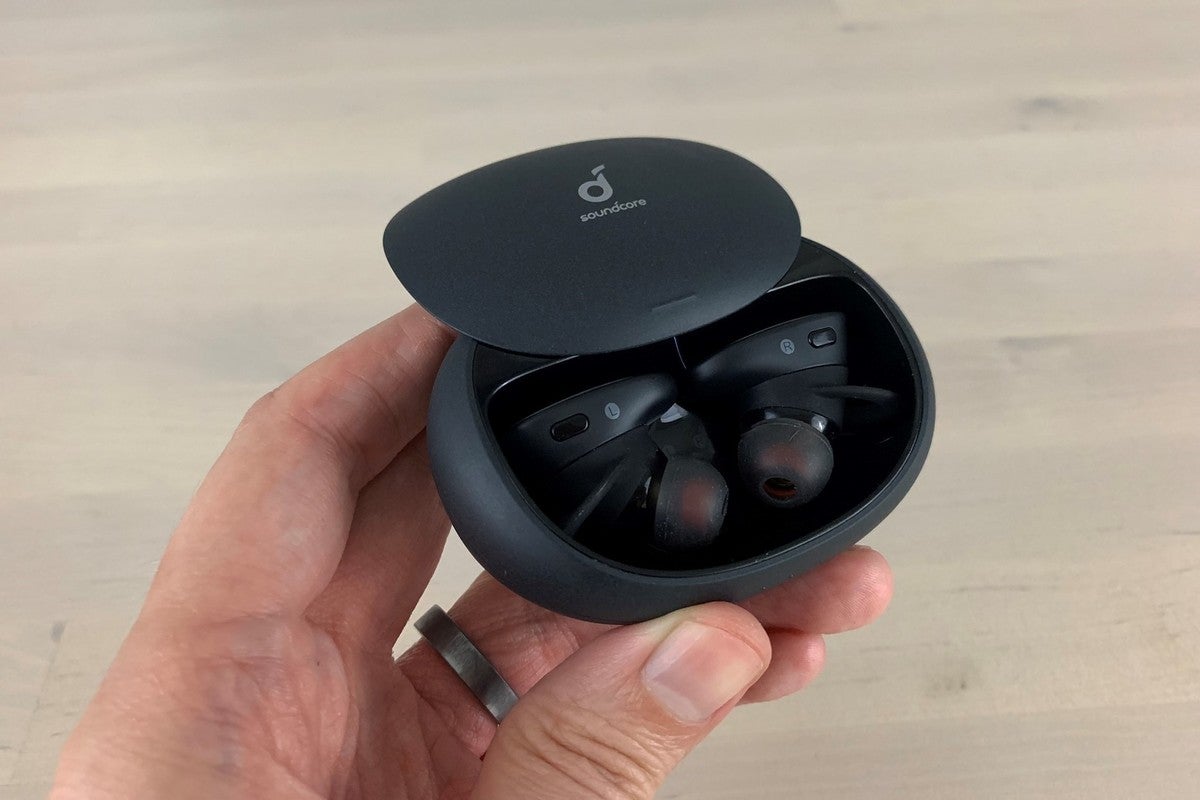 Once I settled on the best-fitting eartips, the Liberty 2 Pro earbuds felt quite comfy, and I was able to shake my head vigorously without fear that the earbuds would fly out. With its IPX4 rating for resistance to splashing water and sweat, the Liberty 2 Pro earbuds could make for an ideal workout companion.
I'm also a fan of the case that comes with the Liberty 2 Pro earbuds. While it's considerably larger than the pillbox-sized case that comes with the original Apple AirPods, the Liberty 2 Pro case comes with a flattened oval design that felt good in my hand.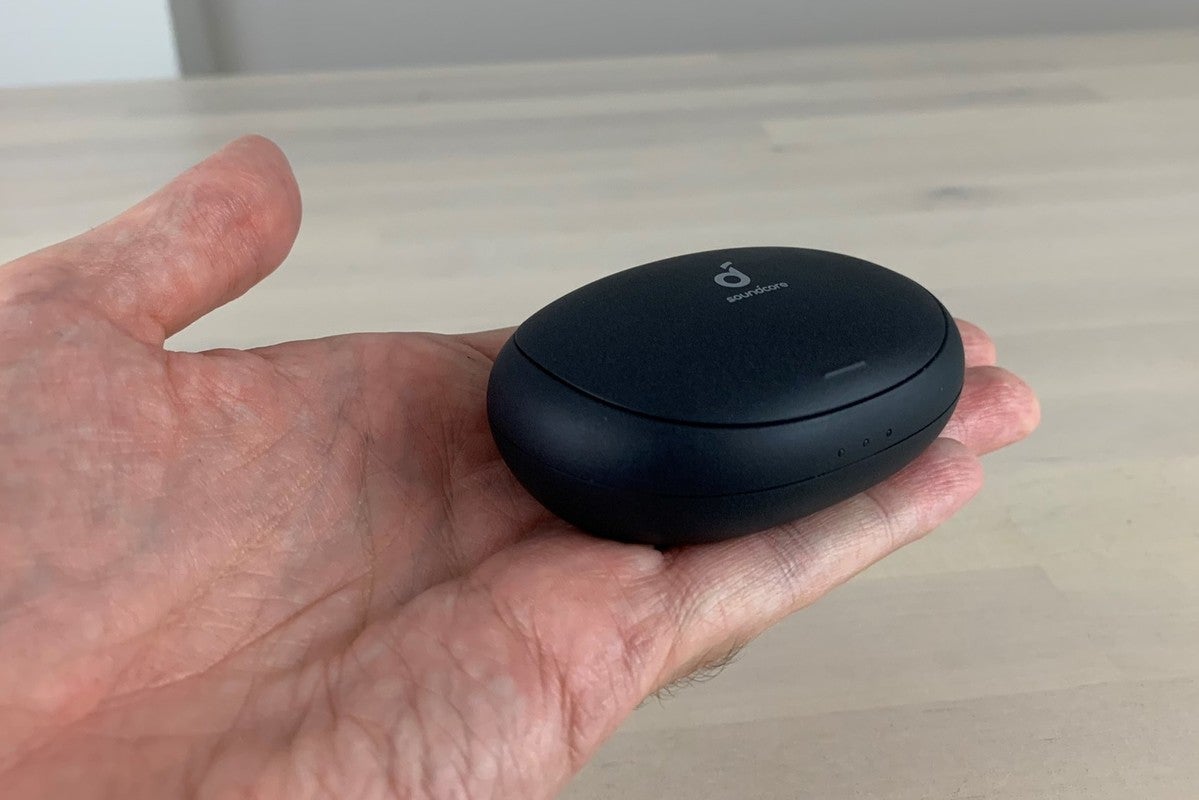 The top of the case slides open and closes with a smooth, satisfying snap, and you get another nice snap when the earbuds fly into their magnetic seats. A three-LED battery status indicator sits on the front of the case, while a USB-C charging port (protected by a rubber flap) and a Bluetooth pairing button are in back. If you'd rather not deal with charging cables, the case is compatible with Qi wireless chargers.
Features and operation
The killer feature that Anker is touting for its Liberty 2 Pro earbuds is its Astria Coaxial Acoustic Architecture (or ACAA), which essentially consists of an 11mm dynamic driver (for lower-end sound) that's coaxially aligned with a balanced armature driver (for the treble). The result, according to Anker, are the first truly wireless earbuds to deliver in-ear "studio" performance. That may sound like hype, but based on my real-world testing (and we'll get to audio performance in a moment), Anker may be onto something here.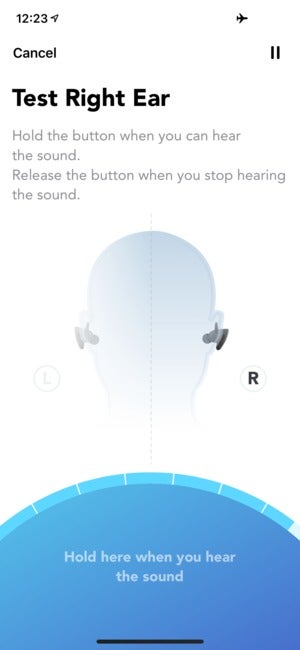 The earbuds also come with a HearID feature that customizes the audio based on a hearing test that you take using the Soundcore mobile app. The test involves tapping a button when you hear various high- and low-frequency beeps at different volumes, similar to a hearing test in a doctor's office.
Anker says HearID can help deliver sound that's "tailor-made" for your ears, but it's a claim that's difficult to test. At any rate, the Soundcore app offers 22 equalizer presets, including a Soundcore "Signature" mode. You can't fiddle with the EQ levels yourself, unfortunately.
A small button near the top edge of each earbud lets you handle calls as well as play and pause tunes, skip tracks, adjust the volume, and summon Apple's Siri or Google Assistant, and you can customize the controls via the Soundcore app. Nice, but the earbuds won't pause your tunes automatically when you take one out of your ear, like AirPods do.
Speaking of calls, the Liberty 2 Pro earbuds come with a total of four microphones equipped with Qualcomm cVc 8.0 uplink noise reduction, perfect for making calls while you're competing with honking cars or blustery winds. I tried making some calls on a busy Brooklyn sidewalk and the person on the other end said she could hear me loud and clear.
Designed for a frequency response of 20Hz-20kHz (typical for most headphones and earbuds), the Liberty 2 Pro earbuds support Bluetooth 5 and they can handle SBC, AAC, and Qualcomm's aptX audio codecs. The earbuds' support for aptX is great for audiophiles who want to hear CD-like (or compressed 16-bit/44.1kHz) sound via Bluetooth, but keep in mind that aptX only works if both the earbuds and the transmitting device support the codec. For example, many Android phones support both aptX (and some also support aptX HD, the lossless version of aptX), but the latest iPhone 11 and 11 Pro models don't.
Notably lacking from the Liberty 2 Pro's feature set is active noise cancelling, although that's not too surprising given the $150 sticker price. Generally speaking, truly wireless earbuds with active noise cancelling cost north of $200, such as Apple's $250 AirPods Pro. That said, we've tested at least one set of relatively inexpensive noise-cancelling models, the $150 Ausounds AU Stream ANC earbuds.
Audio performance
While the Liberty 2 Pro's lack of ANC is a disappointment, I quickly got over it once I plugged them into my ears and sat back for some tunes. Indeed, Anker's decision to go with both dynamic and balanced armature drivers seems to have paid off, delivering some of the best audio I've ever heard from truly wireless earbuds in this price range.
First up was the title track from Bruce Springsteen's The Ghost of Tom Joad, and right off the bat I was struck by the fine detail of The Boss's acoustic guitar work, the reedy harmonica, the warm low-end glow as the synthesizer kicked in, and the precise placement of the instruments in the wide soundstage. For a $150 pair of truly wireless earbuds, that's pretty impressive.
Next, I queued up Vlado Perlemuter's performance of Maurice Ravel's solo piano works for Nimbus Records. Solo piano can be a tough benchmark for any pair of headphones, let alone sub-$200 wireless earbuds, yet I was again impressed by the fine details in Perlemuter's keystrokes, the elegant timbre of the piano, and the atmospherics of the concert hall.
Finally, it was time for Ciara's "Level Up," and I got a kick out of the punchy (but not too punchy) bass, the crisp but never tinny vocals, and (again) the expansive soundstage and discreet instrument placement.
It's also worth noting that I did most of my listening using the custom HearID EQ setting. I switched around to some other equalizer presets too, including the recommended Soundcore "Signature" preset, yet I generally found myself gravitating back to the HearID setting, which (to my ears, anyway) did the best job of balancing fine treble with deep but not overpowering bass. Your mileage may vary, of course.
In terms of Bluetooth performance, the Liberty 2 Pro earbuds never went out of sync during my testing, and their range was excellent. I was able to walk the entire length of my apartment (a good 45 feet), then head upstairs and even further back before the connection began to go spotty; well past Anker's rated Bluetooth range of 33 feet.
Anker claims that the Liberty 2 Pro earbuds will last for up to eight hours on a single charge, and that you can get a total of 32 hours of playback time using the charging case. That places it among the longest-lasting wireless earbuds. I used them for lengthy sessions and never got close to draining the batteries, and the earbuds charged up quickly when I put them in the case.
Bottom line
Sure, there are other truly wireless earbuds that sound this good (or better), but good luck finding any with price tags in the $150 range. Combine the Liberty 2 Pro's sound with its comfortable design, its custom HearID EQ preset, aptX support, and impressive battery life, and you're looking at quite the bargain, even considering the lack of active noise cancellation.
Best Prices TodaySoundcore Liberty 2 Pro