If you're like me, you signed up for iTunes Match almost as soon as it was announced exactly eight years ago. The service cost $25 per year then and now, and it solved two separate problems for iTunes Store music buyers.
First, iTunes Match provided high-quality versions from the iTunes Store of any songs that iTunes could match against your collection of ripped music or music acquired from other sources. Second, it synced all your music, matched or not, across all your iCloud-linked devices. Now, this caused oceans of problems for mismatches, but that's a separate topic.
Because of the November 2011 launch date, many people just received their annual renewal notice and wondered if it's still worth it. In the current world order, iTunes Match (which has kept the iTunes name) enables what Apple calls iCloud Music Library. Everything synced across it among devices is DRM-free, and can be played on any device if copied separately.
But you can also use Apple Music to enable iCloud Music Library. If you have Apple Music and not iTunes Match, songs retrieved from Apple Music are locked to playback with Apple Music, and will be deleted or be unplayable without an active subscription. (You can use both Apple Music and iTunes Match at the same time, although that can lead to songs you own and ripped on one machine being downloaded as locked versions on another device!)
If your goal is to cancel iTunes Match, you should ensure you have a full copy of all your music on one of your Macs before proceeding. In iTunes or Music, follow these steps:
Create a smart album that looks like the figure below to find all the locally downloaded music you want to replace with matched versions.

Select all the songs in that smart album, Control-click on the selection, and choose Remove Download. (Warning! If you choose Delete from Library and confirm the action, iTunes or Music will remove the songs from all your linked devices and iCloud Music Library, and throw the local copy in the trash folder.)
Change the criteria in the smart album for "Location, is, on this computer to" to "Location, is, in iCloud." Click OK.
Select all the music now in the folder, and Control-click to select Download.

Choose Account > View My Account.

Scroll down to the Settings area and click the Manage link to the right of Subscriptions.

Find the iTunes Match item and click Edit.

Click Cancel Subscription.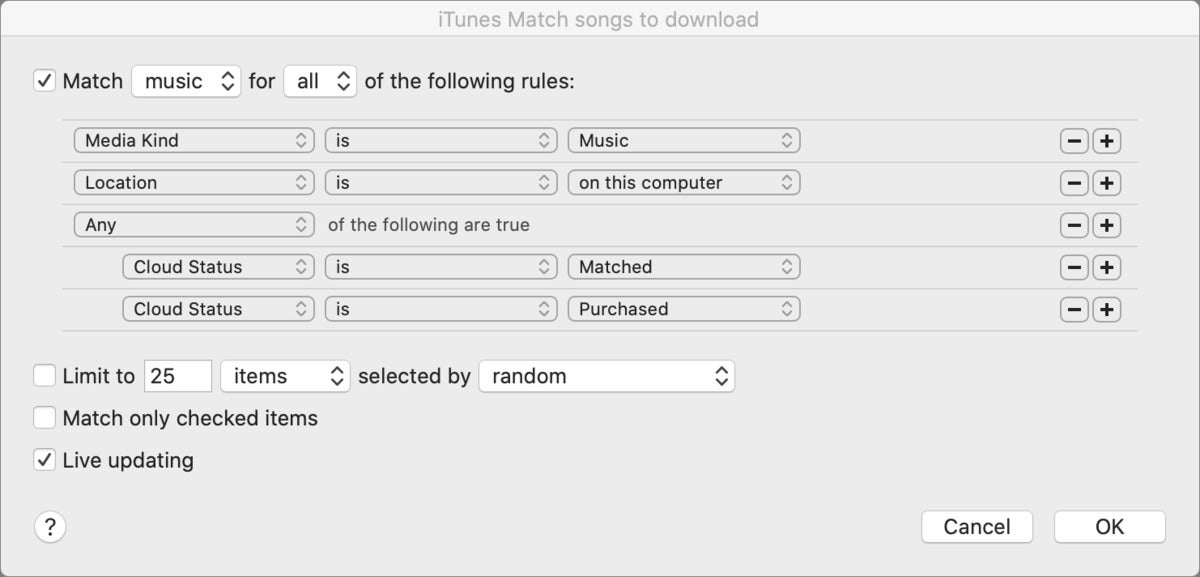 The subscription remains active until the end of the current year, which is noted to the right of the Cancel Subscription button.
Updated: This column was updated October 22, 2020, to correct details for removing downloads before forcing an iCloud download.
Ask Mac 911
We've compiled a list of the questions we get asked most frequently along with answers and links to columns: read our super FAQ to see if your question is covered. If not, we're always looking for new problems to solve! Email yours to mac911@macworld.com including screen captures as appropriate, and whether you want your full name used. Not every question will be answered, we don't reply to email, and we cannot provide direct troubleshooting advice.