My external monitor was having a moment. It powered up when I woke my iMac from its standby mode with pink-hued tone over everything. While this was vaguely aesthetically pleasing, it wasn't particularly beneficial and I thought it would wear on me.
My first thought was that some internal circuitry had cracked and pink was its overlaid color from now on. Fortunately, that wasn't the case.
Sometimes, external monitors don't sync up perfectly with a Mac when they are turned on or woken from a standby state. In other cases, the display isn't recognized by your Mac at all, which thinks it has one (or more) fewer monitors connected to it and relocates windows and icons. These situations seem to happen more frequently with older monitors, but readers regularly report all sorts of oddnesses.
You can troubleshoot the problem by going through this sequence.
Open the Displays preference pane, hold down the Option key, and click the Detect Displays button that appears where the Gather Windows button usually sits (at the lower-right corner of the pane). This sometimes re-awakens monitors that have lost their way.

Put your Mac to sleep and then wake it after a few seconds. This typically solves the "pink" problem, resyncing the external monitor.

Turn the external monitor off, wait a few seconds, and then turn it back on.

Disconnect the external monitor and reconnect it. I've found with USB-C connections, merely disconnecting an HDMI cable from the adapter doesn't help. I have to unplug the adapter from the Mac's port entirely and then plug it back in. Be very careful! It's easy to dislodge hard drive or other cables in the process.

If you'd prefer not disconnecting cables, shut down your Mac, turn off all displays with power switches, power them back on, and start up again.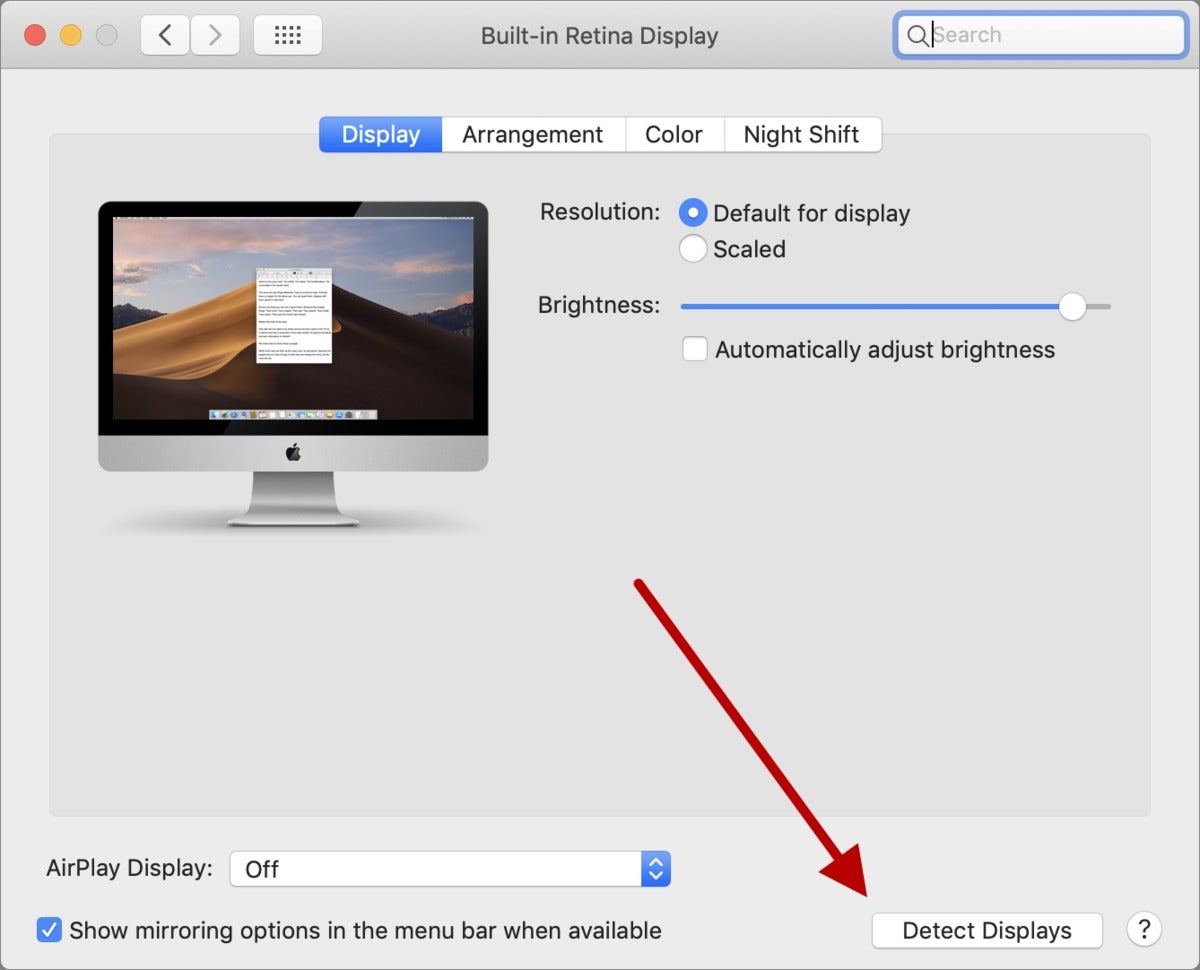 If your external monitor is a second display, as in my case, or a third, fourth, fifth, etc.—yes, some people have a plethora of displays—you might have Desktop items shift during this troubleshooting from the screen on which they usually appear to the primary Desktop. I've found consistently that when my second display is back in action, those items don't move back automatically. I have to drag windows back where I want them.
Ask Mac 911
We've compiled a list of the questions we get asked most frequently along with answers and links to columns: read our super FAQ to see if your question is covered. If not, we're always looking for new problems to solve! Email yours to mac911@macworld.com including screen captures as appropriate, and whether you want your full name used. Not every question will be answered, we don't reply to email, and we cannot provide direct troubleshooting advice.