Apple added a clever option in its 2014 Mac operating system update for letting the Mail app handle large files. Many email servers limit the file size of attachments to something that can be quite modest—in the 10s to 100s of megabytes. This is partly to prevent spam and harassment that could clog a mail server or an email account, putting a user over their quota.
But it's also just for plain efficiency. Email is a terrible way to send large files.
For an iCloud account, you can choose to check the "Send large attachments with Mail Drop" box in Mail > Preferences > Accounts in the iCloud account's Account Information tab. Apple has never defined how large "large" is, presumably so it vary that amount over time or based on factors for individual recipient mail servers.
Based on reader email, it's not clear that Mail Drop works only with iCloud accounts. They attempt to send a large attachment and are told the receiving server has rejected it and Mail suggests trying again. (Why? You'd get the same result.)
It's also quite easy in the Mail app, when you have multiple accounts configured, to compose and send a message from an address other than you intended. You can confirm which account is being used by looking at or clicking the address in the "From:" popup menu in the message you've created.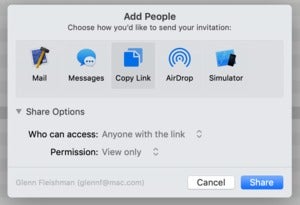 You have several alternatives to Mail Drop, including using iCloud Drive storage. Nearly all online storage and sync systems let you upload or sync a file and then create a shareable link from it, sometimes with an attached time limit. Then, instead of attaching a file to your email, simply paste a link into the body of the message for someone to use.
With iCloud Drive, select a file or folder, click the Share icon in the toolbar, and then select Add People. You can click Copy Link and expand Share Options, from which you can select as "Who can access" "Anyone with the link." You may also want to change Permission to "View only."

With Dropbox, Control-click a file or folder and choose Copy Dropbox Link.

With Google Drive, the instructions have a few more steps and requiring visiting drive.google.com via a browser. Follow these steps.
This Mac 911 article is in response to a question submitted by Macworld reader Janet.
Ask Mac 911
We've compiled a list of the questions we get asked most frequently along with answers and links to columns: read our super FAQ to see if your question is covered. If not, we're always looking for new problems to solve! Email yours to mac911@macworld.com including screen captures as appropriate, and whether you want your full name used. Not every question will be answered, we don't reply to email, and we cannot provide direct troubleshooting advice.