At a Glance
Expert's Rating
Pros
Tactile cameras button allows for easy camera access
Meets Apple's claims of 50 percent extra battery life
Grippy silicone exterior
iOS integration lets you see battery levels in Notifications menu
Cons
Tactile camera button not much faster than touchscreen camera access
Our Verdict
Best Prices Today: iPhone 11 Pro Smart Battery Case with Wireless Charging
A vocal sect of the Apple faithful have been clamoring for a redesign of the iPhone's Smart Battery Case for years, and once again Apple has shown that it's listening to such complaints. Well, kind of. This year's Smart Battery Case for the iPhone 11, 11 Pro, and 11 Pro Max looks a lot like the Apple battery cases that came before it, save for the subtle addition of a tactile camera button on the right side. It's a small thing, but it's a welcome extra feature that helps make this a "smart" buy apart from juicing up your phone with half the power of the iPhone's built-in battery.
First, though, let's take a look at that overall design. Apple designed the shell with the same silicone it uses for its non-battery silicone cases, which yields one of the grippiest surfaces we've encountered in a phone case—for the first few months, anyway. As I shared in 10-month-long review of the iPhone XS Max's silicone case, that silicone tends to flake off after several months of heavy use. And if you use your phone enough to need a battery case, you're probably a heavy user.
Mind you, it's not exactly the same design. Apple's normal silicone case conceals a hard plastic skeleton that's prone to cracking after frequent drops. There's no such hard backing under this silicone, though, chiefly so you can use the elastomer "hinge" to bend back the top of this case and easily slip the iPhone into (and out of) the Smart Battery Case's Lightning port. This, in fact, is one of the main perks of the Smart Battery Case: You need only a single port to charge both the case and the phone. Third-party cases typically require you to charge the case separately with a micro USB cable. You can also charge this case wirelessly with a Qi-certified charge, although that'll take a bit longer.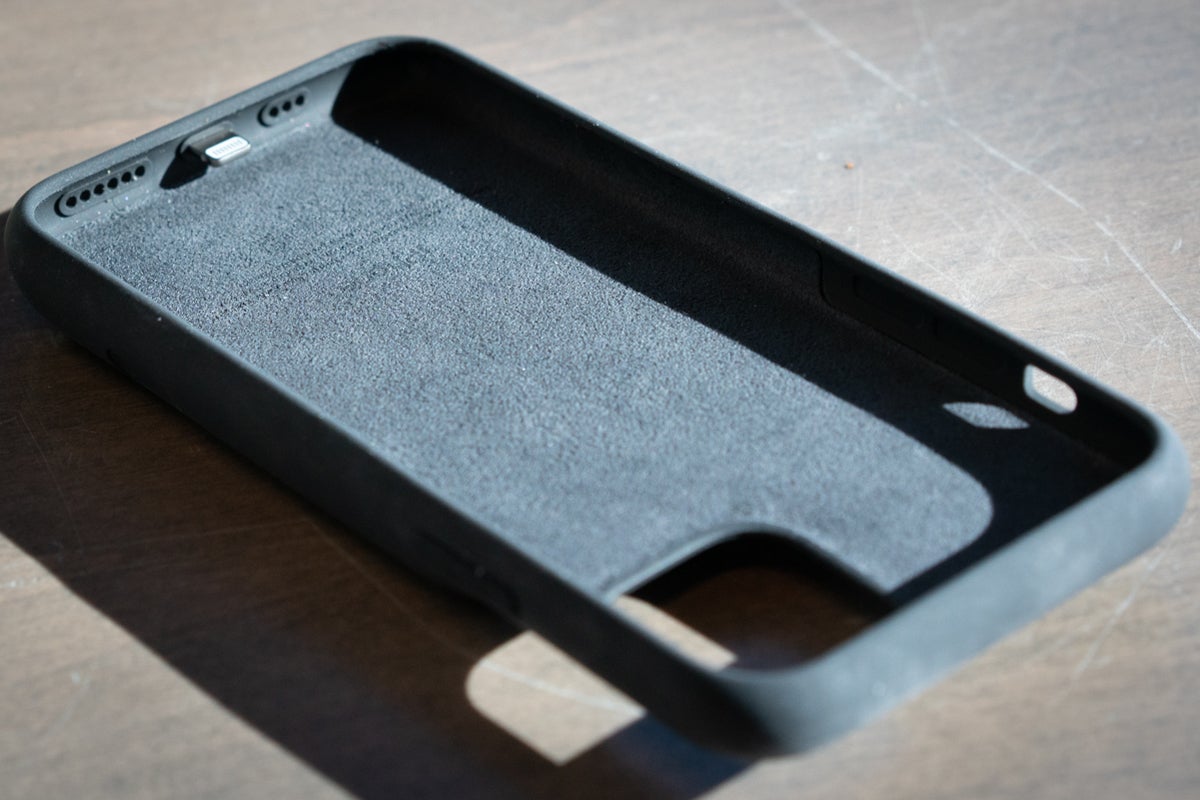 This shared port lets the case chat directly with iOS, which is where the "smart" part comes in. You'll get a taste of it when you first slip the phone inside, as the iPhone's lock screen will display charging icons for both the case and the phone. Even better, in iOS 13 proper, you can swipe over to the battery widget in the Notifications screen and see the Smart Battery Case listed along with your AirPods, Apple Watch, and whatever other devices you have hooked up.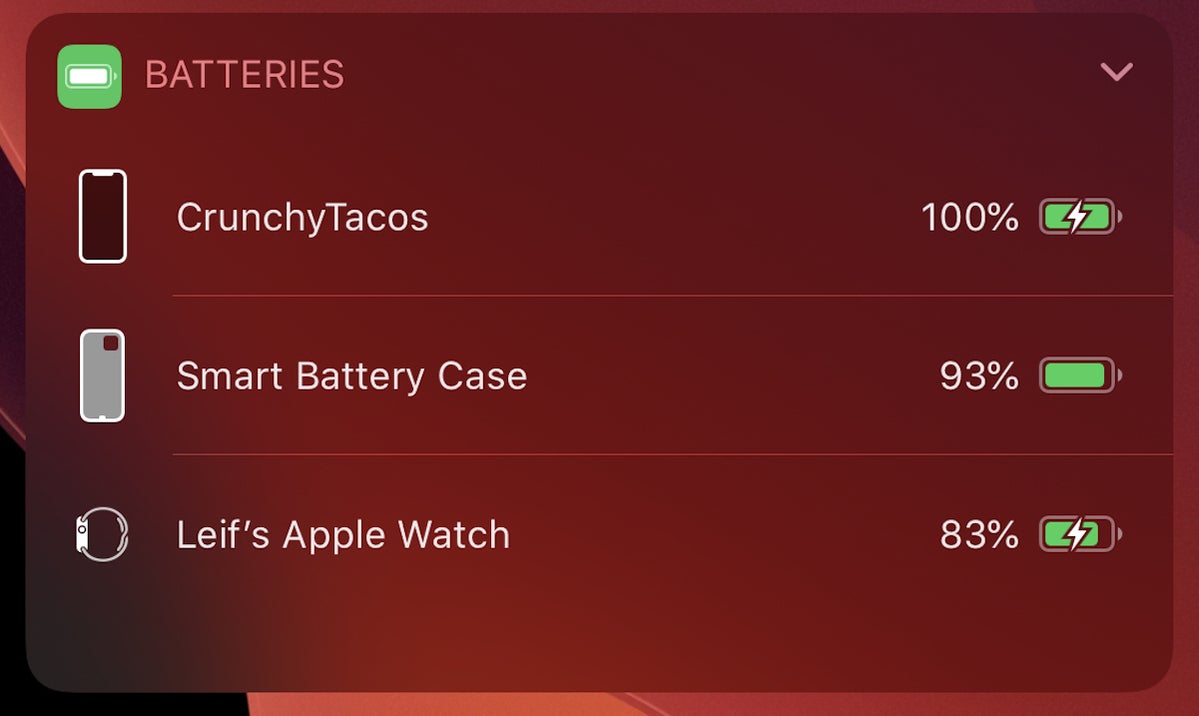 It's a nice alternative to third-party cases (although not necessarily more convenient), as they typically communicate the battery life through a string of lights along the case's side. The Smart Battery Case has an orange LED light that flicks on when you plug in a Lightning cable, but you'll only see it if you're charging the case separately because it's nestled in the interior microfiber lining that's normally concealed by your phone. The side and volume buttons perch on the edges, and they're so pleasantly tactile I was initially fooled into thinking they weren't made from the same silicone as the rest of the body.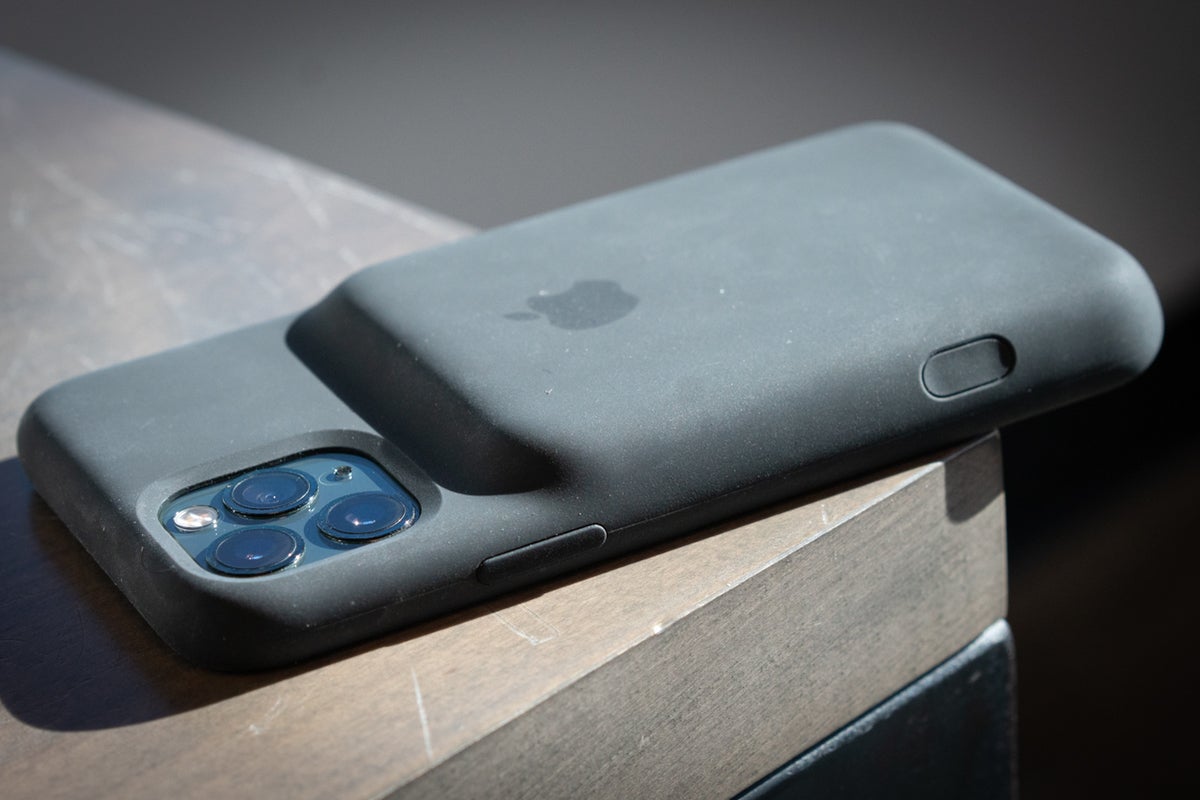 As for the new camera button, it's little more than a subtle concave groove in the case's side—much like a thumbprint left a slab of Play-Doh. You can buy the case in black, white (or "pink sand," but only if you own an iPhone 11 Pro or 11 Pro Max), but as you can see in our unboxing video above, the button all but disappears into the silicone of the black model we received.
I'm glad to see another option on an Apple device, but its convenience is questionable. The camera app doesn't immediately pop up when you tap the button, likely to keep the camera from flipping on every time your phone bumps into something in your bag or pocket. Instead, the camera app only appears if you hold down the button for around a second. In line with the touchscreen changes in iOS 13, a quick tap takes a photo, while a long press starts a video (although the video will stop if you lift your finger). In practice, I find that pressing the button doesn't save much more time than activating the camera through the usual method of swiping left on the lock screen. In fact, I'm inclined to say it takes a bit longer. The main convenience is that you absolutely don't have to look at the phone in order to turn on the camera.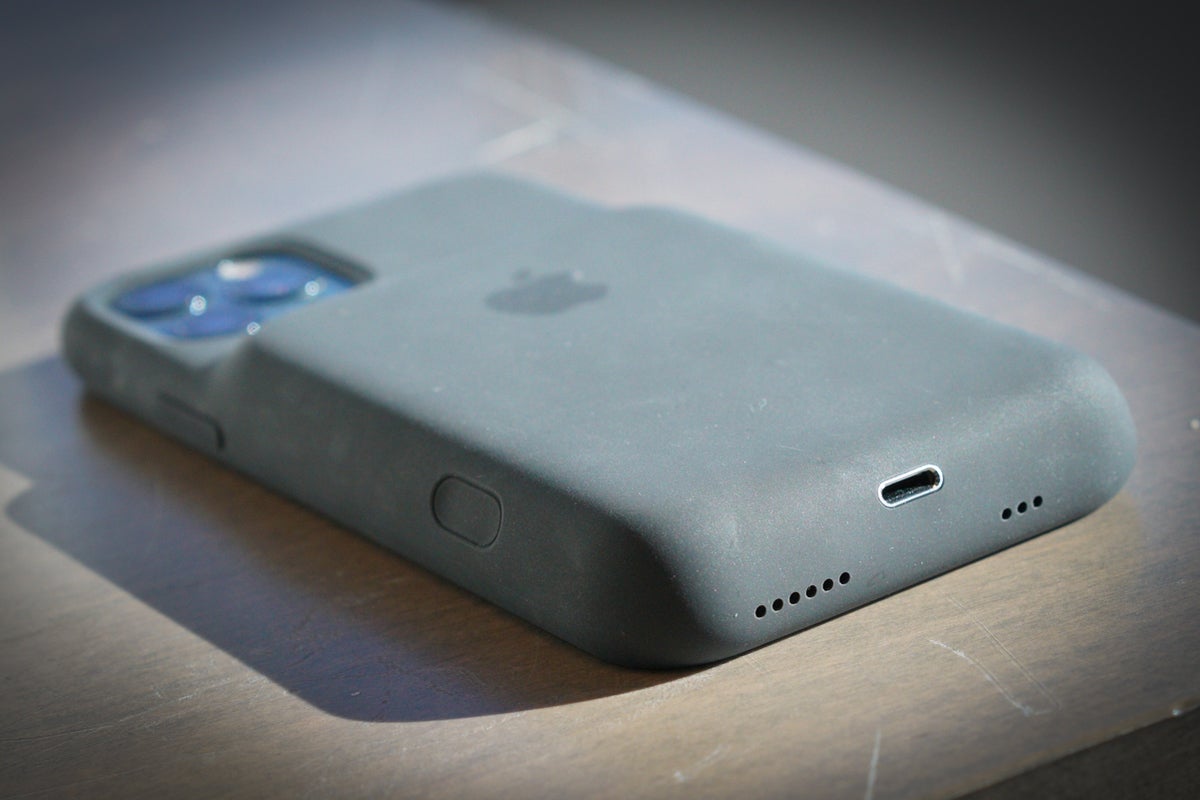 Apple claims the 1430 mAh battery delivers around 50 percent of an iPhone's normal battery life, which is impressive considering that the iPhone 11's already solid reputation for battery life. My experience shows that this estimate is right on the money. Over the weekend, I slipped on the fully charged case when my iPhone was at 15 percent, and over the course of two hours, it charge my phone up to 61 percent. At this point, the case's battery showed a 22 percent charge. When I checked an hour later, the case was depleted and the phone showed a charge of 75 percent.
Battery life varies, of course, depending on brightness, CPU usage, and other factors, but it's safe to say that if you normally get around 10 hours of use out of your phone's battery, this will give you another five. That's impressive—certainly impressive enough to make me feel comfortable leaving my battery pack at home and toting the case with me instead. As I see it, I'll use my normal case unless my iPhone dips into the red, and then I'll slip it into this case.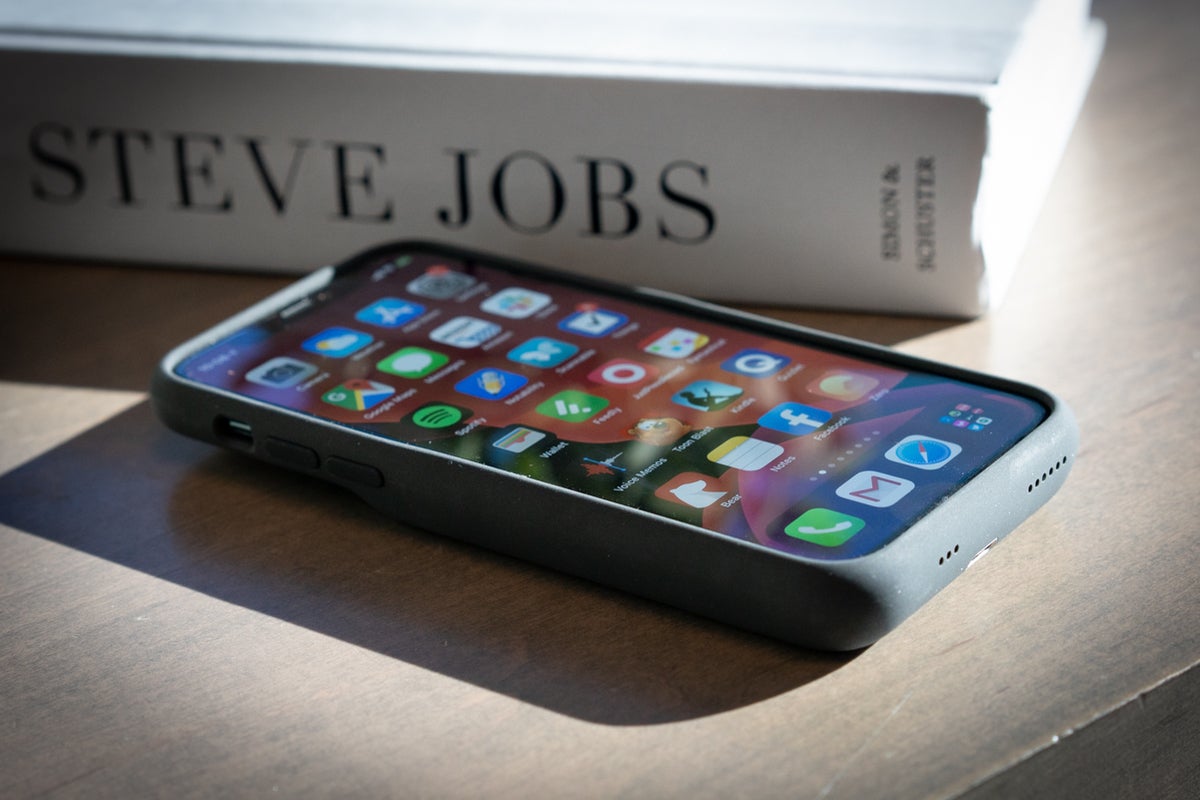 That's not because I have a problem with the "humpback" design that makes so many other people bristle, but rather because I'm not a fan of thick cases in general. This design is a concession to people who like thin cases, and it does nothing to throw off a phone's balance when it's laying flat on a table (unlike, say, the camera bump on the bare phone itself). It's also still essentially thin as cases go, as I had relatively little trouble slipping it into the pocket of my jeans.
Bottom line
This isn't a necessary case for most people, particularly since many iPhone owners now get through their days just fine without needing a charge. For most users, this $129 case would be an extravagance, and I'd suggest buying a spare battery back instead for around half the price if you feel the need. But if you use your iPhone like a miniature laptop or if you often travel to countries where charging opportunities are few and far between, you might find this case a "smart" buy, indeed.
Best Prices TodayiPhone 11 Pro Smart Battery Case with Wireless Charging