The two-factor authentication (2FA) system Apple developed to protect access to your Apple ID account and associated purchases and the ability to make purchases has safeguards in place to make sure that you shouldn't easily lose access to your account even if you lose one piece of the authentication puzzle.
When you enroll in 2FA, all Macs, iPhones, and iPads logged into the same Apple ID become "trusted devices," capable of letting you approve access from a given location and then receiving the code that you must enter to complete a log in when setting up a device, setting up store access, or accessing your account at the Apple ID site.
Part of the 2FA setup process lets you also add phone numbers at which you can receive either a text message or an automated voice call that speaks the authentication number digit by digit.
If you have friends or family members who you trust enough to add as an extra backup, I suggest you add their phone number as a trusted one. And note: unless you also give them your Apple ID password, a trusted phone number is only part of what's needed to gain account access.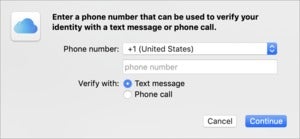 You can add a trusted phone number in macOS, iOS/iPadOS, and at the Apple ID site:
macOS Mojave and earlier: Open the iCloud preference pane, click Account Details, click the Security tab, and click the + (plus) below the Trusted Phone Numbers list. Follow directions to add and verify new numbers.

macOS Catalina: Open the Apple ID preference pane, click Password & Security, and click Edit to the right of Trusted Phone Numbers, then follow prompts.

iOS and iPadOS: Open Settings > account name > Password & Security and tap Edit to the right of Trusted Phone Numbers. Follow prompts.

Apple ID site: Visit the site, log in, click Edit to the right of Security, and then click Add Trusted Phone Number and follow directions.

This might seem like an extreme scenario, but I regularly receive email from readers and friends who have had devices stolen, that have bricked themselves, or that have been destroyed in an accident or disaster who cannot pull together enough information to complete a 2FA login and then add other devices or revise account settings.
Apple has a whole recovery process, but it's intentionally time consuming (to deter and expose identity thieves) and Apple might in the end not restore your account to you if it can't definitively determine you're really the rightful owner.
This Mac 911 article is in response to a question submitted by Macworld reader Dareyon.
Ask Mac 911
We've compiled a list of the questions we get asked most frequently along with answers and links to columns: read our super FAQ to see if your question is covered. If not, we're always looking for new problems to solve! Email yours to mac911@macworld.com including screen captures as appropriate, and whether you want your full name used. Not every question will be answered, we don't reply to email, and we cannot provide direct troubleshooting advice.