At a Glance
Expert's Rating
Pros
Automatic font classification
Discovery Engine finds similar and complementary fonts
Fast and powerful
Cons
Font classification doesn't support PostScript format
Pricey for casual users
Our Verdict
If you simply want to feel more knowledgeable while choosing your fonts, FontExplorer X Pro 7 is a relatively affordable ticket into the wonderland of discovering and pairing your fonts
Best Prices Today: FontExplorer X Pro 7
While an up-to-date font management utility is a necessary tool for creative professionals, version 7 of FontExplorer X Pro adds features that make it appealing to any Mac user who wants to explore their font collection. In addition to the arsenal of useful features and tools in previous versions, version 7 adds helpful and educational features, such as automatic classification of your fonts by style, suggested usage, or theme, as well as the ability to show you similar fonts, and to show you fonts that pair well with a selected font.
Finding fonts
Sometimes when choosing a font for your project, you find a font that's almost what you're looking for, but not quite. The new Similarity panel helpfully shows you other fonts in your collection that are similar to the one you've selected. (Note: As with the other new font identification features, Similarity only works with fonts in the TrueType or OpenType formats. PostScript fonts and web fonts are not included.)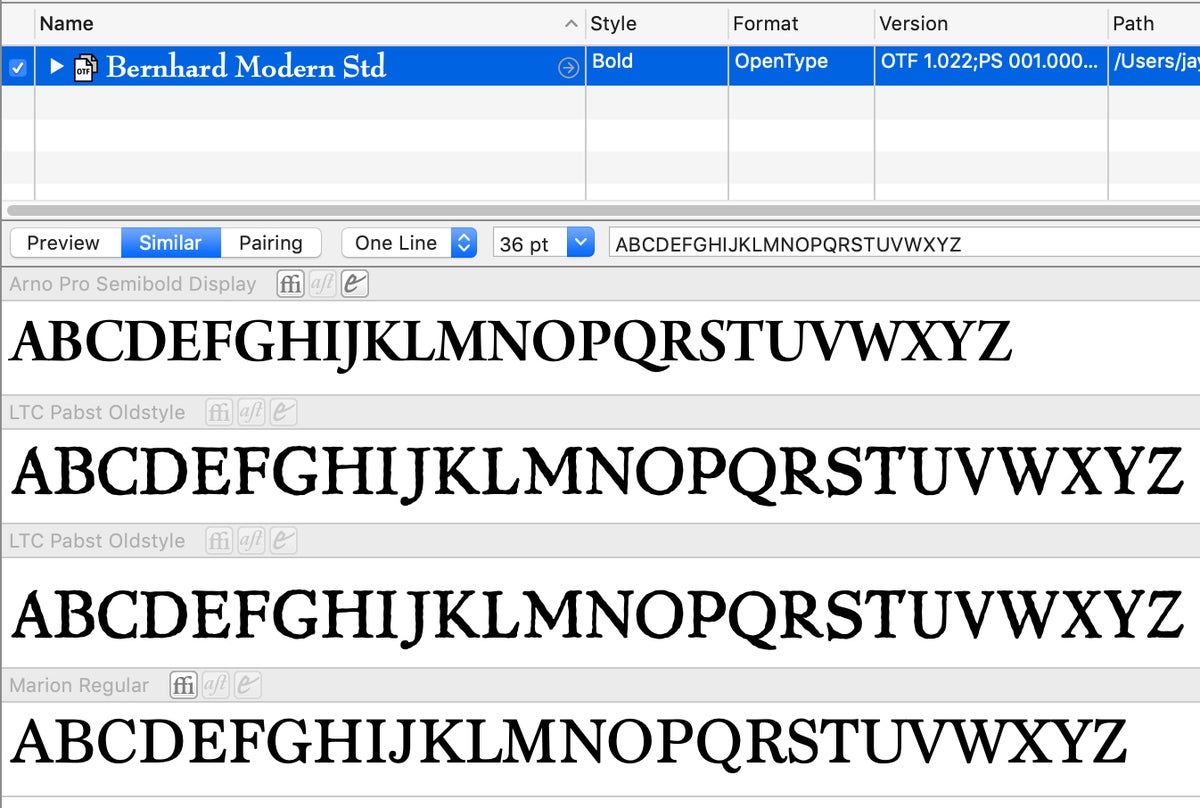 Once you've decided on a main font for a project, it can take hours to find fonts that pair well with it. You can shorten that time dramatically by using the new Pairing panel, which displays a list of your fonts that work well with a selected font. In my collection of thousands of fonts, it did a reasonable job.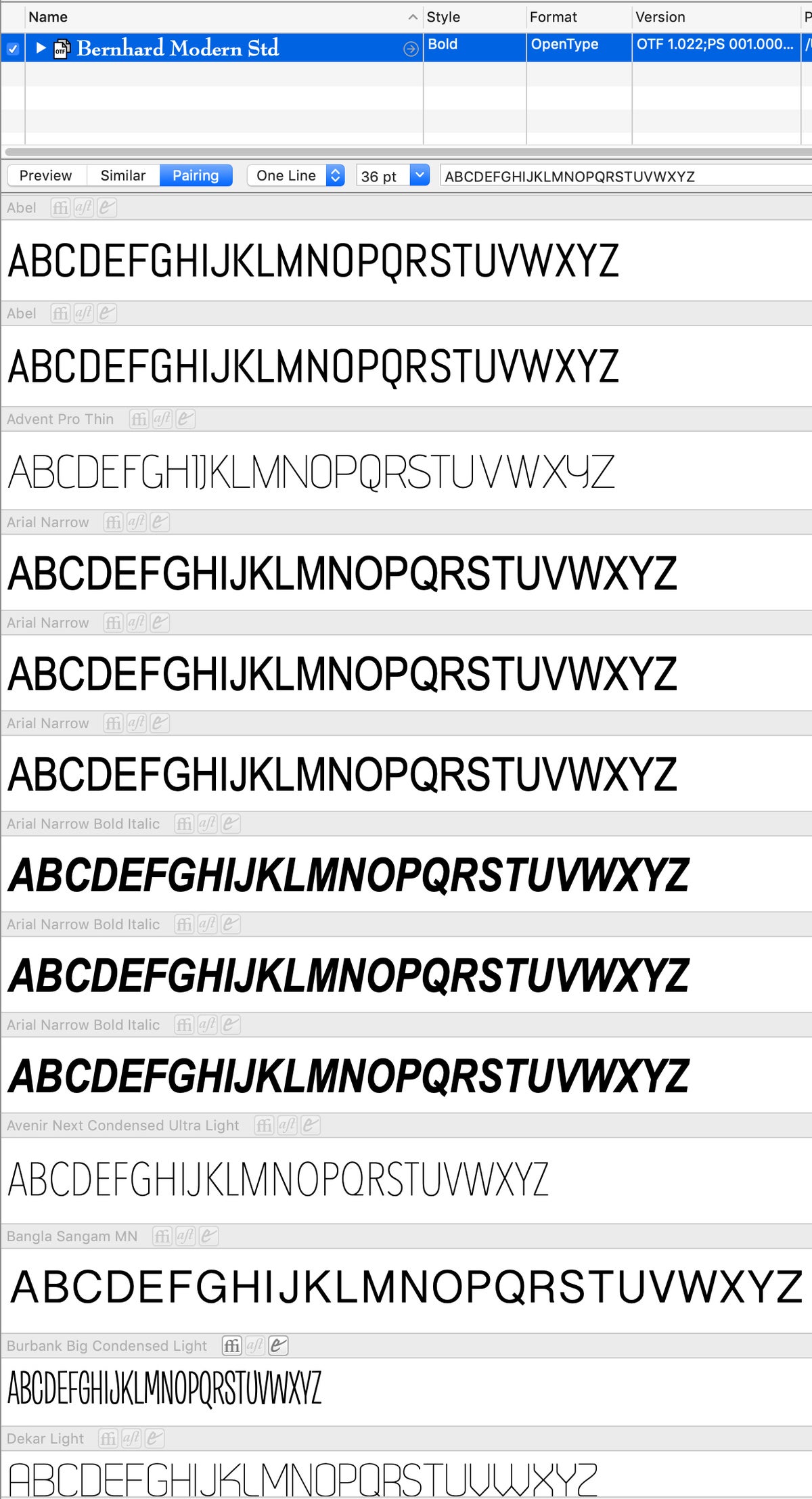 Font aficionados know to look for fonts by style, such as Decorative, Script, or Old Style Serif. But sometimes it's more useful to be able to choose by intended usage, such as Book, Poster, or Screen; or by theme, such as Birthday, Certificates, or Halloween. FontExplorer X Pro 7 not only automatically classifies your fonts by Style, Usage and Theme, it adds them to Smart Sets that are named with these classifications. This makes it easy to flip through a list of your Birthday or Poster fonts for that special project.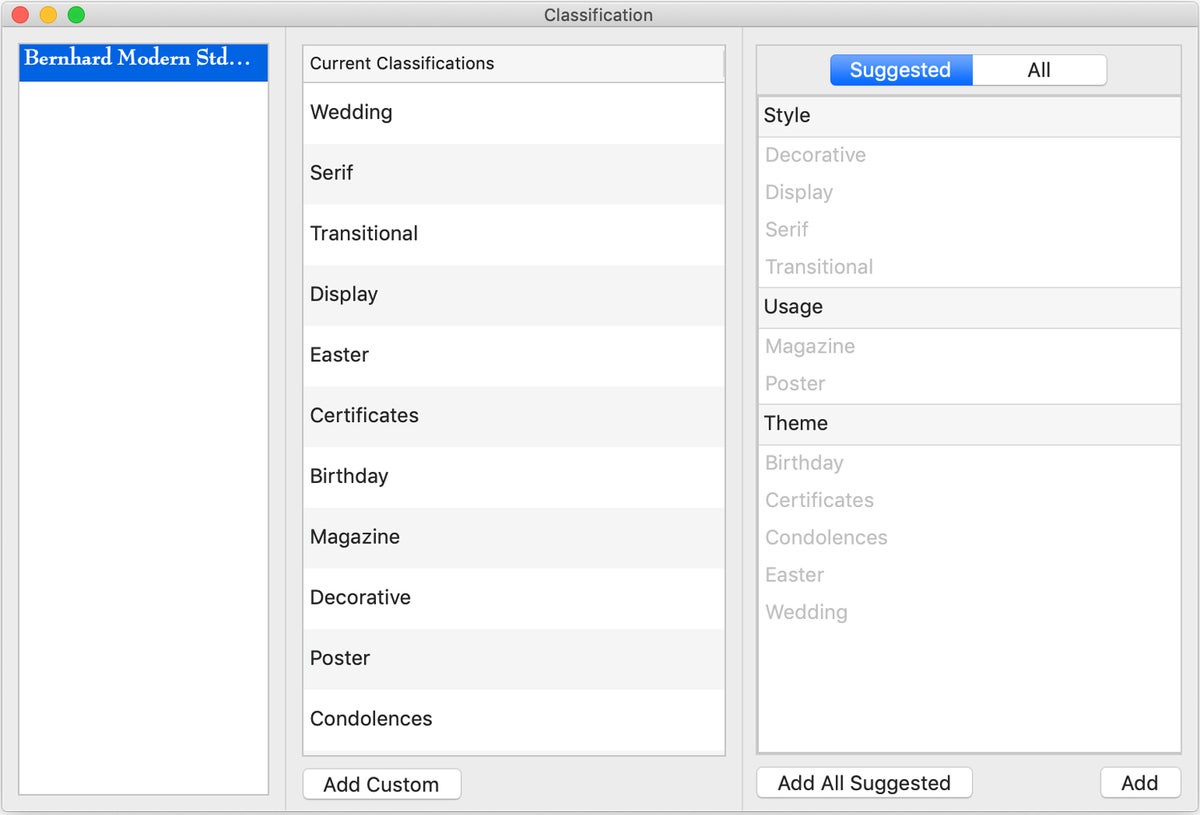 However, you're not limited to only the classifications provided and assigned by FontExplorer. You can create your own and apply any combination of classifications to a font.
Background mode
FontExplorer includes plug-ins to automatically identify and activate the exact versions of fonts used in documents created by Adobe InDesign, InCopy, Illustrator, Photoshop, and Quark's QuarkXPress. Now in version 7, even if the FontExplorer app isn't currently running, these plug-ins can launch the app to run in the background. When that happens, the normal FontExplorer window doesn't open, and its Dock icon turns black instead of blue.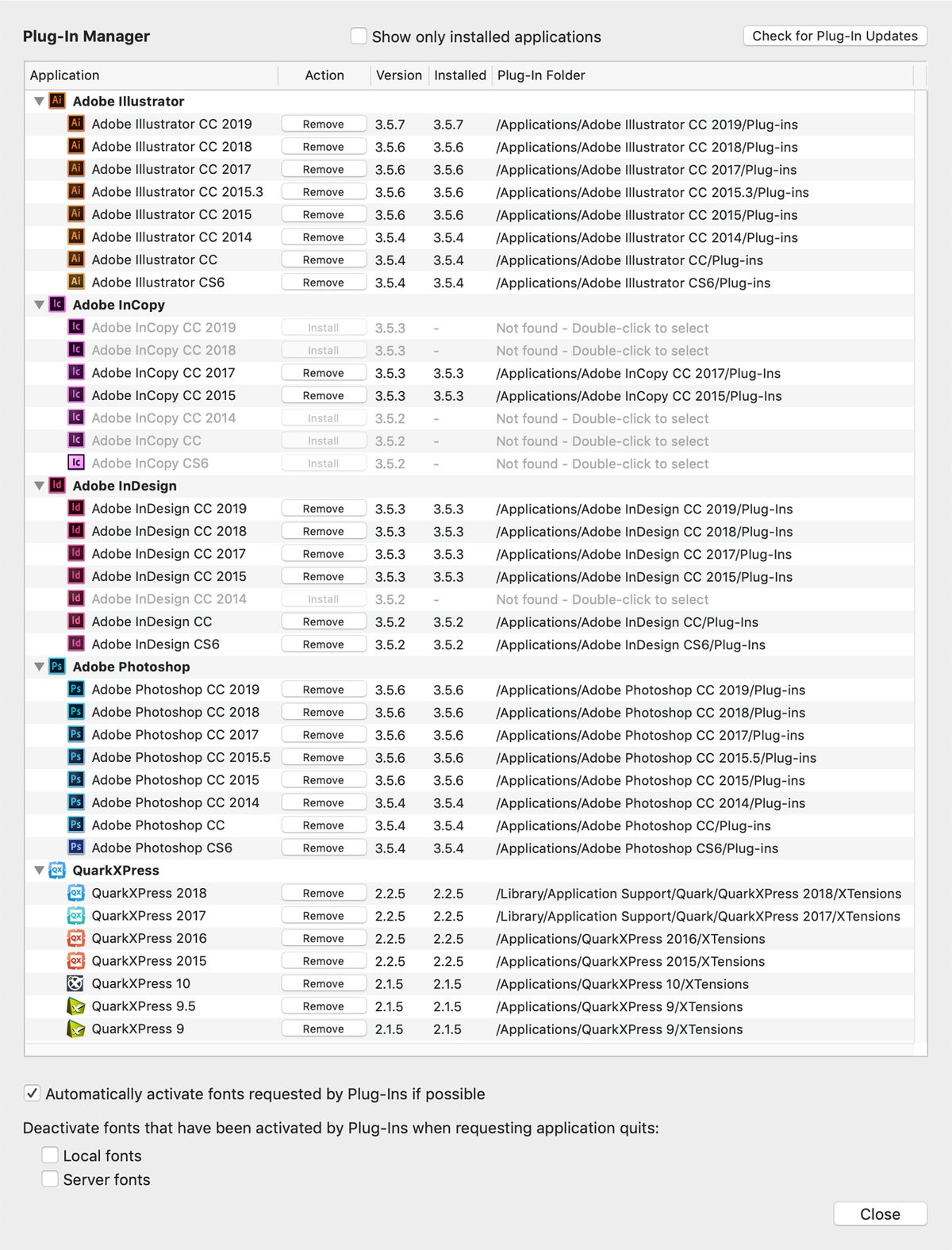 FontExplorer now remembers when each font is activated and deactivated, so you can use Smart Sets to quickly get back to fonts you recently used. Also new is the ability to use relative date options, such as the last 30, 90, or 180 days.

Your purchase or upgrade to version 7 includes dozens of professional fonts from Monotype, including Bell Gothic, Daytona Pro, Garamond MT Pro, Meta Corr Pro, Smile, Tresillian Script, and Wolpe Pegasus.
Other powerful features
The new version also includes many unique workflow-enhancing features from previous versions.
Detect and collect fonts in documents without opening them. Dozens of file formats are supported, but notably not QuarkXPress.

Preview how your fonts would appear on an existing web page, and then automatically generate the CSS code required to use them. You can even edit the text on the web page and view the page as it would appear in several different web browsers, devices and operating systems.

Function as a client to FontExplorer X Server 3 (available as a separate product). The server's administrator controls permissions for each client, including the ability to export fonts from the server, buy fonts from online stores and many other client capabilities.
Bottom line
If you already use FontExplorer, this upgrade justifies its cost, especially if you factor in the bundled professional fonts. But if you simply want to feel more knowledgeable while choosing your fonts, version 7 is a relatively affordable ticket into the wonderland of discovering and pairing your fonts. -end-
Best Prices Today: FontExplorer X Pro 7