At a Glance
Expert's Rating
Pros
Three new Guided Edits for time-lapse, animating skies, using vertical video
Smart Tags, Faces make it easier to find video content
Drag-and-drop Reduce Noise effect for cleaning noisy video
Cons
Fewer new features in this year's version
Vertical video guided edit requires too many steps
Reduce Noise effect only available in Expert mode
Our Verdict
Adobe Premiere Elements 2020 strips away the complexity of digital video editing, making it easy to improve grainy videos, animate static backgrounds, incorporate vertical clips into a timeline, create dynamic time-lapse videos, and more.
Best Prices Today: Premiere Elements 2020 [PC/Mac Disc]
Manipulating still images tends to be easier than editing video—tweak the brightness, add a vignette effect, throw on a filter (or three), and you've got a photo worth sharing with others. By comparison, digital video requires a degree of timing and skill to assemble disparate shots into a cohesive whole.
Such is the challenge for creators of video editing software: Take something inherently complicated and make it easy enough for anyone to do. Is it really possible to toss random clips onto a timeline and let artificial intelligence assemble them into a slick presentation? Not quite, but we're inching closer to that goal.
Smart tags
On the surface, the video editing workflow in Adobe Premiere Elements 2020 remains unchanged since last year's release. Like sister app Photoshop Elements for images, there are three methods for editing videos: Quick, designed to trim clips or hastily assemble a timeline from multiple videos; Guided, which walks users step-by-step through the entire process; and Expert, which offers freeform editing with more advanced tools but none of the guidance.
The major workflow enhancement has been added to Organizer, the library browser utility serving both members of the Elements family equally. PE2020 introduces Smart Tags, a feature previously incorporated into Photoshop Elements which taps into the company's Adobe Sensei artificial intelligence and machine learning technology to automatically tag subjects found in videos and still images as you add them.
For example, I imported a dozen videos shot at a recent Taekwondo holiday party attended by my kids, and Adobe Sensei automatically added Smart Tags for "sports" and "people" to make those clips easier to find when searching. PE2020 does the same for faces as well, allowing editors to find only videos with certain people in them. Small improvements, but they really make a difference when it comes to narrowing down a search for the right clip.
Making the cut
Although there's no magic one-click "make a movie from these videos" button, PE2020 features Smart Trim, a tool that attempts to intelligently choose the most interesting parts of a selected clip. Three presets are available: People, Action, or Mix, depending upon the style of shot you're trying to add.
In my tests, Smart Trim did an admirable job selecting the most interesting pieces of a clip, especially used in conjunction with the Action preset on more energetic clips. You can also drag the edges and click Mark Manually to make a selection, then use the Camera button to continue adding more scenes from the same clip.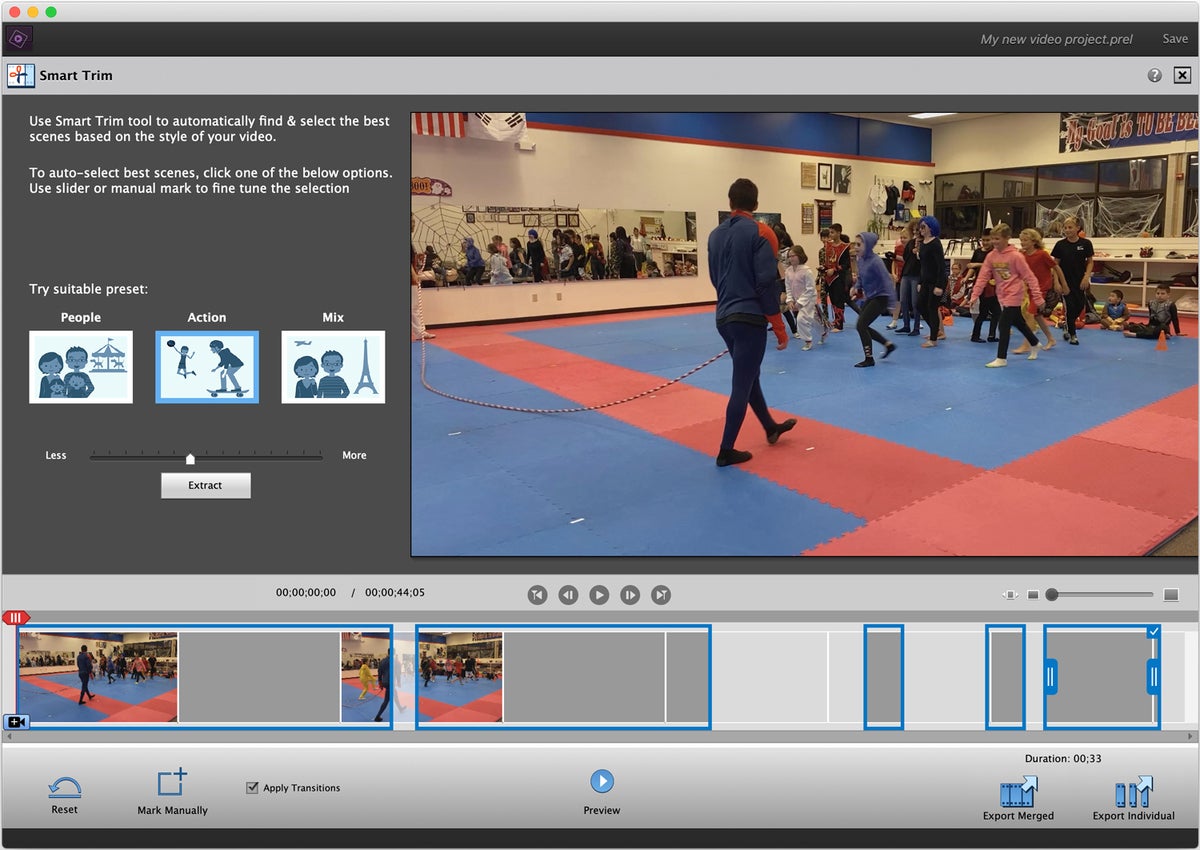 This was the best overall method, although there's no way to drag an entire selection while scrubbing across a clip to preview the results—only by choosing in and out points. This would help speed up the process by scrubbing to where you want the selection to begin, then dragging the out point to where it should finish.
Adobe has also made it a little easier to incorporate video shot with a smartphone held vertically (i.e., the wrong way) into a traditional horizontal frame. This process creates a rescaled, blurry version of the same clip that fills up what would otherwise be black on the left and right sides of a vertical clip. However, this is not a one-click adjustment but rather a Guided edit requiring no less than five steps: Import a clip, create a duplicate and stack it on top of the first, then scale and apply blur to the background. A clumsy but otherwise workable solution.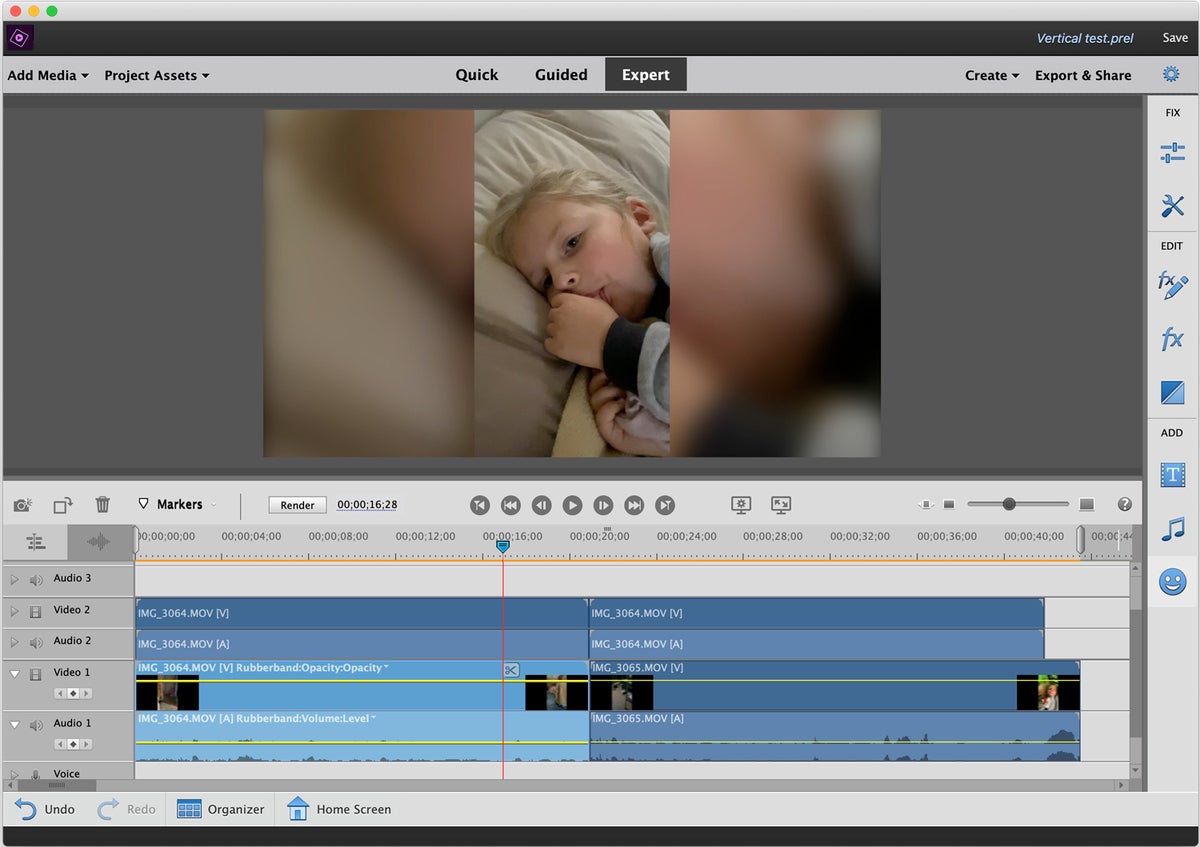 Cleaning up
Two other Guided Edits new in this year's Adobe Premiere Elements 2020 help bring motion to imported still images. Animated Sky walks users through the process of replacing the sky in a digital photo with moving video using the Ultra Key effect to make a shot that's more dynamic.
It's a neat trick that can be quite effective with the right image, although many of the stock replacement graphics available make skies look like alien worlds. If you have a folder of photos and video from the same event, Time-Lapse is another cool Guided Edit feature for stringing them together as a sequence in just a few clicks.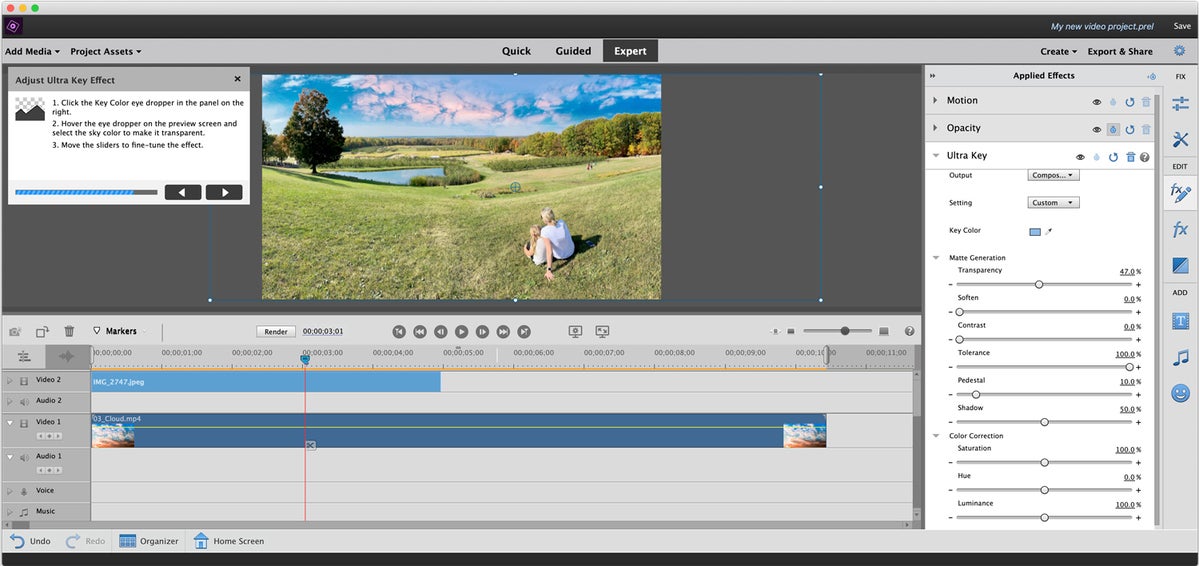 Last but not least, there's a new Reduce Noise effect, which can only be applied on a clip-by-clip basis while in Expert mode. It's super easy to use, with a dropdown menu containing only three quality modes: Default, Moderate, or High. You'll want to experiment to get the best results; although the effect does what Adobe promises, it does come at the expense of increased render time and overall sharpness.
Bottom line
There aren't a ton of new features in Adobe Premiere Elements 2020, but what's here definitely enables a few more creative possibilities for novice editors, as well as making it much easier to find and incorporate existing footage into a project.
Best Prices Today: Premiere Elements 2020 [PC/Mac Disc]