Most dentists recommend using an electric toothbrush, but the big brands can be pretty expensive. The Platinum Sonic Toothbrush offers a smarter, more affordable alternative. You can get it now with a UV sanitizing charging base for just $49.99.
Research by scientists at the University of Manchester shows that the average toothbrush is home to 10 million bacteria including E. coli and staphylococcus. Unless you sterilize your brush, you will transfer these germs into your mouth.
Thanks to a UV sanitizing charger, the Platinum Sonic Toothbrush stays germ-free. In addition, this powerful brush can hit 40,000 strokes per minute to blast away plaque.
The brush actually has three different speed settings. Clean is the default, Dazzle makes your smile whiter, and Pulse promotes better gum health.
To ensure you don't over-clean, the Platinum Sonic Toothbrush has a timer that tells you when to switch between areas. The brush lasts for two weeks on a full charge, and the supplied DuPont brush heads offer excellent performance.
Worth $259, the Platinum Sonic Toothbrush and a UV sanitizing charging base is now only $49.99 with two extra brush heads. Alternatively, you can get the brush with a USB sanitizing case for $49.99 (normally $259).
Another great option is the Elements Sonic Toothbrush, which offers four cleaning modes and a UV sanitizer. It's usually $500, but you can get it now for $69.99.
Prices subject to change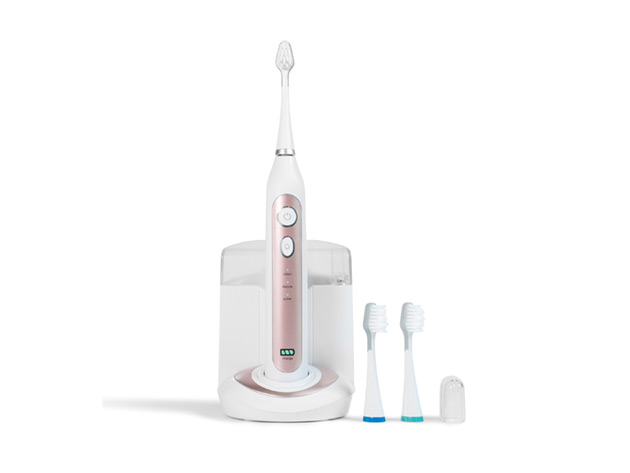 Platinum Sonic Toothbrush & UV Sanitizing Charging Base With 2 Bonus Brush Heads (Rose Gold) – $49.99
See Deal