Content-blocking Safari extensions let you select what kinds of items you want websites to load. Popular blockers prevent third-party tracking links, auto-play video, known malicious content, and a number of other undesirable elements. However, most blockers also let you block specific categories of ads or all ads.
Many websites depend on advertising, and the rise of ad blockers has had the concomitant effect of reducing ad revenue to those sites. (I'd argue that loading content from 70-plus ad networks and tracking systems, as some sites I visit do and allowing any advertiser without prior vetting to display ads, may have driven people to use blocking technology, but that's a policy discussion.)
In recent weeks, it's become clear in my browsing that editorial websites—ones that offer news and information—have rolled out more effective anti-blocking technology. This recognizes when a blocker is in use and either asks you disable it or blocks you from using the site. (It's an escalation that I assume blockers will try to defeat with anti-anti-blocking technology that quietly loads and doesn't display the anti-blocking bits that are used to detect blocking…and so forth.)
While you can configure your ad blocker (or multiple blocking tools) to whitelist particular sites, Safari for macOS offers a simpler way if you trust the site entirely—or just want to get rid of the messages.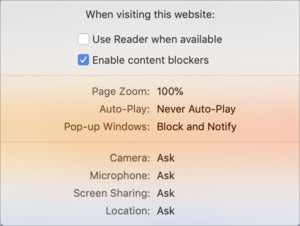 With the site loaded in Safari, Control-click the site's name in the Address and Search bar (don't click in the field first) or choose the menu item Safari > Settings for This Website. Now, uncheck the Enable Content Blockers box. Safari immediately reloads the page.
This isn't ideal, of course. While websites have the absolute right to require you meet certain criteria to view their free or paid content, there's also variability in what's displayed and enough bandwidth consumed that a happier medium could be struck. For the meantime, this full on/off option may let you continue to access sites that would otherwise be unavailable.
If you'd like to modify your Content Blockers settings directly without using the Address and Search bar pop-over menu or visiting the site, choose Safari > Preferences > Websites and click the Content Blockers icon in the left-hand list. You can then modify settings for any Web site that you have currently open in a tab or that you've ever change preferences for.
Ask Mac 911
We've compiled a list of the questions we get asked most frequently along with answers and links to columns: read our super FAQ to see if your question is covered. If not, we're always looking for new problems to solve! Email yours to mac911@macworld.com including screen captures as appropriate, and whether you want your full name used. Not every question will be answered, we don't reply to email, and we cannot provide direct troubleshooting advice.