Whether you buy the mini, Max, Pro, or simple iPhone 12, one thing is for sure: You're going to want to slap a case on it. Even with a new stronger ceramic coating on the screen and a thinner, more grippable design, the iPhone 12 is still dressed all in glass, so you'll need to protect it from slips, scratches, and of course, fingerprints. Here are our favorite cases so far.
Otterbox Commuter
Price: $40
Color: black, green, blue, pink
MagSafe charging: no
Why we love it: Otterbox is one of the most well-known names in phone cases for good reason: its cases are stylish, sturdy, and will keep your phone safe from all kinds of falls. The Commuter case is a classic one that strikes a balance between the bulky and rugged Defender and a less-than-protective silicone case. It offers two-layer protection that firmly locks into place while leaving cutouts for the speaker, a cover for the Lightning port, and nice clickable buttons. And it looks good too, with two-tone color accents and a classy black rim around the camera.
Vena Commute
Price: $30
Color: blue, gray, rose gold
MagSafe charging: no
Why we love it: It's one thing for a case to protect the phone, but it's another to have it double as a stand or a wallet. The Vena Commute case does both. A nifty accordion drawer on the back hides up to three credit cards and can also be folded into a mini stand for watching movies. The extra functionality adds a bit of bulk to the case, but its tapered design gives it a semi-slim feel. The somewhat recessed buttons look good and have a good click to them, while the mute switch is easy to access. And the metallic accents make the case look professional and sophisticated.
Grip2u Slim
Price: $25
Color: black, red, gold, silver, clear
MagSafe charging: no
Why we love it: The Grip2u Slim case would be just another plastic case for the iPhone if not for its signature feature: a built-in rubber handle. And it's a good thing it's there, since the thin TPU material is quite slippery. The buttons are a little stiff and the strap seems like it might stretch out over time, but those are small prices to pay for one of the most practical cases we've ever seen.
Mous Limitless 3.0
Price: $50
Color: wood, leather
MagSafe charging: no
Why we love it: Colorful silicone cases are a dime a dozen when it comes to the iPhone, but the Mous Limitless 3.0 case isn't one of them. The model we tested is made of walnut, but it also comes in bamboo, carbon fiber, and speckled leather. The wood grain is a bit slick to the touch, but the sides add a nice grip that'll keep your iPhone 12 from slipping out of your hands. There's even a hidden compartment on the inside for two extra SIM cards and an ejector tool. The buttons feel great but it's a little tricky to take off, which kind of defeats the purpose of the hidden compartments. But it looks so good you're unlikely to take it off too often.
CLCKR
Price: $40
Color: black, green, blue, pink, marble
MagSafe charging: no
Why we love it: As you can tell by this list, we've big fans of iPhone cases that do double-duty: keeping your phone safe and adding functionality. The CLCKR case doubles as both a stand and a strap for your iPhone 12 with its unique pop-out design. The back has a fabric-like texture and the stand/handle is easy to pop out and put in place.
totallee
Price: $39
Color: black, blue, green, clear
MagSafe charging: yes
Why we love it: Totallee's cases are as simple as they come, but they're among our favorites for one reason: thinness. We've tested a ton of thin cases over the years, but none rival Totallee's fit, adding barely any weight or bulk to the iPhone's body. It's so thin, in fact, it's one of the only cases to support MagSafe out of the box without any special magnets. And there's even a Pacific Blue option so you won't have to cover up the cool new color of the season. Think of it like an easy-to-apply skin, good for scratch protection and preserving your iPhone's slim shape, but not great drop protection.
ESR Machina Series
Price: $18
Color: black, grey, gold
MagSafe charging: no
Why we love it: ESR's cases are among the cheapest you can get, but they fit and feel like they should cost a whole lot more. The Machine case has a firm, rugged exterior that has a fantastic texture, a nice ergonomic design, and a cool pop of color around the camera. But our favorite feature is the pop-out stand that's sturdy enough to keep the iPhone 12 propped in portrait or landscape mode and still use it.
Smartish Wallet Slayer vol 1
Price: $20
Color: black, blue, purple, flavor of the month, chef's special
MagSafe charging: no
Why we love it: You could buy Apple's $60 leather MagSafe wallet to hold three credit cards, and deal with it falling off all the time, or you could buy a case like this one that has a card holder built in for a fraction of the price. It's got a nice rubbery, grippy feel and securely holds three or four cards, with good cutouts for easy access. The button covers on the sides are a little on the stiff side, but this is a nice affordable option for adding good drop protection and card-carrying all in one.
Moshi iGlaze
Price: $35
Color: pearl white, slate blue
MagSafe charging: sort of
Why we love it: Moshi's hard-shell iGlaze case provides really good protection and has the precise fit the brand is known for. It supports Moshi's own "SnapTo" magnetic attachment system, which is good news for those invested in those accessories (like car mounts) and bad news for those looking for MagSafe compatibility. It does support wireless charging, whoever. So MagSafe accessories will not magnetically attach, but they will charge through the iGlaze case.
Pelican Protector
Price: $40
Color: black, camo green, mauve purple
MagSafe charging: no
Why we love it: Pelican's Protector series cases are a little pricey, but offer really good impact resistance without too much added bulk and have a nice grippy feel. For an extra $5 you can get a "sling" version that has a permanently attached hand/wrist strap on the back, which seems like a good idea for outdoor sports enthusiasts. It doesn't support MagSafe accessories, but I was able to use a wireless charger through the case—it's a thick case though, so make sure you have a good Qi charger with good strong coils.
Spigen Ultra Hybrid
Price: $14
Color: clear, black, navy blue, red, sand beige
MagSafe charging: sort of
Why we love it: Spigen has a lock on the "affordable cases you can find everywhere" category. The Ultra Hybrid model has a totally clear back with a colored band around the edge to let the color of your iPhone through while still providing a bit of an accent color. While it is a thin case, MagSafe accessories only stick with a rather weak attachment. We had no problem charging wirelessly through it, though. It's a great way to add a bit of drop protection without spending much.
LifeProof Next
Price: $80
Colors: Black, blue, purple
MagSafe charging: No
Why we love it: You know what you're getting with Lifeproof's cases: Good protection, good looks, and just a little bulk. The Next case has two pieces that attach separately to lock the phone in place so it takes some effort to take on and off, but everything lines up nicely. There's a satisfying click to the buttons and a cover for the Lightning port, but our favorite feature is the small switch for the ring/silent button. Where it can be tough to get at on other cases, Lifeproof adds a neat dial that can be easily twisted to mute your phone. It's a little pricey, but you can usually get it for a lot less than the MSRP.
LifeProof Wake
Price: $40
Colors: Black, blue, green, purple
MagSafe charging: No
Why we love it: The Lifeproof Wake case isn't flashy or rugged, but it's still one of our favorite cases. Why? Because it nails the details. The fit is great, the texture on the back feels great, and the buttons might be better than the ones on the iPhone itself. Speaking of the buttons, we love how they add a pop of color that adds an accent reminiscent of the Pixel phones.
Otter+Pop Symmetry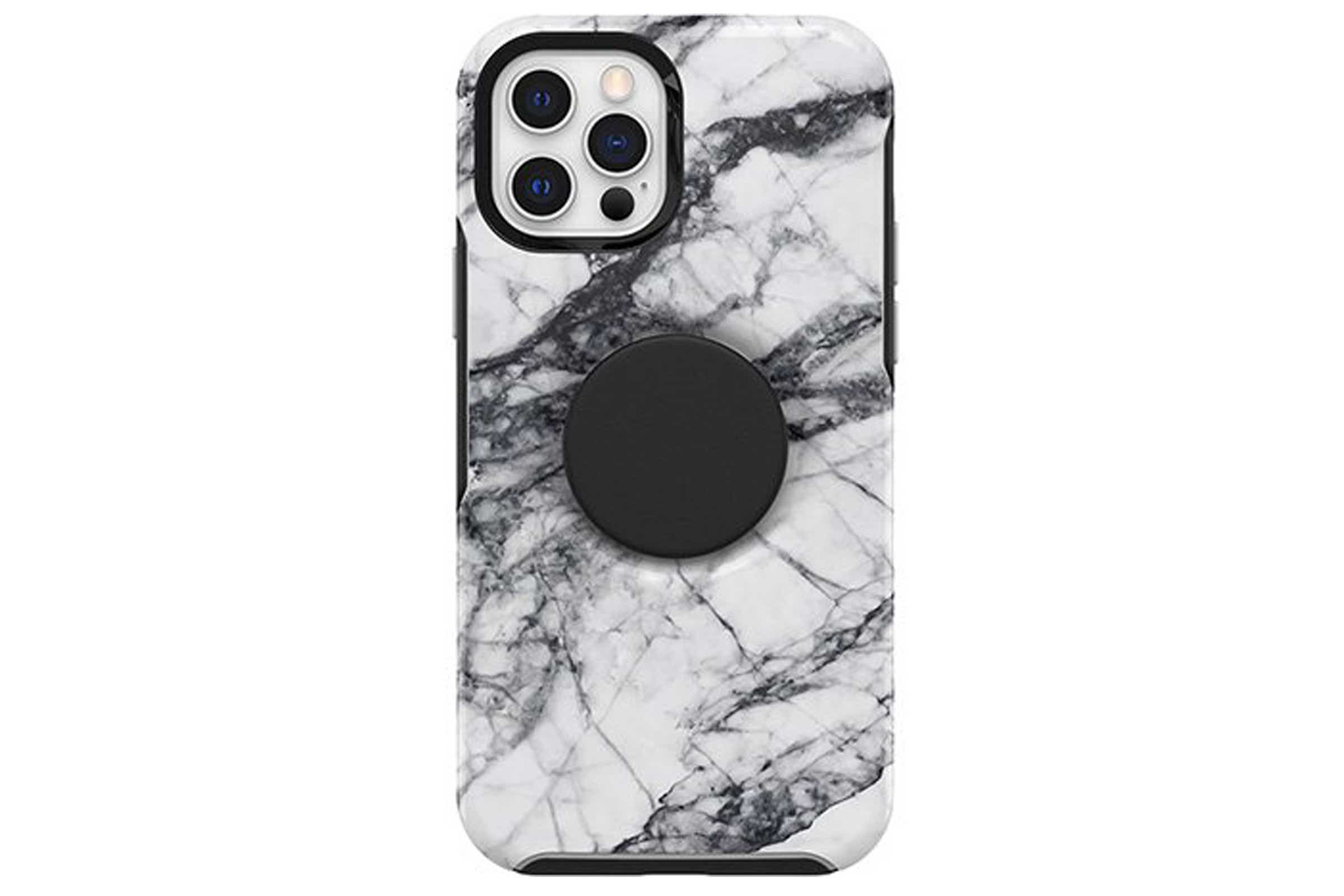 Price: $60
MagSafe charging: No
Colors: Clear, black, various
Why we love it: Otterbox cases are well known for their rugged protection and good looks, but the Otter+Pop series adds another dimension: a PopSockets PopGrip integrated into the rear of the case. Like the standalone grips, they pop in and out when you need a handle or a stand and works as a nice design element when not extended. A variety of color options are available or you can make your own on the Otterbox site, which opens up an array of customization options. But even if you just pick one of the off-the-shelf models, it'll look as good as it works.
Grip2U Boost
Price: $30
MagSafe charging: No
Colors: Clear, black
Why we love it: At this point, we know exactly what we're getting with Grip2U's cases: good protection, simple looks, and a cool handle to keep our iPhone from slipping to the ground. The Boost case brings one extra surprise, however: a kickstand that will prop up your phone for movie-watching. The location of the kickstand means it's more for landscape use than portrait, but it's sturdy enough to get some typing done in a pinch. The buttons are flush against the case and a little tricky to press, but they seem like they'll break in over time. But if you're looking for a case that adds function and protects against bumps, this is the one to get.
Note: The MagSagf charging section only means that the charger won't stick reliably to the iPhone once the case is on. You'll still be able to charge it with either a MagSafe or Qi charger.