SLIDESHOW
Ten tips for better fireworks photos
Everyone knows Independence Day fireworks are stunning in the sky, but capturing that glory in photographs can be tricky. Use these simple tips to bring their pop to your pictures.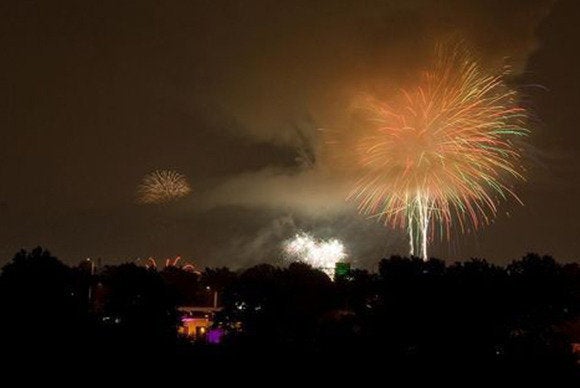 Take fireworks photos that sparkle
Every Independence Day, dogs cower as the neighborhood erupts with pops and bangs—but canines aside, most folks look forward to days like July 1 (in Canada) and July 4 (in the United States) for the bright, joyous fireworks. There's nothing quite like the thrill of shooting summertime fireworks. Done right, fireworks photos convey the action and excitement of the real thing. Read on for tips about capturing breathtaking fireworks photos this summer.
1. Stake out prime real estate
This tip might not sound like it's going to help your photo technique, but it's surprisingly important. If you arrive with the crowd—or worse, behind it—you'll be shooting through a million other people, and your photos will be framed with a sea of heads. Stake out a spot in front, though, and you can count on picturesque photos that make you look like the show was put on for you alone. Or, with some selective composition, you can include the crowd in some photos—it's your choice.
2. Use a tripod
Simply put, a tripod or some other stabilizer is essential for fireworks photos. Since you need to set the exposure for at least a second (and more likely several seconds), it's just not practical to get good photos without ensuring the camera—no matter what kind it is—can't move. An inexpensive tripod or monopod will do. Keep the tripod head loose so that you can move the camera around to frame the exploding fireworks.
If you don't have a tripod handy, try these tips for shooting in low light without a tripod.
3. Compact camera? Try Fireworks mode
You'll get the best results if you have a Digital SLR or a camera with full manual controls (like the ability to set shutter speed and aperture independently). But compact cameras can take reasonable photos with a Fireworks Scene mode, which slows the shutter speed a bit and disables the flash. Many point-and-shoot cameras are adequate, but you can get better results with an advanced compact camera like one of the models on our Best point-and-shoot cameras with manual settings chart.
4. For better results: Try manual controls
While almost any digital camera with a Fireworks mode can capture fireworks, you'll do much better with a digital SLR or interchangeable-lens camera, such as one on our Top DSLR cameras under $1000 chart. The Canon EOS Rebel T3i (pictured here) is number one on our chart right now. If at all possible, switch to manual exposure control so that you can dial in the ideal ISO, aperture, and shutter speed settings.
5. Use the right exposure setting
This is most important rule for shooting fireworks: Use a slow shutter speed so that you can record the colorful light trails. You can experiment with shutter speeds and aperture settings, and you can try longer shutter speeds for more-dramatic photos. This shot required an exposure of 2.5 seconds, which would have been impossible without a tripod.
6. Use the shutter to control light trails
You can make the light trails longer by lengthening the shutter speed. You might want to start small (around a 1-4 seconds), but you can shoot really long exposures (8 seconds or more) to fill the sky with multiple fireworks. I used a 6-second exposure at f/5.6 to capture this busy scene.
7. Use the aperture to control exposure
If you're new to manual mode, you might feel overwhelmed by all the settings—ISO, shutter speed, and aperture—and not know where to start. Here's what you should do: Set the ISO at 100 (or its lowest value), choose a shutter speed of 2 seconds, and an aperture of f/8. Then take some pictures, varying the aperture setting after reviewing the results. The smaller the f-number you dial in, the brighter your fireworks will be. If your photos are getting overexposed, increase the f-number. If the photos are too dark, shoot at a smaller f-number. This scene is the result of a 4-second exposure at f/8.
8. Set your focus to infinity (and beyond)
Don't forget about the focus. If your camera is in Fireworks mode, it will automatically set the lens to focus on infinity. But if you're handling the exposure details manually, set the focus at infinity and leave it there. The fireworks will all be far enough away that infinity is the right setting. If you leave the camera in autofocus, you'll find yourself missing shots while the camera "searches" for the right focus when you press the shutter release.
9. Try your hand with an iPhone
Smartphones simply aren't equipped to take low-light, long-exposure photos like fireworks; it's challenging to get an acceptable result. All isn't lost, though. Steady your iPhone on a tripod—something like the Joby GorillaPod can secure your device to a tree or pole, for example. Make sure the flash is turned off (you'll get better contrast if it doesn't fire). Finally, lock the focus and exposure during one fireworks burst so it'll be set in for the rest of the show. To do that, hold a finger on the screen where some fireworks are blossoming, and then tap elsewhere on the screen with another finger. You'll see the AE/AF display on screen, and you can take subsequent photos without resetting focus or exposure.
10. Slow the iPhone's shutter
Unlike more advanced cameras, you can't control your iPhone's shutter—not without a third-party camera app, that is. Try Slow Shutter Cam, for example, a $1 app which lets you dial in the shutter speed of your choice.
Next Up: Check out these related slideshows
Today's Best Tech Deals
Picked by Macworld's Editors