SLIDESHOW
Slideshow: Up close with the iPhone 6
Pictures of the new iPhone 6 and iPhone 6 Plus from the Apple 9.9.2014 event in Cupertino.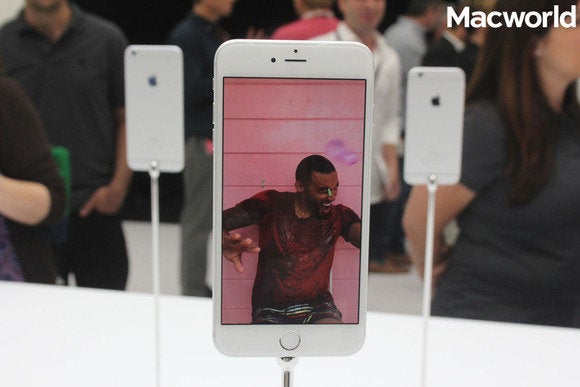 Big and bigger
The iPhone 6 (left) features a 4.7-inch screen. The iPhone 6 Plus has a 5.5-inch screen.
A handful
Next to a hand to give a sense of scale.
New and old
The iPhone 6 next to an original iPhone.
Measuring up
Clockwise, from the right: iPhone 6 Plus, original iPhone, iPhone 6.
Backside
The back of the new iPhones.
In hand
The iPhone 6 can be used with one hand, if your hand is large enough.
Pay up
Scanning a barcode with the new iPhone 6 to pay for an item.
Apple Pay
Using a credit card that is on file with Apple Pay.
Touch ID
Using Touch ID to verify your information.
Next Up: Check out these related slideshows
Today's Best Tech Deals
Picked by Macworld's Editors