SLIDESHOW
Slideshow: Highlights from the 9.9.2014 Apple event
A collection of photos from Tuesday's introduction of the iPhone 6 and the Apple Watch.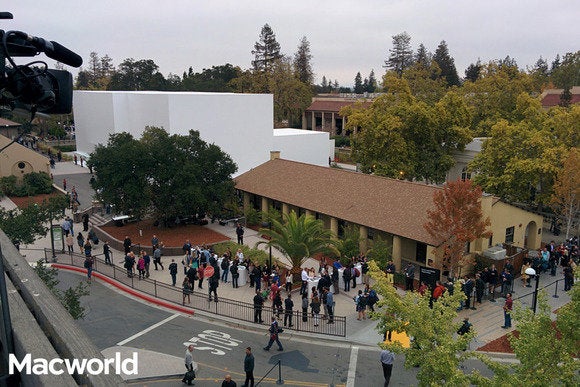 A gathering
Apple's event was held at the Flint Center in Cupertino. The company built a temporary white building that served as a hands-on area for the iPhone 6 and Apple Watch.
Protesters
A few people wanted to let Apple know that the company should change the way it handles its taxes.
Welcome
CEO Tim Cook talks about Apple's history with the Flint Center, which was the place where Steve Jobs introduced the Macintosh.
Three iPhone models
The iPhone lineup features the iPhone 5s (as well as the iPhone 5c, not pictured), the iPhone 6, and the iPhone 6 Plus.
Landscape mode
Apple's Phil Schiller demonstrates the new landscape interface for the iPhone.
Screen specifics
Phil Schiller reviews the resolutions of the iPhone screens.
iPhone 6 prices
These prices are subsidized with a two-year contract.
There's more
As if the iPhone 6 and Apple Pay introductions weren't enough...
Apple Watch
Apple will offer three different watches. This is the Apple Watch, which comes in stainless steel.
Fitness tracker
Apple created special Activity and Workout apps specifically for the Apple Watch.
$349
Apple said that Apple Watch pricing starts at $349 and did not provide more details.
Stephen Fry
Actor and writer Stephen Fry was one of the many celebrities who attened the event.
Hands on
The media gather to look at the new devices. You can see our up-close pictures of the Apple Watch and the iPhone 6.
Next Up: Check out these related slideshows
Today's Best Tech Deals
Picked by Macworld's Editors