SLIDESHOW
10 cool new features found in iOS 8.1
Don't be fooled: iOS 8.1 is no mere "dot" release. This rapid update from Apple is chock-full of great new features, several of which could change how you work, shop, and share.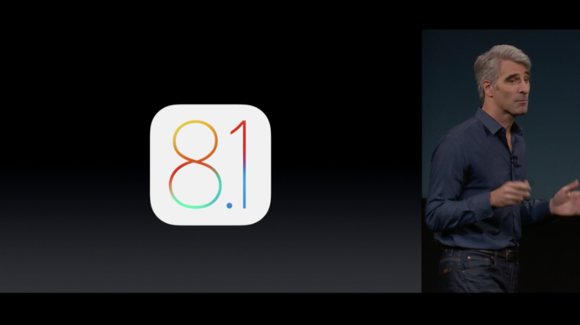 Not your average iOS update
Don't be fooled: iOS 8.1 is no mere "dot" release. This rapid update from Apple is chock-full of great new features, several of which could change how you work, shop, and share.
iOS 8.1 is available for the iPhone 4S and later, iPad 2 and later, and iPod touch (5th generation) and later—although many of its standout features are only compatible with the iPhone 6, iPhone 6 Plus, iPad Air 2, and iPad mini 3. To get this latest release, go to Settings > General > Software Update. To take advantage of the many Continuity features included with iOS 8.1, make sure to also install OS X Yosemite on your Mac.
Ready? Great. Read on to learn the ten most notable features of iOS 8.1.
Apple Pay
This is the big one—using your iPhone to pay for your purchases. It's a snap to set-up. Launch Passbook, and if you already have a card linked to your Apple ID—which is how you buy apps and media from the App Store and iTunes—your card should be listed there if it's one of Apple Pay's partner cards. If you don't have a linked card, or you want to add a different one, you'll see the option to add a card to Apple Pay. Your iPhone's camera will launch, and then you'll simply take a picture of the card. It may take a few seconds for the issuing bank to verify the information, but once that happens, you're ready to begin using Apple Pay—assuming you're in the U.S. (You can add multiple credit and debit cards to Apple Pay, and you can also change the default card for payments by going to Settings > Passbook & Apple Pay.)
Several retailers, apps, banks, and card providers are already on board. To use it in a brick-and-mortar store, place your iPhone on the cash register's payment terminal. Your iPhone will detect the terminal and launch Passbook, and then Touch ID will request your fingerprint to complete the purchase.
Yes, it's that simple, and yes, it's secure. Thanks to Apple's "secure element" chip, which encrypts your payment information, neither the retailer nor Apple has access to your actual credit card number. Retailers don't even see your name. 
Hardware requirements limit Apple Pay to the iPhone 6, iPhone 6 Plus, iPad Air 2, iPad Mini 3, and the upcoming Apple Watch. Because the new iPads do not include an NFC chip, they can only use Apple Pay for in-app purchases and not at retail point-of-sale terminals.
Camera Roll
Hello there, old friend! Apparently, Camera Roll on the iPhone mattered a great deal to tons of users—and for some third-party app functionality. Apple brought this feature back with iOS 8.1. Once again, your iPhone's local photos are kept inside the trusty Camera Roll album. Photo Stream, a folder of your synced photos, still remains…er, sorta. Beginning with iOS 8.0, Apple introduced iCloud Photo Library. Switch on this beta service and "Camera Roll" disappears, even with iOS 8.1, replaced with a catchall "All Photos" album.
iCloud Photo Library
Apple's iCloud Photo Library stores the full-res versions of all your pictures across all of your Apple devices in iCloud, including iPhone screenshots and any edited photos. This beta service is now accessible to all devices running iOS 8.1. Just go to Settings > iCloud > Photos > iCloud Photo Library.
However, this feature is not without issues. Lots of pictures mean lots of space. Apple still provides 5GB of free iCloud storage for all your needs. After that, however, it costs $1/month for 20GB or $4/month for 200GB of storage space. Need more than that and you may wish to consider non-Apple alternatives, such as Dropbox.
Another thing to consider is that your photos are uploaded to iCloud Photo Library at full resolution. This matters because all your connected iOS devices will now automatically download these same photos, which chews up the hard drive on your mobile device. To mitigate this, Apple lets you choose to "Optimize iPhone (or iPad) Storage." Select this setting and only the iCloud Photo Library will store the full resolution photos and videos, with the optimized (smaller) files stored locally.
Continuity continued
If anything in iOS 8.1 rivals Apple Pay, it's the build-out of Continuity features Apple first revealed at WWDC. This latest release is bursting with cross-platform Continuity goodies. Draft a Pages document on your Mac, for example, and continue working on it on your iPad, from the exact spot. Work on a Keynote presentation on your Mac, and then finalize it on your iPhone moments before the meeting starts. Your iCloud account keeps everything in sync.
To make this magic happen, you must first enable Handoff. Go to Settings > General > Handoff & Suggested Apps.
Handoff works with Mail, Pages, Numbers, Keynote, Calendar, Maps, and other programs. App developers can even incorporate Handoff into their apps.
Phone calls on your Mac
One very cool new Continuity feature in iOS 8.1 is the ability to make and receive calls on your Mac running Yosemite. As with all Continuity features, you must have Handoff enabled on your iPhone. Now, when a call comes to your iPhone—even if it's being charged in another room—it will also ring on your Mac. Even better, you can call anyone from your Mac.
It's a bit tricky to set up at first, but trust me, this feature is totally worth it. Your devices (e.g. iPhone and Mac) must be connected to the same Wi-Fi network and signed into your iCloud account.
On your iPhone, go to Settings > FaceTime > iPhone Mobile Calls > On.
On your Mac, go to FaceTime > Preferences, and check iPhone Cellular Calls.
Done! To place a call from your Mac, click on a phone number from Contacts, Calendar, Safari, Spotlight, or Messages, or a contact inside FaceTime. According to Apple, your Mac will even auto-dial a conference call passcode if it's included in the Calendar event.
Text everyone everywhere
Apple allows iMessages to be sent between the iPhone, iPad, Mac, and iPod touch. It's already great service, but it's even better with iOS 8.1. Now you can send and receive SMS and MMS messages from any device, just as you would send an iMessage.
To enable this feature, go to Settings > Messages > Text Message Forwarding on your iPhone. As a security precaution, Apple will then send you a code that you must enter to activate this feature. Done! Now you can chat with even non-iPhone folks from inside Messages on your Mac.
Hint: You must have an email address enabled in iMessage before Apple's activation code can be sent: Go to Settings > Messages > Send & Receive, and add an email address there.
Instant hotspot
iOS 8.1 makes setting up a personal hotspot a breeze. Just go to Settings > Personal Hotspot > On to enable this feature. That's it. Now, your iPhone will show up in the list of Wi-Fi connections on your Mac or iPad—provided your Mac is running Yosemite and has Bluetooth enabled. Oh, and be mindful of your carrier's data limits.
Save money
Two minor iOS 8.1 features could actually save users money. You can now choose between 2G, 3G, or LTE networks for cellular data—provided these are available from your carrier. Check it out by going to Settings > Cellular.
Another clever feature: With iOS 8.1, Apple has made it possible to share Passbook passes via AirDrop.
Missing in action
With every new iOS release, several users witness their devices mysteriously rebooting, or experience their battery life depleting more quickly. Unfortunately, at least for older devices, there are no noticeable improvements in speed or battery life with iOS 8.1, but you can figure out which apps suck up the most battery life by going to Settings > General > Usage > Battery Usage.
Tricks and treats
We've already revealed several tricks with iOS 8, but since the iOS 8.1 release is still relatively new, there are probably some hidden gems that we've missed. If you spot any clever tricks, share them in the comments below. 
Cult of Mac found one hiding amongst the many Accessibility features. This trick lets you adjust the brightness on your device by tapping the home button three times.
Go to Settings > General > Accessibility > Zoom. Turn zoom on, and tap your screen three times with three fingers to pull up the contextual menu. Select "choose filter," then select "low light." 
Still with me? Now go to Settings > General > Accessibility > Accessibility Shortcut, and set to "Zoom."
Next Up: Check out these related slideshows
Today's Best Tech Deals
Picked by Macworld's Editors