SLIDESHOW
St. Bernards and free French fries prove that shameless brand stunts draw crowds at SXSW
McDonald's, Windex, and Dove have nothing to do with tech startups, but that didn't stop them from showing up at South by Southwest Interactive this year in hopes that the tech festival's patina of cool would rub off on them.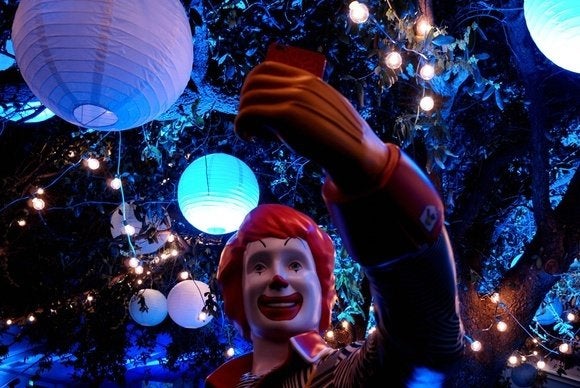 What do Ronald McDonald, Jon Snow, and Windex have in common?
AUSTIN—McDonald's, Windex, and Dove have nothing to do with tech startups, but that didn't stop them from showing up at South by Southwest Interactive this year in hopes that the tech festival's patina of cool would rub off on them.
It's the same story every year: Brands descend on Austin, take over downtown bars and restaurants, and stage stunts designed to go viral on Twitter. Last year, it felt forced. But this year, companies tried a little harder to make sure their efforts at least had a tech tie-in.
There were search-and-rescue dogs delivering cell phone battery packs, selfie stations sponsored by cleaning products, and TV show gimmicks that were both entertaining and a little creepy. Yes, these were shameless marketing ploys, but at least this year they were fun—and made a lot more sense.
World's cutest battery chargers
The No. 1 problem you'll have at any festival is keeping your devices juiced up throughout the day. Beloved battery pack maker Mophie decided to solve that problem with a stunt that even the most jaded SXSW attendee couldn't help but love: on-demand Mophies delivered by St. Bernard puppies.
All you had to do was tweet a screenshot of your phone screen with its battery on its last leg and hashtag it #mophierescue. There was no guarantee that a puppy would show up to save you, but just the chance was enough to keep some of us going. Even better: The St. Bernards were rescues from the St. Bernard Rescue Foundation.
Classic cars on demand
Lyft was South by Southwest's official ride-sharing partner, but the festival's stamp of approval wasn't enough for the company. So Lyft took the promotional blitz one step further with Magic Mode, which promised a ride in a special car during the busiest times. Tried as I might to request one in the hopes that a 1963 white Bentley would whisk me away from the heat and noise, it didn't pan out—but I did see a few lucky passengers traipsing around Austin in Teslas, Ferrari Spiders, and that Bentley.
PayPal integration was also part of the promotional tie-in. Riders who used PayPal to pay for their Lyfts on iOS got a discount on their Magic Mode ride.
Tech with a side of fries
SXSW is ground zero for strange parties, but the weirdest invitation I received was from McDonald's. The fast food company set up a giant tent with free French fries, maple bacon bourbon Old-Fashioneds (which were gone by the time I showed up), and DJs spinning bass-pounding tunes. The tech angle? Ronald McDonald statues posed with fake smartphones. Signs planted near the fake Ronalds invited attendees to take selfies with the creepy-looking models, which plenty of people took advantage of, but the party was by far the most obvious attempt by a brand to look hip by SXSW association.
But, hey, free fries.
C is for Cookie
There are no children at SXSW Interactive, but PBS appealed to the kid in all of us with the PBS Anywhere Lounge, where Cookie Monster (and his person) were a hit as soon as the Austin Convention Center opened. The lounge was a low-key affair, full of couches and plugs for festival-goers to relax and recharge, but the highlight was a step-and-repeat with Cookie Monster. Our own Leah Yamshon jumped at the chance for a photo opp with the Sesame Street star, and we couldn't even be mad about this blatant attempt to appeal to our sense of childhood nostalgia.
Cruisin' the streets
What better way to advertise your social media management tool than a 12-person party cruiser bedecked with a giant owl? That's the strategy Hootsuite took this year, hitting the streets of Austin with a sort-of bike bus.
You could spot the multi-person bicycle from a mile away—mostly due to the incredibly large Hootsuite owl (known as Owly) attached to its roof. Riders were whisked away every 30 minutes from Hootsuite's home base—a downtown bar—and taken around the convention center radius on mystery adventures with team challenges, workouts, and giveaways. In the heat of mid-day Austin, I found myself staring wistfully at the bike as it cruised through the streets. That owl certainly provided plenty of shade.
A ladies' refuge
Dove is waging a social media campaign to encourage women to spread positivity online (because that's a problem, apparently), so the company set up shop directly across the street from the Austin Convention Center with a "Speak Beautiful" wall. Passersby could send their own tweets, hashtagged with #speakbeautiful, and see them pop up on the wall.
But the Dove wall was hiding an oasis: the Ipsos Girls' Lounge. There, women sipped drinks and discussed business. In the back, producers of the Makers documentary series on powerful women were gussying up ladies to appear on camera as part of an effort to collect a million women's stories. An Ipsos rep told me that the group sets up space near major male-dominated conferences to give women a safe, positive place to network, get confidence coaching, and prep for the next meeting. That has little to do with Dove soap, but at least the company shared space with a good cause.
Car tech meets VR
Jaguar celebrated villainous minds at a South by Southwest camp called The Boffin's Lab. The venue's three stories contained all the tech a British villain would need to make a getaway—including, of course, a brand new Jaguar XE, which doesn't even come to the States until 2016.
But it wasn't the Jaguar that captured my attention. It was a demonstration of Leap Motion, the virtual reality technology that brings your hands into a VR experience. A Leap Motion rep told me the company's tech was on display just because Jaguar and Wired magazine, another sponsor of The Boffin's Lab, thought it was cool. And it was. Attendees got the chance to strap an Oculus Rift to their heads and play a virtual game in which they lobbed balls of fire and water at demons hiding in trees—once again proving that watching people wear VR headsets is nothing short of entertaining.
Slashing through SXSWesteros
HBO loves to promote Game of Thrones at South by Southwest—last year, the company hyped the season four premiere with an Oculus Rift tie-in that drew long lines of virtual reality-loving Jon Snow fans. This year, the network partnered with Brooklyn design studio Red Paper Heart to create an immersive sword-slashing experience that turned every GoT fan into Arya Stark.
After waiting in a looooong line, fans had their photos taken in the Iron Throne, a photo that was then converted into a virtual Game of Thrones portrait blocked by rocks and brambles that had to be slashed away with a pretty impressive Bluetooth sword. The reward? A portrait of your very own to share on social networks, of course.
You'll never check out
Most companies stage their SXSW events at existing bars and restaurants, but A&E decided to build a real-life Bates Motel to celebrate the return of its Psycho prequel, which premiered March 9. The network pulled a similar stunt at last year's festival, but it was just a facade—this year, A&E built a structure that could actually function as a hotel and invited guests to stay there in a teasing reference to SXSW's notoriously hard to come by hotel rooms.
The promotional tie-in makes a little more sense when you consider that SXSW encompasses film as well as tech. And it's a little more interesting than your average promotion. In fact, HBO could consider building a full-scale Westeros for its stunt at next year's festival (because there will be one, of course).
Keep it clean
Fact: Your smartphone screen is disgusting. That's why Windex showed up and took over a corner at Mashable House to spread awareness about the clean phone cause. The cleaning product company set up a "Windex Selfie Station," or a giant mirror with a camera inside that took pretty terrible photos. The mirror was really clean, presumably because Windex. After taking three streak-free selfies, Mashable House attendees were encouraged to sign in to their Twitter, Facebook, or Instagram accounts to share the photos (and spread the word about Windex).
The company's corner also featured a charging station, which might have been a bigger selling point if not for Mophie's shop right across the street with battery-delivering St. Bernard puppies.
Next Up: Check out these related slideshows
Today's Best Tech Deals
Picked by Macworld's Editors