SLIDESHOW
Siri checks in: Welcome to Starwood's hotel room of the future
From robot bellhops to RFID carpet, Starwood is betting big on technology as the future of hospitality.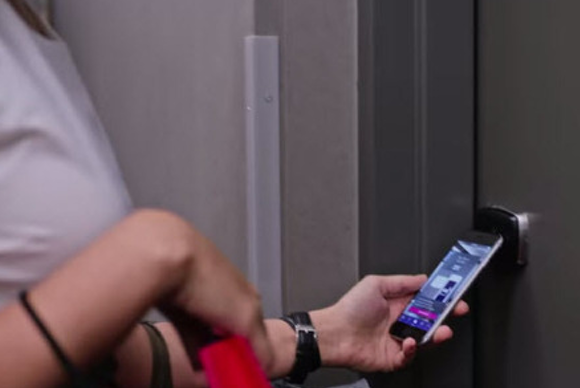 Proof of concept
Starwood Hotels, parent company of well-known hotel brands like the W, St. Regis, and Sheraton, likes to be on the cutting edge of hotel tech. Though the company's various hotel chains don't yet accept Apple Pay (lagging behind properties like the Cosmopolitan hotel-casino in Las Vegas), Starwood is usually all-in with Apple products. The company was first to offer keyless hotel room entry by letting guests wave their iPhones (or Apple Watch) to check in. Starwood's SPG app was available for the watch on launch day.
The company doesn't just have an affinity for Apple. With its Aloft, Element by Westin, and Four Points by Sheraton hotel brands, Starwood is trying to craft experiences for young, price-conscious, tech-savvy early adopters who are more into experiences than stuff.
I toured the company's concept labs in Stamford, Conn., this week to catch a glimpse of what those hotel guests will see in the not-too-distant future.
Meet Botlr the bellhop
Instead of calling the front desk when you forget your toothbrush at home, Starwood wants you to send the request from your smartphone to Botlr, a bellhop that happens to be a cute little robot.
Once you place your order, hotel employees will load up Botlr with the items you need, program the touchscreen front with your room number, and send it on its way. Botlr's top opens to reveal plenty of storage for towels and a tray for smaller items like toiletries. And yes, Botlr beeps and boops as it scoots along, just like a more svelte R2-D2.
Starwood is currently testing Botlr at Aloft hotels in Cupertino and Silicon Valley.
Virtual workout
If you need to squeeze in a workout but can't leave the hotel, Starwood wants to bring an immersive experience to you in the form of a virtual bike ride. The company is working with TotalCinema360, which makes virtual reality videos for Oculus Rift headsets, to add a VR component to your stationary bike session.
Stationary bikes are boring, but being able to take a cycling tour of Germany while you peddle hard to nowhere adds a little something extra to the typical hotel gym workout. Starwood plans to outfit its fitness centers with VR headsets sometime in the near future.
New way to kill time
The only thing more boring than a stationary bike workout is waiting in a hotel lobby. TotalCinema360 and Starwood are working together to outfit select hotels with boredom-busting VR experiences in the lobby.
If you can't get the kids to sit still or you're tired of playing with your iPhone, you'll be able to strap an Oculus Rift headset to your face and jump out of a plane, zipline through treetops, or watch a Sam Smith concert. And don't worry, virtual skydiving won't make you want to vomit. The Oculus Dev Kit 2 I tried out offered a pretty seamless experience—and I'm blessed with both motion sickness and a fear of heights, so that's saying something.
TV for two
Remember when picture-in-picture TVs were all the rage? Well, it turned out nobody liked that. Hotel guests would rather have two large screens side by side: one for keeping an eye on the game, the other for working on a presentation. Traveling with a partner? Cozy up in bed with matching sets of Bluetooth headphones and watch your separate shows together. Starwood is currently piloting this double-TV convenience at its Four Points by Sheraton properties.
Phone, meet TV
If you stay at one of the 200+ Four Points by Sheraton hotels around the world this year, you might see a smart mirror replace the dumb one that just shows your reflection.
In the concept room I saw, Starwood placed a Panasonic mirror that displayed a feed of news and weather updates near the desk where a standard full-length mirror would typically hang. Toward the end of the year, the company will start piloting those mirrors in Four Points hotel bathrooms, where people might want to see a stream of information as they get ready. Bonus: Starwood plans to let guests mirror their phones to those mirrors for a completely custom experience.
Nightlights for adults
Hotel rooms can be strange, confusing places, especially when you wake up disoriented in the middle of the night. You don't need a nightlight—pfft, those are for kids—but it would be nice to not stumble into a wall when you're on the way to the bathroom. Starwood is testing RFID stickers below the carpet tiles in its eco-friendly Element and tech-forward Aloft concept rooms that will helpfully light your way to the loo.
The stickers contain RFID chips that use electromagnetic frequencies to transmit data, in this case to lighting sensors that will trigger a soft glow from the bathroom. Your carpet won't actually light up, which is kind of disappointing, but at least you won't stub your toe on a piece of hotel furniture. Again.
A friendlier vanity
The lighting in hotel bathrooms is hopelessly unflattering, which makes it difficult to muster up the courage to face the world. But not in Starwood's Element bathrooms. The company is investing in vanity mirrors that let you control the bathroom's LED lighting from a trio of touchscreen buttons on the mirror itself. You can increase or diminish the light's strength, and it even has a night mode for a soft glow. It's a little tweak, but will be a much-appreciated one.
HomeKit in a hotel room
What Starwood is really aiming for is a totally personalized hotel stay that gives you what you want when you want it. The end result will be something like a HomeKit hub for your hotel room, controlled with Starwood's SPG app on your iPhone. You'll use the app to enter your hotel room without a key, completely bypassing traditional check-in procedure, then control the room's Hue lighting, Sonos speakers, Nest thermostat, and requests to Botlr directly from your phone. The company is exploring ways to integrate Siri into the process, which is where we hope to see HomeKit go.
This vision of the future isn't applicable to every hotel—some people still want that hands-on experience—but people who are used to using their iPhones as remote controls for their home lives can look forward to translating that to their hotel rooms.
Next Up: Check out these related slideshows
Today's Best Tech Deals
Picked by Macworld's Editors