SLIDESHOW
These 15 amazing watchOS 2 features make Apple Watch worth buying
Apple Watch needed some software fixes that watchOS 2 delivers.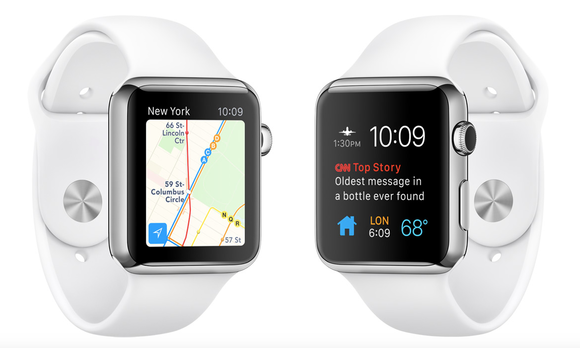 Generation 2.0 has arrived
Just five months after Apple launched its "most personal device ever," the company released watchOS 2, the second-generation operating system that makes its smartwatch much more useful.
From apps that run natively and third-party watch face complications to colorful Digital Touch sketches and deeper Apple Music integration, watchOS 2 packs in a variety of new features. If you weren't already planning to buy an Apple Watch, watchOS 2 might not win you over, but the upgrade is a definite improvement for watch owners.
Apps gone native
Apple Watches shipped with watchOS 1.0, which supports third-party apps but requires them to push all of the heavy lifting to your iPhone. Apps that don't run natively (so anything other than Apple's built-in watch apps) couldn't tap into all of the watch's hardware features, like the accelerometer, Taptic Engine, microphone, and heart rate sensor. That changed with watchOS 2. Apple just opened its features to app developers and let them test the watch's boundaries.
Instead of waiting for the watch's native Activity app to relay your heart rate to the iPhone Health app using HealthKit, third-party apps can run natively and collect that information on their own.
Ideally, this means we'll see developers make use of features like the Taptic Engine in really interesting ways. Watch apps also run much faster, because native apps don't have to wait for your iPhone to respond.
Activation lock
Apple has faced criticism over the Apple Watch's security—specifically, how easy it is to steal and wipe the watch, even if you don't know the passcode. watchOS 2 changes that with Activation Lock.
When you activate your Apple Watch, you'll be required to enter your iCloud Apple ID and password, so the device is tied to your account and no one can use your watch if it's stolen. This feature is optional, but a good move on Apple's part.
New faces
The current line-up of Apple Watch faces is appealing, but just like with your iPhone home screen background, sometimes you'd rather personalize your device than use a stock image. watchOS 2 allows you to choose from either a time-lapsed skyline scene (which looks very cool in action), a still photo from your own collection, or a curated album of favorites that rotates through images in your library every time you raise your wrist. It's a simple change, but a welcome one.
Third-party complications
Some watch faces (though not the new ones added to watchOS 2) show complications—little pieces of helpful information like the time in other cities, the temperature outside, and how close you are to reaching your Activity goals. The new OS opens those complications to app developers so you can add even more information to your watch face—or swap out weather with something more relevant to you, like your airline departure time.
Time travel
The next-gen watchOS offers a new way to view your life with Time Travel. The new feature gives you an overview of your day (or yesterday, or tomorrow). Just use the Digital Crown to scroll through your schedule and see contextual information like what the weather will be like during your trip tomorrow or the emails you missed from yesterday. A press of the Digital Crown returns your display to its watch face.
If this feature sounds similar to Pebble's Timeline, well, that's because it is. Timeline isn't quite as elegant as Time Travel, but it's an innovative way to use time as a user interface that goes beyond just numbers on a display. Like Timeline, Time Travel pulls in information from third-party apps, and is particularly useful on watch faces that allow third-party complications.
Apple Pay rewards you
The ability to use retailer loyalty programs and store credit and debit cards is a must-have for many Apple Pay users, and soon that support will roll out to both iPhones and Apple Watches. Just double-click the side button and pick the card you want to use, same as before. Except now you'll be rewarded with points that you would otherwise miss out on, which might boost Apple Pay's use. Major partners in that initative include Walgreens, JCPenney, and Dunkin Donuts—you know, all the essentials.
Mass transit on your wrist
We like the Maps app for Apple Watch, which taps you on your wrist to give you turn-by-turn directions instead of verbally interrupting you. But, just like on the iPhone, Maps lacked crucial information for people in major metropolitan areas: public transit directions. Like iOS 9, watchOS 2 got a major Maps upgrade, complete with mass transit info. The watch's Maps app even gives you walking directions to and from your transit stop, so you never have to reach for your iPhone.
Siri's new powers
Because you can only use your voice to communicate with your watch, not text, Siri has become more useful than ever. watchOS 2 upgrades her to the next level with new capabilities: Now Siri can start a workout for you, retrieve public transit information from Maps, open Glances without a swipe, and communicate with your HomeKit accessories based on your verbal commands.
Wake me up
When I take off my Apple Watch at night and plug it in, it becomes, for all intents and purposes, useless to me. It doesn't do anything but sit there and tell me how charged its battery is. That's useful and all, but watchOS 2 makes your charging watch informative with Nightstand mode. When you tap the screen, the Digital Crown, or the side button, the watch will display the time, date, and battery percentage. And when you set an alarm on your watch, you'll be able to click the side button to turn it off or the Digital Crown to snooze it.
Circles of 12
Some Apple Watch owners have more than 12 friends and felt incredibly limited by the number of slots you could fill in your watch Friends. With watchOS 2, you can add multiple groups of 12 and organize those contacts, the groups, and their names in your iPhone's Apple Watch app. You can also add friends from your Contacts list directly on your watch.
Live Photos on the wrist
If you can't (or don't want to) buy an iPhone 6s or 6s Plus, you won't get to see Live Photos, one of the marquee features Apple trumpeted at its September event. But if you are upgrading to the next-gen iPhone and can shoot Live Photos, which record the 1.5 seconds before and after you shoot an image, you can then set one as your watch face wallpaper. It's like watching a GIF on your wrist. (Though time-lapse photos are also very cool and somewhat similar, for those not upgrading.)
Screen stays awake
One of the watch's little irritations on launch was its inability to stay awake longer than 15 seconds. If you raised your wrist to check the time and let your eye wander instead of reading the screen, you'd completely miss it. But now you can change that in your watch's settings or the Apple Watch app on your iPhone by tapping through My Watch > General > Wake Screen and picking the option for the display to stay awake for 70 seconds instead of 15 when you tap it. This makes the watch much more useful as a watch, where the time stays visible for as long as you need it to.
Apple Music perks
I use the Music app on my watch every day to control what I'm listening to on the subway without having to take my phone out of my pocket or bag. With watchOS 2, Music loads so much faster. It also gets a nice home screen icon so I don't keep accidentally tapping on Remote instead of Music. But watchOS 2 gives Music an overhauled navigation menu for quick access to Beats 1, My Music, Playlists, and a new option called Quick Play, which launches a random song from Apple Music (or your iTunes library, if you're not an Apple Music subscriber). If you are a subscriber, you also get the bonus of being able to heart a song from the Now Playing glance, or add/remove it from your music library.
Reply by mail
Apple gave its most-used native watch apps a much-needed boost, and that includes Mail. With watchOS 2, you can finally reply to email messages without resorting to your iPhone—though in keeping with the watch's best uses cases, you can only send short-and-sweet replies. Choose from preset responses, which you can create yourself in the Apple Watch app on your phone under My Watch > Mail > Default Replies. You can add up to 20 custom messages. Your replies will come with a "Sent from my Apple Watch" signature, just like on the iPhone—that, too, is customizable.
Digital Touch gets colorful
Digital Touch is one of the watch's most playful features, because it allows you to sketch images or send your heartbeat to an Apple Watch-wearing friend. But the sketches were a little sad, because you could only draw in one color. Now you can send sketches using multiple colors, so red roses can at long last have green stems, or blue skies can have fluffy white clouds. (That's the extent of my drawing skill, so you get a little more creative with this new feature.)
Next Up: Check out these related slideshows
Today's Best Tech Deals
Picked by Macworld's Editors