SLIDESHOW
Trick out your Apple Watch with these 20 third-party bands
Sick of the Sport and can't afford the Milanese Loop? Try a band not made by Apple.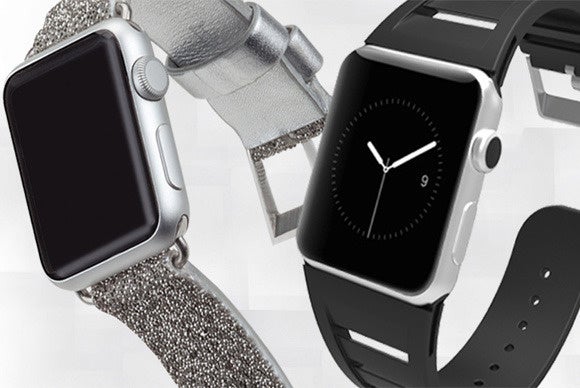 Bands beyond Apple
Don't get me wrong—Apple's Watch bands are pretty sweet, and very well designed. The Sport band, for example, is ultra-comfy and doesn't look as casual as you might expect. But that doesn't mean I want to spend the rest of my life wearing a white fluoroelastomer strap around my wrist.
Luckily, Apple has built change right into its Watch design—just press a small release tab on the bottom of the Watch face, and you can slide your band right out and replace it with a new one. And while Apple may have had the market cornered when the Watch first came out, it doesn't anymore: Here's a selection of quality third-party Apple Watch straps to consider before you drop $450 on the Link Bracelet.
Editor's note: This story was originally posted on June 18, 2015, so all included bands are for the Apple Watch Series 1. 
Casetify Galaxy Stars
Nothing says Apple like a pretty purple-and-blue galaxy print, right? Casetify's polycarbonate Galaxy Stars band ($52 MSRP; $40 on Amazon) is simple and bright, and features either matte silver or matte black hardware (as well as a stainless steel adaptor). If you're a fan of the bright, design-y Swatch watch bands, Casetify's Collections are right up your alley.
Casetify Black Lace
Here's another Casetify design that looks superb with the Apple Watch: Black Lace ($52 MSRP). This black and white lacy strap is made of polycarbonate, features matte silver or matte black hardware, and fits both 38mm and 42mm models. If you don't see anything you like in Casetify's predesigned Collection, you can also design your own Casetify band for just $70.
Case-Mate Brilliance
Add a little sparkle to your Apple Watch with Case-Mate's crystal and leather Brilliance band ($40 MSRP; $24 on Amazon). The Brilliance comes in black and silver and features a Case-Mate logo-engraved metal clasp and two leather loops to keep the strap in place. This band is only available for the 38mm Watch.
Case-Mate Sheer Glam
For a subtler sparkly look, Case-Mate's Sheer Glam band ($35 MSRP; $31.94 on Amazon) is a transparent elastomer band with just a hint of silver glitter. The Sheer Glam features a Case-Mate logo-engraved silver metal clasp, two elastomer loops to keep the strap in place, and is only available for the 38mm Watch.
Case-Mate Turnlock
I'm a huge fan of the unique look of Case-Mate's Turnlock band ($35 MSRP; $32.39 on Amazon), which is a one-size-fits-all flexible elastomer band in a chunky chain-link style. The Turnlock band comes in black and shocking pink, features a dangly silver Case-Mate charm, and is only available for the 38mm Watch.
Case-Mate Vented band
If you're looking for an alternative to Apple's Sport band, Case-Mate's Vented band ($7.08 on Amazon) might be a viable option. This elastomer band comes in black and white and has vents along the strap for a more comfortable workout. The Vented band is only available for the 42mm Watch.
Monowear Metal
The Monowear Metal band ($100 MSRP, on sale for $70 through Monoware) is perfect if you want a very traditional-looking metal bracelet for your Watch. This stainless steel band comes in silver, black, and gold, and features a fold-over clasp with a push button. Monowear allows you to choose the adaptor finish, based on your Watch style.
Monowear Mesh Metal
If you like the look of Apple's Milanese Loop strap but you can't stomach $150, Monowear's Mesh Metal band ($90 MSRP) gets you the same general idea for $60 less. This stainless steel band isn't quite as sexy as the Milanese Loop, since it has a clasp rather than a magnetic closure, but Monowear does let you choose your adaptor finish for a more polished look.
Monowear Nylon
Monowear's Nylon band ($50 MSRP, on sale for $20; $30 on Amazon) offers a more traditional sporty look—think that durable Timex you had in grade school. The Nylon band comes in black, olive, gray, red, pink, turquoise, and light purple, and features a metal buckle and two metal loops for keeping the strap in place. Monowear lets you choose your adaptor finish, and on the black, olive, and gray Nylon bands you can opt for black or chrome hardware.
Monowear Leather
Monowear's Classic Leather band ($80 MSRP, on sale for $40) is not just a copy of Apple's Classic Buckle or Leather Loop. This band comes in brown, black, crème, poppy red, and navy, and features a soft suede finish (on brown, black, and crème; the red and navy bands have a semi-gloss finish) and a stainless steel buckle. Like with other Monowear designs, you can pick your adaptor finish to match your watch.
LunaTik Epik
LunaTik's Epik Apple Watch kit ($125 MSRP; $85.33 on Amazon) is a Kickstarter-funded band and case for your Watch that turns it into a ruggedized (ish) piece of wearable tech. The Epik features an anodized aluminum case that fits around the 42mm Watch and a silicone vented sport band with a metal clasp.
Incipio Premium Leather
Incipio's Premium Leather band ($60 MSRP; same price on Amazon) is your classic leather watchband with a brushed silver Incipio-etched clasp. Pick between ebony, espresso, and chestnut.
Incipio Leather Wrap
I'm a huge fan of trendy wrap bands, and Incipio makes these classy Reese Double Wrap genuine leather bands ($60 MSRP; $37.01 on Amazon). These smooth leather bands are long enough to wrap around your wrist at least once, and come in camel, beige, red, and black.
Watch Pops
Can't afford to upgrade your Watch band? Bling out your Sport band instead with Watch Pops ($10 MSRP), little anodized aluminum charms that "pop" into the holes on your silicone strap. The Pops come in a variety of designs (with the option to design your own) and are sort of like cufflinks for your Watch. Sort of.
Next Up: Check out these related slideshows