SLIDESHOW
Getting started with Apple Music: 12 things to do first
For those about to rock, we present our Apple Music day 1 guide.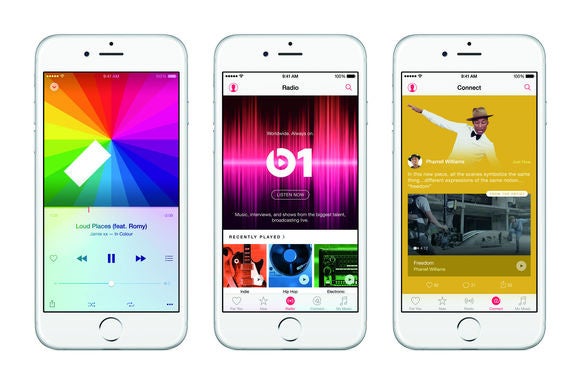 Apple Music is here!
Are you ready to rock? Apple Music is. After its unveiling at WWDC in early June, Apple Music went live Tuesday, along with iOS 8.4. While you're updating, you can check out our full FAQ, and we're working on a hands-on as well. This handy guide will walk you through setup so you'll be up and running—and dancing—in no time.
Update your iPhone to iOS 8.4
Usually I recommend you do this the smart way, which is to tether your iPhone to your Mac, open iTunes, click your iPhone's name in the toolbar, do a full encrypted backup, and then apply the iOS update. That way if anything goes wonky during the installation, you'll have a backup to restore to.
But as of right this second, iTunes is telling me iOS 8.3 is the latest version, while my iPhone's Settings app is offering me the update to iOS 8.4. So go ahead and update over-the-air if you're not seeing the update in iTunes—usually you'll be just fine.
Open the Music app and start the trial
Your old music app is gone! The new one is here! It's got a pretty new icon and everything. Open it up, and Apple Music is front and center. If you aren't interested at all, there's a button to tap to just go to your regular music library, same as it ever was. But we're going to tap "Start my free trial" instead. The next screen has you pick a plan to kick in once your trial is over: $9.99 a month for individuals, or $14.99 per month for families (which requires the use of iCloud Family Sharing). You won't be charged now, but when your 3-month trial runs out, Apple will charge the credit card you use for iTunes purchases. Sign in and tap OK!
Pro tip: To keep Apple from charging you, follow these instructions to disable the subscription from kicking in when the trial ends. Risk-free streaming!
Tell it what you like
The Music app has tabs across the bottom. Tap the "For You" tab at the far left, and you'll see a screen filled with red bubbles listing musical genres. Tap the genres you like (the bubble will grow), and tap twice on the genres you really love (the bubble grows even larger). If you hate something, tap and hold it to make it go away. If some of the bubbles start to nudge offscreen, you can drag the whole group around with your finger to access them again. Tap Next at the top-right to move on. The next screen shows artists in your favorite genres. Same drill: Tap once to like, twice to love, hold to disappear. If you're like me and haven't heard of half of them, tap More Artists to get a new set (the ones you've already tapped will stick around). Tap Done when you're finished!
See what Apple suggests For You
Now the For You tab will be populated with the artists, albums, and curated playlists Apple Music thinks you'll enjoy. The more you use the service, adding music to your collection, tapping the heart to favorite things, and just listening, the better Apple Music's recommendations should get.
When you get to the bottom of the list, don't despair! Pull down on the screen to get more suggestions. Baffled by some of its choices? Tap and hold a recommendation for a hidden menu that contains a "Recommend Less Like This" option.
Navigate around while the music plays
When you're in the Now Playing screen, there's a little downward-facing arrow at the very top-left. Tap that to minimize the player, and you can navigate around the rest of the app. Tap over to the New tab. When you see something you want, tap it to see more details.
The big Plus sign adds that item to your collection. The heart isn't a shortcut to a favorites list like it is in Rdio—it just helps Apple's algorithm learn your tastes to improve its recommendations. At any time, you can tap the player, which is a strip just above the row of tabs at the bottom, to expand it again.
Add songs to your queue
The little ellipses button next to each song and album holds the most options. This is where you can add a song or album to your Up Next queue. (Play Next puts it at the top of that queue, while Add to Up Next just puts it at the bottom.)
To see or reorder your Up Next queue, tap the button on the Now Playing screen that looks like a list. The Up Next screen has little buttons to Add more songs, Clear the queue, and Resume the last thing you were listening to. To reorder the queue, tap the hamburger icons by each song and drag them up or down.
Save some music for offline listening
Also in the ellipses menu, you can add items to your collection, and optionally save them for offline listening. (Only items in your collection can be saved for offline.) This puts a copy of the files inside the Music app on all of your devices, so you don't have to be connected to listen—crucial if you're going to take a plane trip, or you just don't want your streaming to hit your data plan while you're away from Wi-Fi.
Music that you've synced for offline listening appears with a teeny-tiny iPhone logo on the corner of the album art. If you wind up needing storage back, find the album you want to delete in the My Music tap, tap the ellipses button, and select "Remove Downloads."
Share with friends
The ellipses menu has sharing options too, letting you send the link to a song or album to your friend via AirDrop, iMessage, email, Twitter, Facebook, and so on. Weirdly, you can't have a list of friends who also have Apple Music, and send stuff to each other via Connect. Rdio and Spotify, for example, have friends lists in-app, so you can keep track of what your friends with excellent taste are listening to, send each suggestions right inside the app, and even subscribe to and collaborate on each other's playlists.
Feel the Beats
Apple's much-hyped Beats 1 radio station sprang to life Tuesday morning, and will feature 24/7 programming, with live DJs and interviews. You can't skip tracks on Beats 1—it works just like terrestrial or satellite radio, all you can do is turn it on or off. Tap the Now Playing strip to see the name of the band and song, and you'll be able to tap a heart to favorite the track. Tap the share button to share either the song or the station, and tap the ellipses button for the rest of the options. You can start a new streaming station based on that track (that would be a Pandora-style station where you can skip tracks), or add them to the My Music collection, to a playlist… or, of course, buy them on iTunes. (If you don't see those options for a song, it's not in Apple Music yet—darn licensing agreements.)
The Radio tab has Pandora-style radio stations with no DJs too. You are allowed to skip tracks, heart tracks, add them to playlists or My Music, share them, or see them in the iTunes Store.
Connect to your favorite artists
The Connect tab is a one-way stream of content from artists on Apple Music. (Again, you can't have a list of your own friends to interact with, like you can in Spotify and Rdio.) By default, it follows all the artists in your iTunes library and anyone you add to your My Music collection. That…could be a lot of artists, so tap "See who you're following" in the banner up top for a switch to turn off the auto-follow behavior, as well as a list of all the artists you're following, in case you want to unfollow any. If you're hungry for more, tap "Find more artists and curators" for Apple's recommendations.
It's early days, so Connect doesn't have a lot in it yet. Right now you'll see Twitter-style updates, mostly artists asking you to listen to their tracks or albums. Beck shared a concert poster. There's a trailer for Pearl Jam 20, the Cameron Crowe documentary from four years ago. Hopefully as the service matures, the Connect tab will get more compelling.
Your music is still here
The My Music tab holds your music—everything you have purchased in iTunes, and everything you already had synced to your iPhone before you updated to iOS 8.4—along with everything you add to the My Music collection from elsewhere in the Apple Music app. It's separated into Library and Playlists sections, and you can make a new playlist by tapping the tiny New button below the Recently Added strip.
The Library tab defaults to sorting by artist, but you can tap Artists to change the view to Albums, Songs, Music Videos, Genres, Composers, and Compilations. If you're trying to save bandwidth, flip the switch to only see the music that's available for listening to offline. The Playlists tab lets you tap the word Playlists to change the view to just Apple Music playlists, just the playlists you've made yourself, or just whatever's synced for offline listening.
If music be the food of love, play on
Have fun and explore! Build out your collection and playlists. Heart a bunch of tracks and then go refresh the For You tab. And let us know if you run into issues or problems—we're hard at work updating our FAQ and writing hands-on and how-tos. Happy streaming!
Bonus: Update your Mac
If you want to listen to Apple Music on your Mac, you'll need a new version of iTunes. That comes along with a software update that finally went live a few hours after iOS 8.4. You'll find it in the Mac App Store's Updates tab.
Next Up: Check out these related slideshows
Today's Best Tech Deals
Picked by Macworld's Editors