SLIDESHOW
10 must-have Apple Watch apps making the most of watchOS 2
Developers are tapping into the watch's sensors and watch face complications, with really cool results.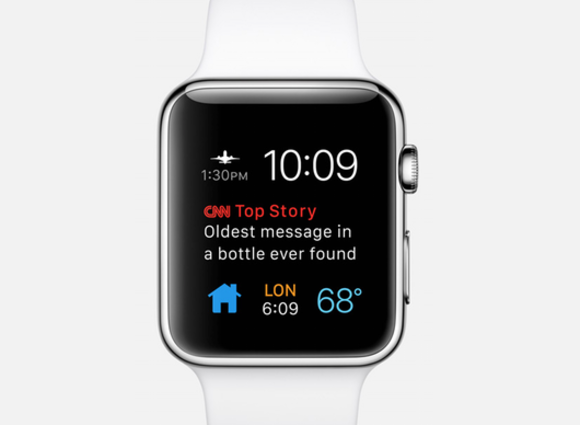 Watch apps go native
Third-party Apple Watch apps needed work when the device shipped in April, but it wasn't for lack of trying. Developers built apps for a piece of hardware most had never laid eyes on, let alone used, and they didn't have access to the watch's integral parts: its sensors and its face.
Apple realized the limitations it had placed on developers, and finally fixed the situation with watchOS 2, the second-generation software upgrade it released to Apple Watch owners this week. Now apps can run natively on the watch instead of mirroring their iPhone versions, which speeds up load times. Developers can also develop features that take advantage of the watch's heart rate sensor, accelerometer, speaker, microphone, Digital Crown, and Taptic Engine.
The watchOS upgrade offers third-party apps a spot on your watch face in the form of complications, little bits of information you can see at a glance without interacting with the watch.
Basically everything that makes the Apple Watch cool, apps can now use. We found 10 new or recently updated apps that make the most of watchOS 2. Let us know in the comments if you find other great examples of watch apps worth using, or if you can think of a feature or complication you'd love to see in a third-party app.
How to add complications
Many Apple Watch apps are rushing to push out complications for your watch face, but not all of them are useful. With such limited screen real estate, you'll have to carefully curate which complications make your life easier.
First, check to see which apps installed on your watch actually have complications. Open the Apple Watch app on your iPhone, then tap through to My Watch > Complications. Watch apps with complications are included in the list by default, but you can remove apps with complications you'll never want to see.
Then open the Clock app on your watch to start adding complications. Use Force Touch to choose the watch face you want to use—and remember that not every face supports complications. Then below the face you've picked, tap customize. Now you can tap and edit each complication so you're seeing exactly what you want, whether it's activity rings, temperature, or a third-party option.
Alright, let's dive in.
Sleep++
If you don't feel like making use of watchOS 2's nightstand mode to wake you up, turn your Apple Watch into a sleep monitor with Sleep++. The brand new app leverages the Apple Watch's motion-tracking sensors to determine how rested you really are. Just start a sleep session in the app on your wrist, then end it when you wake up. The app will analyze the data and graph your sleep patterns.
Wearing the watch all night means you'll have to get creative when it comes to finding time to charge it. Developer David Smith recommends putting your watch in airplane mode when it's time to go fall asleep, and charging the watch before bedtime and again when you get ready in the morning.
"Another side benefit of wearing your Apple Watch all night is that you can easily set completely silent alarms to wake you up," Smith wrote in a blog post this week. "I really like being able to be awoken by a gentle tapping on my wrist and get out of bed without disturbing my wife. Just make sure you mute the chimes before you head to bed."
Lose It
Counting calories is time-consuming and tedious, which is why apps that do it for you have become so popular. Now one of those apps, Lose It, is adding a calorie complication to your watch face so you can see how close you are to busting your caloric budget for the day.
The complication is subtle: just a number with a down arrow if you're under budget, or an up arrow if you went over for the day. For people trying to lose weight, these subtle reminders when you lift your wrist to check the time may be all the encouragement needed to avoid the plate of cookies that always seems to be sitting in the office break room.
Carrot Weather
Apple's native Weather app gets the job done, but if you're looking for a little something extra, Carrot Weather's watchOS 2 update puts the snarky forecast robot on your watch face. You'll see the current temperature and any storm warnings, and you can use Time Travel to see the rest of the day's forecast.
Premium users who pay $3.99 to unlock more features will also see rain predictions and a second complication with wind data, if you need that kind of information.
Tacet
This gem is a Reddit find. Tacet is a free native watch app that turns your watch into a metronome using haptic feedback. That means you can use Tacet to figure out a song's beats per minute or find your tempo without a metronome's audibly irritating tone. Instead, you'll feel the beat on your wrist.
Tacet also offers a reference guide to different tempos, and lets you adjust the beat using the Digital Crown. You can't keep Tacet running in the background due to OS limitations, which is a bummer for musicians who want to stay on beat, but you can use the app as a good starting point.
DataMan Next
DataMan Next is a $1.99 app with a watch face complication that shows you at a glance how close you are to reaching your monthly data cap.
A check mark means you're in the clear, an exclamation point means you're in danger, and the dreaded red X means you're gonna have to pay up for the extra megabytes.
It's a simple complication but a useful one for people with limited data to spare each month.
Lifesum
We can't wait to see what health and fitness-tracking apps have planned for watchOS 2. One of the first out of the gate is Lifesum, an app that lets you set goals for weight loss/maintenance/gain and helps you reach them with advice about what and when to eat, water intake, and exercise. The app was recommended by Apple when the watch was announced last October, and with watchOS 2, Lifesum adds complications to help you reach your goals.
The complications pop up when it's time to take action, like eat food because your energy is too low, and also show you how much progress you've made throughout the day. You can use the Digital Crown to Time Travel and see what's coming up or what you already accomplished.
iTranslate
iTranslate is another Apple pick, and for good reason. The popular language translator is now native for watchOS 2, which means it can use the watch's microphone to pick up words and phrases in 90 languages and translate them for you through the watch speaker.
The app also offers a complication you can add to your watch face while abroad for super fast translation. Simply tap the complication to start a translation right away. iTranslate uses your location to figure out what language you need to translate, and supports Time Travel for seeing contextual phrases at specific times of day.
This will be a lifesaver when traveling, and I can't wait to put it through its paces on my next overseas trip.
ETA
ETA is a transit app that's pretty self-explanatory: It shows you how long it will take you to get to any destination. The app's watch complication is just as simple: It displays the ETA for your top saved route.
You can also use Time Travel to see the ETA for your route up to five hours in the future. Are there delays on your bus or subway line that will affect the route when you need to leave work in an hour? ETA's watch complication will let you know.
It's simple, easy, and the kind of information you want immediate access to.
App in the Air
App in the Air is a solid solution for frequent flyers who want to keep all of their flight information in a central place and not jump between individual airlines' apps. For watchOS 2, App in the Air went native and added complications so you can see information about your upcoming flight right on your wrist.
Boarding time, departure time, and boarding gate are the key details you'll see on the watch face, and you can use the Digital Crown to Time Travel into the future and see information about a flight later that day.
Cycles
Period-tracking apps are getting a boost with HealthKit's integration of reproductive health data in iOS, and now period-trackers can take advantage of Apple Watch complications to give you health data at a glance.
Cycles lets you track your period and keep an eye on your fertility window, plus it supports easy sharing of that data with your partner. The app's watchOS 2 upgrade provides a complication that shows you where you are in your cycle and lets you recalibrate your starting date with the Digital Crown if it's wrong. It's not a major update, but some women like to keep a close eye on their changes in their bodies, and Cycles makes that easier.
Next Up: Check out these related slideshows
Today's Best Tech Deals
Picked by Macworld's Editors