SLIDESHOW
Must-see Apple TV: Our 15 favorite tvOS apps
Your Apple TV goes far beyond just streaming shows, thanks to its new App Store.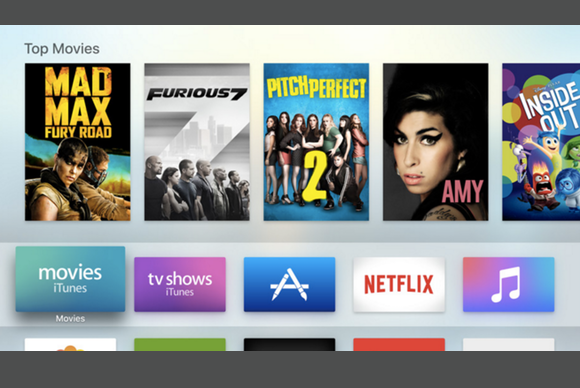 Putting your iPhone on your TV
The biggest change in Apple's new fourth-generation Apple TV is the launch of an operating system just for the set-top box. Instead of channels, tvOS allows developers to build apps that are designed just for the TV.
There are reportedly already more than 1,000 apps available on Apple TV less than a week after Apple began shipping the device to buyers, but there's not yet an easy way to find the best ones beyond the newly added Top Charts. While Apple works on its discovery tools, we've been scouring the TV App Store and collecting information from indie developers to find the best apps that make the most of a giant television screen and the new Siri remote. Surprisingly, we found much more than just games and our go-to streaming TV apps.
To install an app, you have to search for it directly from the App Store on your Apple TV. Here are 15 of our favorite TV apps—so far.
Plex
Plex is a free app that lets you stream your personal music, videos, and photos from a computer or a network-attached storage device. People love Plex because it lets you transcode and stream your own stuff to other devices, but before now you couldn't use Plex on an Apple TV unless you used an elaborate workaround.
That's no longer the case. Plex built an app for the fourth-gen Apple TV chock full of features, and it looks damn good. This news is big, because now you can rip the content you own without having to go through all the effort of putting it in iTunes. And the Plex team hopes to take advantage of Siri when Apple opens its universal search API for the TV, which will make Plex even better.
The bad news for owners of older Apple TVs: The new Plex app is only compatible with the fourth-gen version.
Price: Free
Sing! Karaoke
The television is the focal point of most American living rooms, for better or worse, so I'm on the hunt for Apple TV apps that can turn my TV into a source of entertainment when friends come over. Sing! is a karaoke game from Smule that does just that.
Pick a song and duet with a friend in your living room, or pick a partner across the globe. If you download the Sing! app on your iPhone (and make sure you're on Wi-Fi), you can turn your phone into a microphone. Two phones can be paired as mics simultaneously. If your friends have the app, they can queue up their own karaoke jams while they wait for you to stop warbling.
The app's entire catalog of more than 100,000 songs is free for Apple TV owners for a limited time, so plan your karaoke festivities ASAP to take advantage of the offer.
Price: Free
Storehouse
There's nothing quite like viewing beautiful, high-resolution photos on a giant screen, but we usually settle for scrolling through slideshows on our phones. Storehouse just brought its iOS app to tvOS so you can curate photo albums and display them on your TV.
Storehouse also created a companion iOS app for its TV app called Photo Remote, which lets users on the same Wi-Fi network contribute photos and videos to a shared album. Then your friends and family can enjoy the collaborative effort as they watch the carousel of photos come to life on your big screen.
You don't have to have an Apple TV to use Photo Remote, which is a good thing—getting your circle to use it will make the TV a much more social experience.
Price: Free
Streaks Workout
I run 15-20 miles a week on roads and trails, but I tend to neglect my other muscle groups because I just don't feel like getting to the gym. I've tried at-home workouts like yoga classes on my MacBook, but have never stuck with them. Streaks for Apple TV is a super simple app that creates workout routines from a variety of exercises (like crunches, squats, burpees, kicks, and more). Just pick a workout based on the time you want to commit, ranging from a quick 6-minute routine to a painful, 30-minute slog.
Streaks tells you how many of each exercise to do, and uses animated figures to demonstrate each exercise so you know exactly what a burpee entails. As you move through a routine, you use your Apple remote touchpad to mark it as completed. There's a timer on the bottom right of the screen ticking seconds away so you know how long it's taking. I found that Streaks is a simple and easy way to squeeze in a workout without committing to the gym.
Price: $2.99
Zova
Zova is another great workout app for Apple TV that offers a little more than Streaks. You can pick from a variety of video workouts, like a 10-minute balanced core routine, an 11-minute glute boost, and a 15-minute cardio core session, plus a featured workout of the day. The videos are useful because you can follow along with more complicated exercises, and each video is accompanied by music, though the pulsating beat is basically the same no matter which video you watch so you might want to pick your own soundtrack for more meditative stretch sessions.
Zova is free, though it offers in-app purchases to unlock premium workout routines.
Price: Free, with in-app purchases
Alto's Adventure
One of my favorite iPhone games made the leap to Apple TV, and I'm not sure I can go back to playing this snowboarding-themed endless runner on a small screen.
If you already own Alto's Adventure, which requires an up-front purchase instead of hounding you for money with in-app extras or, worse, advertising, then installing it on the TV is as easy as tapping through App Store > Purchased > Games. Download it to your TV, and you're done.
Alto's Adventure's graphics were already gorgeous, but on my 50-inch Samsung display, the snowy slopes and wintry skies are even more stunning. Performing jumps and flips is easier when clicking the new touchpad Siri remote than tapping a screen with my thumbs, though I still struggle to nail those cliff jumps even with a controller.
Check out more of our favorite Apple TV games so far for more.
Price: $2.99
Rayman Adventures
The new Apple TV's touchpad remote makes Ubisoft's Rayman Adventures, a free-to-play adventure game, feel more like a traditional console game than an iPhone game ported to the TV—probably because this particular Rayman game isn't even available for iOS yet.
As one of the game's heroes, you solve puzzles and conquer challenges to ascend to the next level and eventually rescue a bunch of golden eggs and save an enchanted forest.
The Siri remote lets you change direction as you run by swiping left or right on the touchpad—make sure to swipe hard—and tap the touchpad to jump. You can also run and punch as you chase down the Incrediballs. The end result is a game that feels like it was made just for the TV. I haven't tried it yet with a third-party game controller, but that might make the experience even better.
Price: Free
Houzz
I don't own a home, but watching shows about designing and buying houses on HGTV for inspiration is a guilty pleasure of mine. Houzz brings that experience to Apple TV with 8 million home photos, which you can filter by your budget, style, or which room you want to decorate. You can save your favorite images to reference later, when you actually have the cash to redecorate.
Then there are interesting home tour videos on Houzz TV, like a California farmhouse I would die to move into right this second.
Luckily there's no option yet to buy any of the pieces you see in these photos straight from your TV, though Houzz helpfully tells you how much all the furniture and accessories cost.
Price: Free
Touchpress
Classical musical fans will love Touchpress for Apple TV. It doesn't just play classical pieces—no, you can watch a video of a pianist playing Liszt's Sonata in B minor alongside a visualization of where his hands are falling on the keys. A scrolling score shows you which notes the pianist is playing so you can follow along.
Touchpress is fairly limited to start, with just five pieces of music, but there will soon be much more. It's an incredibly interesting way of bringing classical music to life.
Price: Free
Carrot Weather
You can use your Apple TV remote to ask Siri about weather conditions, or you can use the hilarious and beloved weatherbot Carrot to give you the forecast on your TV. The latter is definitely more fun, especially if you don't mind being called a "meatbag."
The TV app is similar to what you get on the iPhone, iPad, and Apple Watch, but weather animations are so much cooler on a big screen than on a pint-sized one. If you like your forecasts delivered with a healthy dose of personality, and if you already bought Carrot on your iPhone, then installing it on the TV makes perfect sense.
Price: $3.99
WatchESPN
If you already pay for a cable subscription with ESPN, then the new WatchESPN app for tvOS offers live access to ESPN, ESPN2, ESPN3, ESPNU, ESPNews, ESPN Deportes, ESPN Goal Line, and ESPN Buzzer Beater. Yeah, that's a lot of sports.
If you're a cord-cutter who desperately misses watching sports, WatchESPN can still let you get your fix, inclding highlights, short on-demand videos, and some live programming. Anything you can find on ESPN3, you can stream without a subscription—that includes college football, college basketball, soccer, and more. You may find you don't miss the shouting and banter of SportsCenter if you can see all the highlights you're interested in on-demand.
Price: Free
GrubHub
You're watching a movie or playing a game on your TV and suddenly, hunger strikes. You don't want to leave the comfort of your couch to make food, and your phone is too far away to call for delivery or open Seamless. The solution: GrubHub's new app for Apple TV. If you already have your home address and payment details saved to your GrubHub account, ordering food from your Apple TV is as easy as picking which cuisine strikes your fancy.
Sure, it's the ultimate first world problem. But imagine the day when you can ask Siri to reorder one of your favorite dishes without moving a muscle. Is it the height of laziness? Yes. Would it be worth it? Absolutely.
Price: Free
HBO Now
You can subscribe to HBO a la carte with the HBO Now app, which costs $15 a month, for easy streaming of Game of Thrones and Veep on your Apple TV. Showtime is also available for Apple TV without a cable subscription for $11 a month if you need to get your Homeland fix." We always recommend subscribing for services from the companies' websites rather than in Apple's App Store to avoid paying more—many developers tack on an extra 30 percent to in-app purchases to make up for Apple's cut of the subscription rate.
As with Netflix, the usability of Showtime and HBO Now (as well as HBO Go, which is only available for pay TV subscribers) are greatly improved on the new Apple TV because Siri can search those apps for content, too. iTunes and Hulu are also part of universal search, which Apple will eventually open to more developers.
Price: $15/month for HBO Now, $11/month for Showtime
Netflix
The Apple TV is great for playing games and browsing certain types of apps, but it remains at its core a streaming device, and that's where it shines. The new set-top box's power tool is Siri, and apps where you can use voice search to comb through content and issue commands (like, "Fast-forward 10 minutes," or "Tell me what she just said") is where Apple TV really proves its worth. Netflix is a prime example. Siri can find movies and TV shows in Netflix, even if you don't know what they're called. She can find content by genre, release date, or if you're looking for a specific TV episode, like the pilot or series finale, she can answer that query, too.
While the Netflix interface is pretty standard across all Apple devices, the Siri integration puts this version leagues above the others—and far ahead of the old Apple TV channel.
Price: $7.99/month
PlayKids
Sure, it's tempting to just hand kids the remote and let them have free rein to watch kids' shows in Netflix or Hulu. A subscription to PlayKids just for them is better. Not only does it come with games, drawing lessons, and ideas for real-world crafts, but also the entire experience is curated to kids, and parents can curate it even further by deactivating any of the included 19 shows.
If you only want your kids watching Sid the Science Kid, Peg + Cat, and Daniel Tiger's Neighborhood, you can lock it down to just those. Or you can allow everything except the shows that truly annoy you. (Sorry, Caillou. Sorry, the Wiggles.) One subscription carries over between the Apple TV, iPad, and iPhone app, and the mobile apps even let you save videos for offline viewing. And there's even a little free content if you never subscribe.
Price: Free with in-app purchases
Next Up: Check out these related slideshows
Today's Best Tech Deals
Picked by Macworld's Editors