SLIDESHOW
The Macworld staff's must-have apps of 2015
Our 10 favorite apps of the year range from productivity boosters to games and much, much more.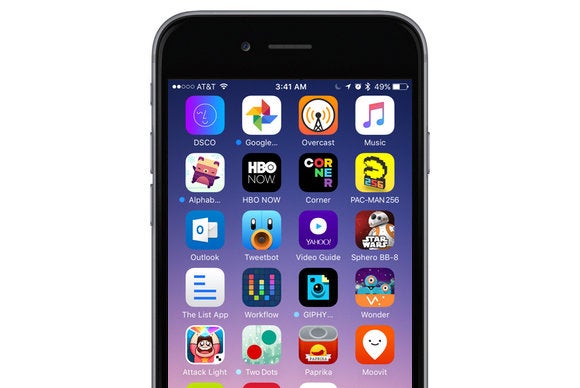 10 apps that made our year
Apple just announced its picks for the year's top apps, with Twitter's live-broadcast app Periscope coming in at No. 1. Apple's selections are worth a look, but the Macworld staff also has a few favorites.
We test a ton of apps every year. Many are brand new, from indie developers and major companies alike. Some are old favorites given huge overhauls—no iterative updates here. We picked the best new and revamped apps that now live on the first page of our home screens. What were your favorite apps of the year? Let us know in the comments.
DSCO
My favorite photo-editing app for the iPhone is VSCO Cam, thanks to its tasteful filters and easy-to-use camera controls that provide more manual options than the iPhone's stock Camera app. So when VSCO launched its first spinoff app DSCO back in October, I was almost immediately sold. DSCO is a GIF-making app that integrates seamlessly with the VSCO experience: You launch DSCO, snap a GIF series that can be up to 2.5 seconds long, then import it to VSCO to use its editing tools to give your GIF the look you want. From there, you can share it to Instagram, Twitter, Facebook, Tumblr, or any of your other favorite social accounts. It saves as both a GIF and MP4 video to your Camera Roll, so you'll have plenty of options to use it down the road. DSCO launched right on the heels of Instagram's Boomerang app, and while DSCO may not be as whimsical as Boomerang (DSCO's GIFs don't play in reverse like Boomerang's do), its editing options can't be beat, which is why it's my GIF-making app of choice. —Leah Yamshon
Price: Free
Google Photos
Google needed a pretty compelling argument to convince people to let it store their private photos, and for me the Google Photos app is just that. Google Photos uploads your camera roll to the cloud, and you can access them on all your devices and on the web. And that's just the app's most basic function. In addition, Google Photos automatically organizes your pics based on where and when you took them. Furthermore, similar photos get stitched together into panoramas and GIFs—a great alternative to Live Photos if you don't have an iPhone 6s. But the best thing about Google Photos is its impressive search capabilities. Searching for "cat," "beach" or even "camping" yields very accurate results. As iPhone users continue building up their vast collection of personal photos, search will become a more useful and efficient way to in browse through our photos. And while Dropbox offers only 2GB of free storage, and Apple offers 5GB of free iCloud storage, Google gives you 15GB for free, although that includes storage for Google Photos, Gmail and Cloud Drive.​ —Oscar Raymundo
Price: Free
Overcast 2
I've never liked Apple's Podcasts app, and I've used several different third-party apps. My favorite so far is Overcast 2. I love the Smart Speed and Voice Boost features; the former lets you accelerate a podcast, which comes in handy when I want to squeeze in a show; the latter is great if your hearing isn't as good as it used to be or you're in a noisy environment. The 3D Touch support is a tap-saver and the Overcast Apple Watch app offers basic playback control but is still handy. If you haven't downloaded the latest episode of your favorite podcast, you can stream it over Wi-Fi or your mobile connection, and Overcast's storage manager lets you see how much space a podcast is occupying and delete saved episodes. Overcast is free, but you can become a patron and pay $1 per month for three, six, or 12 months. Your patronage goes towards further development of the app. —Roman Loyola
Price: Free, with option to donate
Apple Music
Apple's new streaming music service is a love it or hate it app that came preinstalled with the iOS 8.4 update, so even if you never use it, it now lives on your home screen. Apple Music didn't win over every Macworld staffer, but those of us who do use it happen to love it. Apple's streaming service isn't perfect, but Siri integration makes navigating the app's not exactly intuitive interface much easier, and its curated playlists are always on point. We expect Apple to continue improving the service. Even if you don't use Apple Music, Apple's entry into streaming is encouraging competitors like Spotify and Pandora to improve their features, too, which is a win for everyone. —Caitlin McGarry
Price: $9.99 a month
Alphabear
Our own You Should Play column has turned me on to a lot of great games, and Alphabear is one from this summer that I'm still obsessed with today. It's a freemium word puzzle game—although I immediately paid $4.99 for unlimited turns—from the same people who brought you Triple Town. You build words from Scrabble-like tiles in timed and untimed games, to unlock new bears. The bears all have abilities that come in handy in future games, like adding extra time to the clock, or making certain letters last longer, or awarding bonus points for words of a certain length.
Deciding which bears to use to solve each puzzle adds a layer of strategy, and it's fun to collect as many bears as possible as you work through the levels. I also love how there are timed games for when you have a minute to kill, as well as untimed games when you don't want the blood pressure spike of racing against the clock. Just this month, developer Spry Fox even added a versus mode, which lets you challenge friends to beat your score. —Susie Ochs
Price: Free
HBO Now
The TV options for cord-cutters get better and better every year, and one of 2015's major triumphs was the launch of HBO Now. For the first time, you can purchase an HBO subscription ($15/month) without cashing in for a massive cable package. And it's full-blown HBO, too, offering access to everything available across the network. The HBO Now app is available on pretty much all of your Apple devices—Apple TV, iPhone, iPad, and on your Mac via HBONow.com—but it particularly shines on the iPad. Watching the latest horrors of Game of Thrones unfold while cuddling up with your iPad Pro? Yes, please. —Leah Yamshon
Price: $14.99 a month
Corner
Finding the cheapest flight can be hit or miss, but Corner is a new app that utilizes all potential data—like departure city, destination, dates, and even weather—to surface all your options. Simply put your departing city and where you would like to fly to and Corner creates a calendar of flight dates that are color coordinated based on price. This is very similar to Hopper, an app that was picked by Apple as one of the best apps of the year. Both Corner and Hopper search through the same online travel sites like Expedia and Priceline, but Corner found a flight from San Francisco to Los Angeles that was a few dollars cheaper than what Hopper found. Perhaps more valuable than a few dollars saved is that Corner also lets you find a flight by putting in your departure city and the exact dates you would like to travel—let's say an upcoming three-day weekend. Corner shows you flights to a bunch of domestic and international destinations and you can sort these results by price, flight time or even by weather. —Oscar Raymundo
Price: Free
Pacman 256
I didn't catch Pac-Mac Fever when Pac-Mac first hit the arcades, but I have it now, thanks to Pac-Mac 256. Instead of playing the same maze over and over (as you would in the original game), Pac-Man 256 features a never-ending maze—and in a callback to the "fruit overflow counter" bug in the arcade version, the bottom of the maze glitches out, so don't get caught at the bottom! A variety of power-ups—lasers, fire trails, giant Pac-Man, and more—make the game more action-packed and put you on the offensive against Blinky, Pinky, Inky, and Clyde, the ghosts trying to track you down. The game is free but you get "credits" that allow you to keep playing and you can run out of them and you have to wait to earn more credits. Buy the $5 in-app purchase for unlimited credits, which let you play as much as you want—when you have Pac-Man Fever, don't fight it. —Roman Loyola
Price: Free with in-app purchases
Microsoft Outlook
Switching from Gmail to Microsoft Outlook for your work email client is a shock to the system, but Microsoft's new Outlook for iOS app makes the transition a whole lot easier. You can manage your email inbox, files, and calendar in the app, which makes working on the go much easier, and the app supports providers outside of Outlook, like Gmail, iCloud, and Yahoo. Outlook for iOS also filters your inbox into "focused" and "other" tabs, so emails you want to read are culled from low-priority messages. There's even an Apple Watch version so you can quickly glance at messages or get calendar alerts right on your wrist. Outlook for iOS is a huge improvement from Microsoft's previous Outlook app, OWA for iOS, and has been on my iPhone home screen since it launched in January. —Caitlin McGarry
Price: Free
Tweetbot 4
I don't mind when developers issue major updates as a new app, especially when the developer is Tapbots and the app is Tweetbot. It's my preferred Twitter client on both my Mac and my iPhone, and Tweetbot 4 is just about perfect. It's got a brand-new, highly addictive Stats feature that shows you how popular your tweets are, as well as an Activity feed that mimics the Notifications tab in the official Twitter app.
But aside from those killer new features, Tweetbot is the best because of what it lacks, which is basically everything annoying about Twitter: No ads, no sponsored tweets, no weird "While you were away" out-of-sequence tweets, no Moments tab. It even kept the stars when the official Twitter app switched to hearts. I love Tweetbot and I'll buy it again whenever they ask me to. —Susie Ochs
Price: $4.99
Next Up: Check out these related slideshows
Today's Best Tech Deals
Picked by Macworld's Editors