SLIDESHOW
The coolest cases, battery packs, and other iOS accessories at CES
Lots of new toys—er, accessories—on display at this week's Consumer Electronics Show. Here are a few that caught our eye.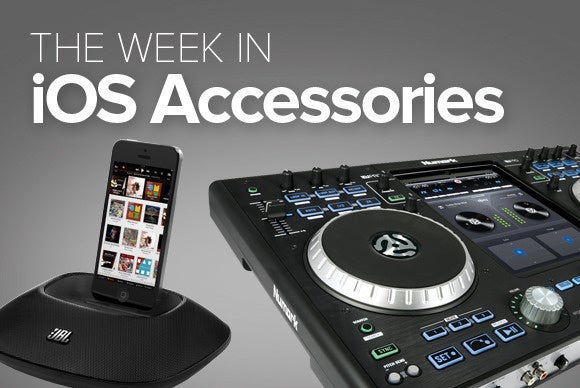 Great CES-spectations
Lots of new toys—er, accessories—on display at this week's Consumer Electronics Show. Here are a few that caught our eye.
Ampware
The $79 Ampware iPhone case comes with a built-in hand crank: Pull out the handle, crank for five minutes, and you'll have an extra hour of juice for your iPhone. You'll never have to worry about battery power again, just so long as you're willing to put in a little elbow grease.
Aud Air
iLuv's $100 Aud Air is a portable speaker that lets you stream music via Wi-Fi or Bluetooth, with little loss of sound quality. Multiple devices can be connected throughout the household—letting you experience one song in all your rooms, or a different song in each. The device will be available later this month through Amazon.
mySight
iLuv doesn't just bring you sounds: It also brings you images—debuting the $180 mySight 2K security cameras this week at CES. Setup takes just 60 seconds, after which you can monitor live feeds from the camera via your iPhone from anywhere in the world. Better yet: "If audio or motion is detected while monitoring, the mySight 2K will automatically record a 10 second clip of the event and send an alert to the user so that they can immediately review the footage and take the appropriate actions if needed."
LockSmart Travel
The new LockSmart Travel is a TSA-approved padlock for your luggage that can be operated, via Bluetooth, from an app on your iPhone. It should be available for purchase early this year.
Olloclip Studio
From a company that is always improving iOS photography, the $90 Olloclip Studio kit has just about everything you'd want to ensure your iPhone captures the very best images: A protective case with integrated mounting solution, a finger grip that lets you shoot using just two fingers, as well as mounts, accessory adapters, and a kickstand. Shipping is expected in February.
Polar Balance
When users weigh themselves on the $100 Polar Balance scale, "their current weight is sent to their Polar wearable fitness product or directly to the Polar Flow app, available on iOS and Android. Polar Balance keeps track of users' activity and weight and also provides motivational feedback and practical advice, such as encouraging individuals to increase daily activity by a particular amount or decrease caloric intake."
PowerBiner
The PowerBiner is "a clip-on power carabiner with built-in rechargeable power bank that provides 3000 mAh of power." It powers almost any device—including iOS devices—as much as two times after the device has lost its original charge. Just power it up and clip it on. Pricing and shipping information are not yet available.
Timp Bags
Want to get your iPad and MacBooks safely from one place to the next, whether rain or shine? Timp Bags by Lander is made of weatherproof material on the outside, and padded inside, so that your portable electronics are protected. The bags are $100 for the basic messenger and backpack models, or $130 for the larger, 25-liter backpack.
Next Up: Check out these related slideshows
Today's Best Tech Deals
Picked by Macworld's Editors