SLIDESHOW
11 great virtual reality apps that you should try out right now
The VR scene is exploding and all you need is your iPhone and a VR viewer to connect with the experience.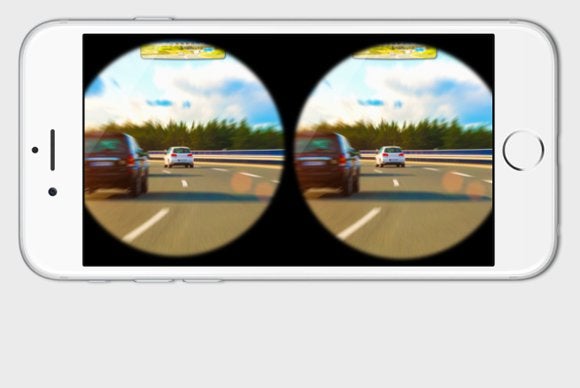 Be in the action
If a picture is worth a thousand words, then virtual reality must be worth a million. That's because unless you are present on the spot, there's no way a single photo or video can convey the desperate squalor of a refugee camp or the weightless sensation of floating in space. As a passive observer, you merely witness; with VR, you're where the action is.
The key to VR's power and growing popularity is presence—the sense of being immersed in time and space regardless of actual location—accomplished by an artful fusion of still images, video, animation, and interactivity viewed through a head-mounted display.
While VR and gaming have always gone hand-in-hand—relegating it to niche audience—the genre is rapidly evolving to include journalism, creative filmmaking, and mainstream storytelling. VR is not just for recreation anymore.
And that's where Apple's new interest in the tech comes into play, despite Tim Cook's muted praise during Apple's most recent earnings call.
Whether you own a simple Cardboard viewer or one of the more expensive iPhone compatible plastic or foam headsets, there's plenty to see and do with VR.
The past year has seen an explosion of VR content in every category for both iOS and Android smartphones, and a huge number of apps are available for free.
Here are some of our favorites.
Vrse
For non-gamers who see VR as an informational and news vehicle, Vrse—a PBS, HBO, or Pixar kind of app—lets you tap into a spectrum of cultural, topical, and political content. Vrse, which partners with The New York Times, the UN, NBC, and other mainstream news outlets, offers presentations shot in 360-degree video, which you can watch either in a browser or on your phone or in VR via a headset. The Displaced, for example, takes you inside various refugee camps while Walking New York offers a unique overhead perspective of an immigrant-based visual project. Vrse does not offer a huge selection, but each piece, produced by its own Vrse Works, has newsworthy or artistic value.
Jaunt Player
Jaunt's specialty—the art of storytelling through cinematic virtual reality—employs 360-degree stereoscopic 3D imagery with directional audio, for superlative productions. For starters, you can view news and cultural selections like Paul McCartney's Live and Let Die or Zombie Purge, but there's more: The company has invented its own proprietary VR camera system called Neo (pictured above), which features custom optics for 3D light-field capture, large format sensors, time lapse, high-frame-rate capture, and tools for configuration, rendering, and asset management. Working with creative brands, artists, and filmmakers, Jaunt also integrates with popular industry tools like Avid, Premiere, Final Cut Pro X, After Effects, and more.
Discovery VR
Discovery—the famous TV company—propels a 30-year-old historical enterprise into the future. With its storytelling cred down to a science, the Discovery VR app lets you dive into various locales in pieces from Let's Go Places, Puppy Bowl, MythBusters, Racing Extinction, Gold Rush, Wildlife, and other programs. Discovery VR's 360-degree videos can be viewed on your desktop in most browsers. But for the immersive experience, download the app for your iPhone or Android device to work with your headset.
VR One Cinema
Zeiss, famed manufacturer of professional camera lenses, is now putting a new spin on movie night. With its branded VR One headset and companion app, you can watch movies on the "big" VR screen in a dark, immersive theater environment, complete with curtains, seating, and other patrons. Zeiss does not distribute content, but rather a more interactive way to watch videos you already have from various sources. Dig into your iTunes or Camera Roll non-DRM MP4 movies or view downloaded 3D side-by-side (SBS) movies through your Cardboard-compatible headset.
Select your video by turning your head to activate the menu. In addition to providing a 3D movie theater, an intuitive interface lets you play/pause or select among various videos.
NYT VR
Leave it to the New York Times to push its vast mainstream, non-tech audience into VR via its branded app, NYT VR. If you notice some similarities between the content on Vrse and NYT VR, that's no accident because Vrse collaborated with the newspaper on several of its headline VR projects, the most famous of which, Walking New York, was featured on the cover of the Sunday magazine. NYT VR video must first be downloaded to watch in a viewer—the app does not stream content.
After viewing, tap Remove Video on the gallery or video detail screen to move the file off your device. The 360-degree videos can also be watched without a headset either on the phone or in the browser. The New York Times produces additional VR-based news and cultural programming and is updating its catalog each month.
inVR
Some VR players are simply viewers that hook into third-party content, but InVR, a user generated content platform, lets you both create and view VR video from others on the network. Made for the Google Cardboard app, InVR lets you use a host of 3D packages (Maya, Max, Blender, or SketchUp) to create your own original content, and export files to InVR's cloud. The app builds your creation for you, which you can later view and share with others. Most of the public videos are animated works of art that you are free to download and walk through. And there's a command that lets you create and share a GIF of anything you see.
Vrideo
With Vrideo, VR video content morphs into a YouTube-style social networking and hosting platform. Not only does the app let you stream content through a headset or and tilt and pan your phone to adjust your view of 360-degree video, a sophisticated interface tells you which videos are trending, and lets you browse categories like News & Politics, Travel & Events, Gaming, Vehicles, and more.
You can create an account, subscribe to channels, like or dislike videos, and build playlists. You can even play back videos without a network connection.
Mobile Station VR
If you're looking for both vast variety and granular control over what you see and how you see it through your headset, look to the Mobile Station VR media player for a ton of fascinating options. Its head-tracking technology let you view photos, videos, and panos from different perspectives, which are projected onto a floating screen. Various screen projections include Curved, Full Dome, Plane, Cylinder, and Sphere Upload, which you choose by moving or tilting your head.
You can also watch your own creations in MOV, M4V, and MP4 file formats. Numerous instructional videos posted on YouTube and a 31-page user guide alert you that there are plenty of permutations and a learning curve to using this app. But once you get the hang of the interface, there's plenty to enjoy.
InMind VR
This arcade-style adventure game concentrates on getting inside the human brain to track down the neurons that cause mental illness. Fast-paced with excellent graphics, the presentation—which can be played via a VR headset or on your phone—depicts a surgical prototype Bathyscaphe scaled down to a fraction of its original size, moving through the brain. Your job is to target and neutralize those cells. A companion app, InCell is also available via an in-app purchase.
Seene
Seene, a creation and viewing app for Cardboard-compatible smartphone viewers, lets you capture and share your own photorealistic world by merging image, depth, and movement into a scene, video, GIF, or JPEG. The app's built-in utility facilitates creation of your own 3D scenes, complete with adjustable depth of field and artistic filters. Seene technology incorporates 3D face capture and scene construction, 2.5D scene reconstruction and computational photography, object tracking, and augmented reality. Social network sharing lets you choose channels and create sets, like and comment on scenes, view in VR, create a GIF animation or video, and save it to your Camera Roll.
Ryot VR
Watch the evening news in VR with Ryot. This production company sends reporters all over the planet, including dangerous war zones, to produce stellar 360-degree and VR stories on a daily basis. The production values are slick but the information-gathering technique is solid and, as an added kick, it's designed to inspire action on the part of the viewer. New selections each day assure fresh content and each story has built-in contact and activist references in the browser to help viewers be part of the solution rather than merely passive observers of a problem.
Do you have a favorite?
This is just a small sampling of the vast variety of VR apps being released for this marketplace. Check out YouTube 360  or the Google Cardboard apps site for more.
To browse the App Store sans iTunes, check out fnd for links to and descriptions of a large selection of documentaries and games.
If you have a favorite app not mentioned here, be sure to let us know in the comments
Next Up: Check out these related slideshows
Today's Best Tech Deals
Picked by Macworld's Editors