SLIDESHOW
WWDC wish list: Here's what we want to see in iOS 10
As WWDC 2016 approaches, this is what we'd like to see in the next version of iOS.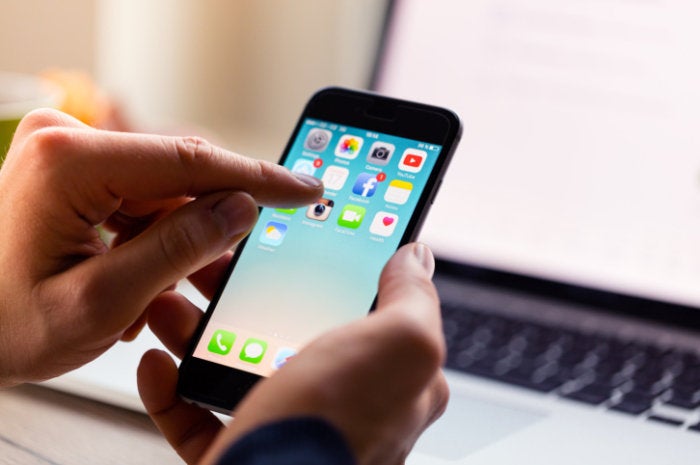 What to expect from iOS 10
The new version of iOS is one of the most exciting things to come out of every WWDC. It usually brings new features for developers and users alike, it's a free upgrade so we can all join the party, and now with the public beta program, we don't even have to wait until its final release in September. Here's what we're hoping to see in the next big version, iOS 10.
Improved keyboard navigation
Google and Microsoft have released more robust keyboards for the iPhone, but toggling between them is one of the clunkiest things about iOS. We're not expecting Apple to make its native keyboard anywhere near as feature-packed, but the least iOS 10 can do is give us a more elegant way to navigate between all those third-party keyboards.
Apple Music divorced from iTunes
Rumor has it that Apple Music is getting a major redesign to be announced at WWDC. Its Connect feature will reportedly be downgraded, the album art will get bigger, and the app will opt for a black-and-white interface. But Apple Music's biggest issue is its complicated relationship with iTunes. So instead, we think iOS 10 should divorce the streaming service from the bloated desktop app.
Siri voicemail transcription
Apple claimed that Siri became more "proactive" with iOS 9, but the voice assistant is still far from perfect. One of Siri's most highly anticipated features has been the ability to transcribe voicemails into text. Hopefully, iOS 10 will finally enable this function because Siri is in serious need of a boost if it wants to compete against Google Assistant and Amazon's Alexa.
Touch ID for secret 'panic button'
After Apple's showdown with the FBI, Cupertino vowed to make iOS 10 even more secure. Coincidentally, reports have recently surfaced that Apple might use Touch ID to activate the iPhone in "panic mode." With all the recent fascination with hacking into iPhones, the launch of iOS 10 would be the perfect time to introduce this heightened security feature.
Apple Pay on the mobile web
Another rumor that could become a reality at WWDC is Apple Pay coming to Safari on iOS. According to recent reports, mobile websites that support Apple Pay will let customers use Touch ID to checkout instead of typing in their credit card information. This feature would put Apple Pay in direct competition with PayPal, which currently offers this type of secure, express checkout ability on the mobile web.
Instagram support for Live Photos
It's been less than a year since Apple introduced their near-magical Live Photos, and these moving images are already supported by Facebook, Google Photos, and Tumblr. But Instagram, arguably the most important photo-sharing app, remains a notable holdout. A joint Apple-Instagram announcement at WWDC would eliminate the need to use this workaround in order to share Live Photos on Instagram.
Control Center customization
From the Calculator to the Camera, the iOS Control Center is your one-stop shop for accessing some of your iPhone's most-used functions. But as new features like AirDrop and Night Shift have gotten integrated into iOS, the Control Center has started to get a little overwhelming. That's why Apple should borrow from Android N and give iOS users the ability to customize the Control Center to their hearts' desire, rearraging the shortcuts they use most often or entirely remove the ones they never use.
HomeKit controller app
Apple's iOS releases often bring about a brand-new native app to its mobile ecosystem, and iOS 10 may introduce an official HomeKit controller app. This new app would act as a centralized control system for all your HomeKit-enabled devices.
Mail app overhaul
Apple also tends to use iOS releases to conduct major refreshes of its native apps. For example, iOS 9 gave us a new-and-improved Notes app. Now, one of the most outdated iOS apps has got to be Mail. A complete overhaul in iOS 10 could see Mail incorporating smart email technology, like calendar integration, inbox zero capabilities, and intelligent assitance.
Hide unwanted native apps
No matter how improved Apple's native apps get, there are some that we will just never have a use for (Stocks?). One of the most desired features on iOS has always been the ability to hide unwanted native apps, and iOS 10 might finally deliver. AppAdvice just unconvered new code in iTunes metadata that suggest Apple might soon give iOS users the option to hide certain native apps from their iPhones. 
Paid subscriptions on Apple News
Almost a year after its initial release, Apple News has failed to stand out against competitors like Flipboard and other RSS readers. Now, Apple is considering giving News a unique, premium angle with iOS 10. According to a recent report, Apple is considering turning News into a hub for paid subscriptions from publishers like The Wall Street Journal. 
Split View for iPhone
Apple gave the iPad a productivity boost with iOS 9, and here's hoping that some of those features—like Split View—will make it to other iOS 10-compatible devices like the iPhone. Even though the iPad's larger screen may be better suited for Split View, the ability to use two apps at once on the iPhone would be a welcomed addition, especially on the 6 Plus and 6s Plus models.
Next Up: Check out these related slideshows
Today's Best Tech Deals
Picked by Macworld's Editors