SLIDESHOW
20 reasons to get excited about iOS 10
Apple's latest iOS 10 is packed with new features, hidden functionalities, and third-party app integrations. Here are our favorites so far.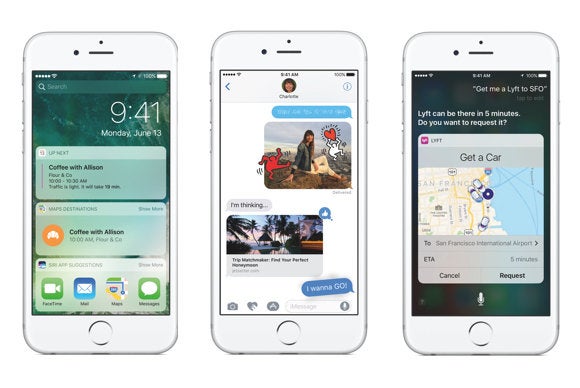 iOS 10: Major changes with every swipe
Apple's latest iOS 10 is packed with new features, hidden functionalities, and third-party app integrations. Here are our favorite bells and whistles so far.
Photos recognizes faces without being creepy
Photos on iOS 10 is now a lot like Google Photos: using face, object, and scene recognition so you can search your camera roll by person, location, or topic. Unlike Google Photos, however, Apple has made sure that Photos uses only machine learning to analyze the photos as they're stored locally on your iPhone. Furthermore, Photos uses this technology to create "Memories," or vignettes, by stitching related photos and videos together and adding a soundtrack.
Voicemail upgrades in Phone
In iOS 10, the iPhone also gets some much-needed upgrades in terms of a core functionality, the Phone app. Both of our favorite new features are voicemail-related. First we have the beta launch of Voicemail transcription that translates your audio voicemails into text. Second, via a CallKit, developers can create extensions to detect voicemail spam.
Phone support for VoIP services
Apple knows that we now use different services for making voice calls, from Facebook Messenger to Slack to Skype to WhatsApp. So in order to create a more seamless user experience, all those third-party VoIP calls will resemble native Phone calls in iOS 10. These calls will be saved in your Recents and Favorites, as well. And your Contacts will be updated so that you can call your friends via each one's favorite third-party VoIP services.
Attack of the emoji in Messages
For starters, emoji sent by themselves are now three times bigger in iOS 10. For emoji die-hards, iOS 10 can now suggest which words in your text you can substitute for their corresponding emoji. After writing your message, tap on the emoji button and every instance where a word can be replaced by an emoji will be highlighted. Simply tap to replace and send your emojified message.
Rich links in Messages
Another way that Apple has made Messages more visual is by offering support for rich links. When you send a web URL, for example, iMessage will pull up an accompanying image from the website. This also works when you share a link to an Apple Music track.
Siri is now open to developers
Apple has turned to third-party developers to help make Siri a lot smarter. With a brand-new Siri SDK, or SiriKit, Apple's intelligent assistant can now access other apps like Lyft, WeChat, and Square Cash. Before iOS 10, Siri was limited to helping you out if you wanted to tap primarily into your iPhone's native apps.
Discovery Mix in Apple Music
Apple Music has a brand-new look in iOS 10, but one of the most exciting features is a Discovery Mix playlist that will feature new music catered to your listening habits. Yes, it's near identical to Discover Weekly, the Spotify playlist feature. But that's a good thing.
Lyrics in Apple Music
The other standout feature in the new Apple Music update is the integration of song lyrics. When listening to a track, simply swipe up to see the lyrics. However, it remains to be seen if Apple has scored deals with every publisher so that all the songs in their catalog will have this new lyrics feature, or if you'll be stuck humming some of your tunes.
3D Touch actions for Notifications
Thanks to 3D Touch on iOS 10, you can interact with new super-dynamic Notifications even right from your iPhone's Lock Screen. Use 3D Touch to reply to a Message, accept a Calendar invite, or even see where your Uber is on a map. And from the Notifications screen, you can also use 3D Touch to clear all your notifications at once.
App widgets are here!
That's right: iOS 10 finally gives iPhone users handy-dandy widgets that can be accessed by swiping right. These widgets are animated, expandable, and can even play videos and other multimedia, like a sports clip. To add a widget, simply use 3D Touch on your favorite app icon like Weather or ESPN and then tap to "Add Widget."
Uninstall native apps we never use
Turns out, we will no longer need an app folder titled "Useless Crap." Apple didn't mention this during the WWDC keynote, but it later confirmed that you'll be able to delete certain native apps in iOS 10. Which apps? Stocks, of course, but also Calculator, Notes, Maps, and many more. But beware: Removing a native app may have some consequences. Our ultimate desire is the ability to designate a third-party option like Google Maps as the default app in place of Maps.
Intelligent suggestions in QuickType
QuickType is also getting smarter in iOS 10. For example, if someone texts you asking where you are, QuickType will suggest to drop a pin of your current location. When someone asks for a friend's phone number or email, QuickType will surface the correct contact info stored in your Contacts. And if someone asks if you're available at a certain time, QuickType will check your Calendar and let you know your availability or tap into "intelligent scheduling" to create a new event based on contextual information from the entire message thread.
Multilingual keyboard support
In addition to surfacing intelligent responses, QuickType now has multilingual support, which means that it will make its suggestions in whatever language you're typing, even if you didn't bother to switch to that language's official keyboard.
Apple Pay on the (mobile) web
You can now more make purchases online using Apple Pay. In iOS 10, Apple Pay becomes a payment option in supported sites in Mobile Safari. If you have Apple Pay set up on your device, all you'll need to do is tap on the "Buy with Apple Pay" button and use Touch ID to authenticate the purchase. No more fetching for your credit card ever again.
New Home app for controlling HomeKit devices
Apple has released a brand-new app as part of iOS 10, and it's simply called Home. This new iOS app (also available for watchOS) is designed to control all your HomeKit-enabled accessories in the house. In addition to tapping devices on or off, you can also create and select certain "Scenes" depending on the time of day. And these Scenes can also be activated via Siri voice commands. Just tell Siri goodnight, for example, and Home will close the shades, adjust the thermostat, and lock the front door.
Proactive navigation in Maps
Have you ever been on the road and tried to search for something on the way while using turn-by-turn Navigation? Most likely it has been the nearest In-N-Out, and chances are that Maps will find the one that you just passed. In iOS 10, navigating in Maps gets more proactive, so you will be able to better assess the traffic conditions and find important pitstops, from gas stations to coffee shops, on the way to your final destination. Maps will even give you an updated estimate of how each stop will impact the length of your trip.
Third-party extensions in Maps
In iOS 10, Maps becomes your one-stop-shop, thanks to Apple opening it up to third-party app developers to create custom extensions. For example, you can find a restaurant on the map, make a reservation using OpenTable, and request an Uber to take you there, all without leaving the Maps app.
Multipage support in Control Center
The Control Center on iOS is a quick way to get to our most-used functionalities, but it was getting a little jam-packed. For iOS 10, Apple has redesigned the Control Center to have more breathing room by creating different control pages. At WWDC, Apple showed us we could swipe left and right on the Control Center to get to the Apple Music controls and your HomeKit-enabled devices. 
Live Photos improvements
Apple is also giving iPhone users a way to edit Live Photos in iOS 10. You'll be able to trim the clip, add a filter, and select the still frame. Live Photos now also have digital video image stabilization, so they are "buttery smooth."
Split View in Safari (iPad only)
Apple's new iOS 10 brings Split View to Safari on iPad. This means that you can view and interact with two Safari windows side-by-side.
Next Up: Check out these related slideshows
Today's Best Tech Deals
Picked by Macworld's Editors