SLIDESHOW
Our favorite fitness apps for Apple Watch, Apple TV, and iPhone
Getting in shape or staying healthy is easier with these apps, whether you're on the go or in your living room.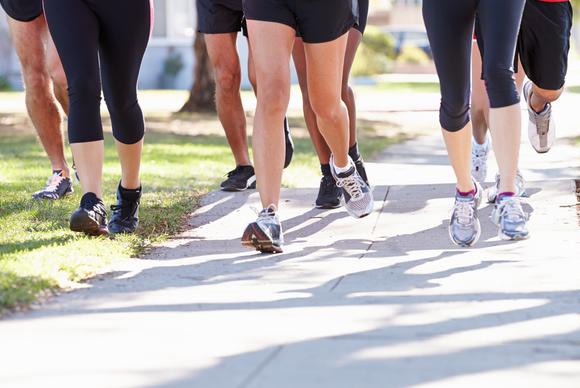 Stay in shape with your Apple devices
Raise your hand if you enjoy exercise but hate paying for a monthly gym membership. Even worse, are you paying for that gym membership but can't manage to actually get yourself to the gym to use it?
We've all been there. But I'm assuming that if you read Macworld, you have at least one Apple device at your disposal, and fortunately, those Apple devices are the perfect workout companions. Who needs the gym when you have an app and the outdoors (or a decently spacious living room) to keep you in shape?
I use a combination of apps for my Apple Watch, iPhone, and Apple TV to shake up my workouts and track my runs, and I consulted my fellow Macworld staffers to see what their favorites are, too. Your Mac will work in a pinch for watching workout videos on YouTube if you don't have any other Apple devices around, but I highly recommend putting an Apple TV, Apple Watch, or iPhone in rotation.
Apple TV: Ultimate living room fitness instructor
I discovered the Apple TV's library of fitness apps during a blizzard, and though the pickings were slim in the months following the fourth-gen TV's release, there are more to choose from than ever.
Like iPhone fitness apps, most of the TV options are either subscription-based or freemium, so there's a limited amount of content you can dig into for free. Trust me: The money you'll save on a gym membership is worth investing in one (or a couple) of these workout apps. There's no better investment than your health.
Stryve
Stryve is brand new to the Apple TV App Store, and it's one of the few fitness apps without a complementary iPhone app. Stryve is designed to be a stand-in for a personal trainer (or as close as an app can get without costing a fortune), so after asking you a few questions about your fitness level and goals, it creates a 20- to 30-minute workout video for you. Stryve customizes everything from which exercises you do to how many reps and sets—no one will see the same workout routine that you see. The workouts will get harder as you get stronger.
"We're not giving you a selection of videos like Netflix that you pick from every day," Stryve cofounder Akshay Ahooja told me. "We made our interface to be a one-click start to your workout. You say, 'This is how much time I have today,' and that's it. We know what you did in your last workout, your fitness levels. There's no decision paralysis in starting your workout. Each workout is personalized down to how long you do each exercise."
Ahooja told me the startup is working on an iOS app due in October that will bring notifications and social motivation into the mix.
Stryve offers a free 30-day trial, after which you can subscribe for $5 a month or $30 a year.
Cody
If Stryve steers clear of the contained program approach, Cody embraces it wholeheartedly with bundles of classes that you buy in sets. This can be pricey—a popular ashtanga yoga course package is $50—but if you like high-quality guided workout videos that build your skill level over time, Cody is the app to beat. Single videos are available to purchase for $10 a pop, but that seems a little steep when a studio yoga class is about that much. The app focuses on strength and flexibility—think yoga, Pilates, barre, and high-intensity interval training. No CrossFit here.
Cody has two advantages, despite its high prices: a community of fitness lovers to urge you on and offer advice, and the ability to download videos offline for on-the-go workouts where you might not have Wi-Fi access. (You can watch those videos using Cody's iOS app while traveling.)
Cody's prices range from $10 for a single class to $180 for a 49-video bundle (which also includes a workbook and meal-planning guide). The company also streams classes live for free if you want to get a sense of the instruction style without paying up-front.
DailyBurn
DailyBurn's workout library has something for everyone, with filters that let you pick by video length, difficulty, and type of class. The daily 30-minute live classes, which are available to stream on-demand for 24 hours afterward, are fun, and the workouts will definitely leave your muscles aching.
DailyBurn has everything: It supports basically every platform (minus, uh, BlackBerry), has a motivating social community and a wide range of classes, and offers a free 30-day trial. The app is $15/month after the trial period ends.
Apple Watch: Workouts on your wrist
Activity and Workout
Activity and Workout are Apple's own built-in activity-tracking apps, and they're my default when it comes to meeting my daily exercise goals. Launch Workout using Siri or the home screen icon to accurately track a variety of workouts. The Apple Watch lacks automatic exercise-tracking, so you'll need to select a workout in the app before getting started so the heart rate sensor will continuously track your pulse.
The Activity app, which is also available on your iPhone, offers a useful overview of your daily activity in the form of three rings: a red ring that closes when you've met your goal for calories burned, a green ring when you've exceeded your exercise goal, and a blue ring for standing at least once 12 hours out of the day. It's a simple but effective visual tool that motivates me—and many other Apple Watch owners—every day.
Activity and Workout are free apps.
Runkeeper
Runkeeper is one of Team Macworld's favorite fitness apps. It's easy to use with a clean user interface all the features you'd want from a running app, whether you're a beginner or a marathon runner. We love its accurate activity-tracking, training plan selection, voice coaching, and music integration with Spotify and iTunes for easy playlist access. The Apple Watch app is a lightweight version of the iPhone powerhouse, but it puts workout-tracking and heart rate monitoring right on your wrist. You don't even need to bring your phone with you, because Runkeeper runs natively on the watch—though you won't get GPS data, if that's important to you.
Runkeeper is a freemium app, so you can use the basic version or pay to unlock more features.
Seven
We're all busy people, so squeezing in a workout can be tough. With Seven on the Apple Watch, you can do a whole-body workout in seven minutes without any equipment—and you don't even need to leave your house (or hotel room).
Seven is based on the 7-minute workout method described in the New York Times, which can keep you in shape with just seven minutes a day. The watch app guides you through 38 workouts with more than 200 exercises, and it syncs with your phone so your progress will always count (this is important, because Seven gamifies your workouts).
With watchOS 3, Seven is getting a huge upgrade with audio instruction played directly from the watch and a new feature called "heart boosts," which will push you to reach your maximum heart-rate target.
Seven is free, and you can pay $3 to unlock more workouts.
iPhone: The original fitness tracker
Before wearables were a thing, people used their iPhones to track their workouts. With GPS, an accelerometer, a library of workout tunes, and a slew of apps, the iPhone really is the next best thing to a personal trainer.
There are so many apps that it was tough to narrow down our top picks, but the best fitness apps are multifunctional and work with the other devices you might want to help track your activity.
Fitbit
Fitbit is the leader in fitness-tracking devices, and it's easy to see why. Its activity bands are comfortable, powerful, affordable, and some are even a little stylish.
Fitbits have displays for glanceable peeks at your activity throughout the day, but it's the Fitbit app that really shines. Fitbits automatically track your exercise, which syncs with the iPhone app to display all your workouts on the beautifully designed dashboard. Fitbits also track your sleep if you wear them to bed, so that info is on the dashboard, too. You can manually input data like your weight (or use Fitbit's wireless scale), food, and water intake.
The best part of the Fitbit app is its challenges, which keep you motivated throughout the week. You can compete against Fitbit-wearing friends to see who can rack up the most steps, which is an inspiring (and often infuriating) game to play.
Fitbit is a free app that is most useful when you use a Fitbit device.
Strava
For runners, cyclists, and people who both run and cycle, Strava tops the list of workout apps.
This app is not only great for tracking runs and bike rides, it's also a great way to challenge yourself to go farther and faster by comparing your rides or runs against your past efforts or against others on that same route. There are also a variety of run and ride challenges to boost your workouts. If you're a super competitive person, Strava's unique features make it the fitness app to beat.
Strava also has a new feature called Beacon that lets you share your location with your contacts in case of emergency, which is incredibly important when you're biking or running in remote locations.
Strava is a freemium app. You can use the basic version for no money, or pay $6 a month to unlock more features like advanced analysis and personalized coaching.
Sworkit
Sworkit is a solid workout video app that is in desperate need of an Apple TV version (this is my public plea to its developers).
The app, which was featured on ABC's popular "Shark Tank" reality competition, is like the Apple Music of exercise. You can choose from an existing workout routine, like a curated playlist, or create a custom workout from a series of moves, like making your own list of tracks. Just tell the app how much time you have and then use your phone to follow a video of an instructor guiding you through sets of exercises.
Sworkit is all about equipment-free workouts you can get done at home. There's even a kids' version, which is totally adorable.
Sworkit is a freemium app. You can use a basic version for free, or pay $5 a month (or $40 per year) to upgrade to ad-free workouts and an "ask a trainer" feature, among other goodies.
Next Up: Check out these related slideshows
Today's Best Tech Deals
Picked by Macworld's Editors