SLIDESHOW
The Week in iOS Accessories: New stuff for iPhone 7
As soon as Apple unveiled its latest phone last week, accessory makers raced to announce their latest products. Here's a few that caught our eye.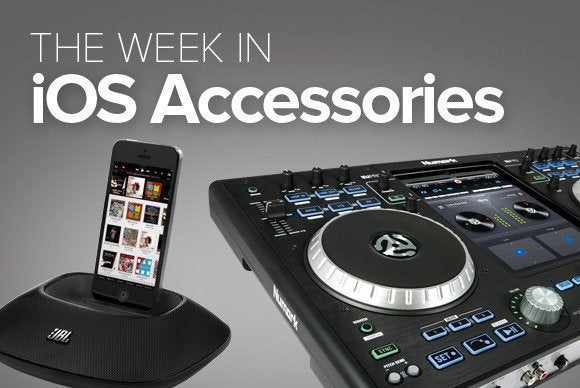 Lucky number 7
As soon as Apple unveiled its latest phone last week, accessory makers raced to announce their latest products. Here's a few that caught our eye. Read on!
Looking for cases? We've got you covered. Looking for Lightning or Bluetooth headphones? We hear you. 
Dario
Since previous iterations of this device used the iPhone's headphone jack to help measure blood sugar, the Dario Glucose Monitoring System for iPhone 7 ($40 MSRP) is having to adapt. The new pocket-sized glucose meter will now be compatible with the phone's Lightning jack. It ships in the first quarter of 2017.
Walnut & Leather iPhone Wallet Case for iPhone 7
Grovemade
This maker of wood accessories is greeting the new iPhone 7 with a number of new cases; we have our eye on the iPhone Wallet Case ($129 MSRP) which protects the iPhone, acts as a stand, and can be used to carry cash, credit cards, and whatever else you might slip into your wallet. It's expected to ship later this fall. Grovemade also mentions that its existing Walnut and Maple iPhone docks ($99 MSRP) are compatible with the new phone.
Moshi
Moshi's Overture for iPhone 7 (coming soon) is a "folio-style wallet that holds your cards, cash, and iPhone all together in one sleek case." Like Grovemade's Wallet Case, it can also be used as a stand. Unlike Grovemade, the leather exterior is accompanied by new-school materials on the inside—a "soft Terahedron microfiber lining" to help protect your new phone.
Moshi
Moshi also announced that it will be releasing two new Bluetooth-enabled headphones —the Mythro Air and Vortex Air headphones. (Sorry, no links available yet.) Both products will feature up to eight hours of playback time; they'll integrate with a new, custom app from Moshi, and both should hit shelves in October.
Olloclip
This premiere maker of iPhone lenses doesn't have iPhone 7 lenses to unveil quite yet—this is a picture of earlier-generation lenses—but the company put up a big announcement on its website: "Our team of in-house designers are busy at work developing the perfect user experience for the next generation of olloclip lens systems compatible with the new iPhone 7." You can sign up at the website to be the first to know when the announcement is made.
Phazon
Phazon wireless earbuds ($179 MSRP) got spectacular backing during its crowdsourcing phase on Indiegogo earlier this year—and offer one big advantage over other wireless buds: If you lose one, an app from Phazon will help you find it. The buds offer six hours of playback on a charge—and can get 80 percent recharged in 20 minutes.
Beats
Beats's (or Apple's, perhaps?) Powerbeats3 Wireless Earphones ($199.95 MSRP) offer additional style options (it comes in five different color possibilities), as well as plenty of time for listening: A single charge offers 12 hours of playback, and five minutes of recharging will give you an hour of playback. The device hits shelves this fall.
Next Up: Check out these related slideshows
Today's Best Tech Deals
Picked by Macworld's Editors