SLIDESHOW
10 photo apps that use AI to give your pics a new artistic look
Artificial intelligence replaces filters to rock unique painterly effects for your photos.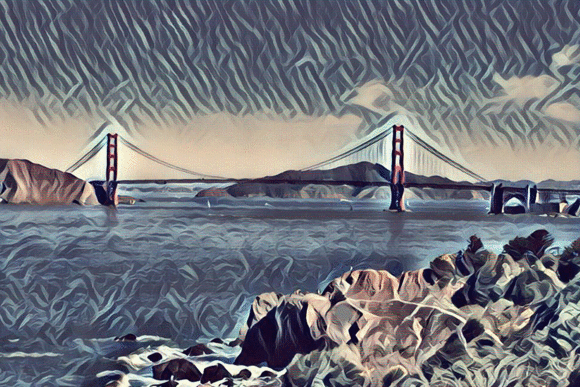 Photo filters are so 2010
A new genre of artificial intelligence-rich "style transfer" photo and video apps now lets you upgrade your filter game with new tech that alters photo looks via machine learning and brainwave-inspired neural networks to apply artistic styles to your photos and videos.
Simply put, neural networks use object recognition to recreate a target image in the style of a piece of specific art work or artistic style.
Why is photographic AI so hot? It's all about uniqueness. As filters became ubiquitous via social media and editing apps like Instagram, the very technique used to add charm to an otherwise mundane snapshot becomes increasingly familiar. Once filters are easily recognized, their magic dissipates.
AI-based apps are not really filter overlays at all, but algorithm-based style transfer effects that fundamentally alter the structure of your photo. They respond to each image individually based on its content to render singular results.
AI image algorithm-based apps—whose styles are often based on recognized artists like Pablo Picasso, Edvard Munch, and Vincent Van Gogh—represent a burgeoning area of fun consumer photo tech. We've found a number of apps targeted to both still photos and video for desktop, online, and mobile use. All are free for download, though some also offer in-app purchases of various kinds. If you know others that we did not include, be sure to give a mention in the comments.
Prisma
Prisma (free in the iTunes Store) breaks new ground as a popular mobile app for iPhone that lets you render engaging artistic styles from Van Gogh, Picasso, Lichtenstein, Mondrian, Kandinsky, and others to your photos, and augments those styles often with new, original entries.
The app's convolutional neural network and deep learning algorithms apply diverse preset looks that respond to your photo's pixel composition. Using your image as a reference, Prisma creates an entirely new image rather than making changes to your original photo. Your new stylized picture downloads with 100 percent intensity, but sliding your finger onscreen lets you adjust the effect. A split view gives you a direct before-after comparison.
Pikazo
Pikazo (free in the iTunes Store) uses tech that simulates the human visual cortex to create a brand new image based on your original photo and a chosen style. Unlike some other apps in the genre, Pikazo lets you choose both the subject and the style rather than giving you a finite choice of styles you can use. Start with Pikazo's built-in styles, purchase additional style packs, or select an original style from your own camera roll photos. With those two elements, the app's algorithm then creates an original painting.
If you like, you can share the preview image as is or choose to upgrade the output resolution for an extra fee for your work to be printed and framed.
Painnt
Painnt (free on the iTunes Store) is all about choosing not only preset styles for your picture, but tweaking them for a completely unique look. More than 100 styles in seven categories are available for both desktop Mac and mobile devices (all effects are filtered on the local device). Choose the aspect ratio (from square to 16:9) and output the final image in small, medium, large, and original resolutions. Option settings like Transparancy, Brightness, Contrast, Hue, and Saturation, coupled with color composition choices and settings like Grain Merge and Soft Light let you dynamically experiment. Detail sliders let you boost sharpness and smoothness. You can view before and after renderings of your images side by side, via split view, or inset.
The app comes with many built-in styles, but for additional weekly, monthly, and yearly fees both for the desktop and iOS versions, you can replenish your style supply to suit your level of inspiration, get your output in HD, and turn off ads and the app's watermark.
Lucid
With Lucid (free on the iTunes Store), you can see immediately how an image in your camera roll would look if painted by one of the masters: Dali, Van Gogh, Picasso, Kandinsky, Lautrec, and others. The app supplements specific artists with assorted generic styles like Street Art, Geometric Art, and Stained Glass. The convenient part is that you see all the low-resolution renderings of the 20 main styles immediately, without having to cycle through them, giving you a faster way to choose your favorite one. The app even hints at which filters may look best with certain photos. After selecting your favorite, you can share it via social networks or save it to your drop box or email it to yourself.
Artisto
Artisto (free on the iTunes Store) is one of the few AI apps that include both phone and video in its bag of tricks. After launching the app, just pull a photo or video from your Camera Roll or shoot a new 10-second video, one-second looping video, or photo, and pair it with one of 20 styles built into the app, including Van Gogh, Dali, Picasso, and other masters. Just shoot a video and apply a filter. The app will then create a short video with the same style.
DeepArt
To apply styles to either photos or videos via its web-based app, DeepArt employs an original algorithm that mixes the stylistic elements of one image to reproduce the content of a different image or video.
You upload a target image and then choose from a variety of stylistic presets or a second photo from which to derive the style. The app immediately offers 18 popular styles to get you started to output an unlimited number of 500 by 500-pixel works for free. Because rendering videos requires frame-by-frame continuity, the app tracks images across time.
Once you sign in and submit your image, it will take a bit of time to render depending on network traffic, and the app sends an email when it's ready. The site also produces custom gallery prints on acrylic glass, art prints at various high resolutions, and HD videos.
Malevich
This AI photo filter editor for iPhone (free on the iTunes Store) gives you a choice: Unlimited low resolution images in the style of your favorite painters—Van Gogh, Monet, Picasso, Warhol, Munch, Renoir, or Dali—for free, or the Pro level, which entitles you to eight works of maximum quality. Both levels quickly and easily transform your photos into artwork.
With your image in the window, you can try out as many styles as you want and save any of the low resolution renderings to your Camera Roll or share them via Facebook, Twitter, or Instagram. A vertical swipe on the image adjusts the intensity of the effect. Save the image as a still or as a cool animated movie that shows the before-after process of transforming the image. Because the output is higher resolution 1024x1024, the app limits the number of free images. In-app purchases offer images in quantities of 5 ($2) to 200 ($40).
Style
Style (free on the Mac App Store), which works with both still images and video, is an easy-to-use Mac desktop app that lets you drag art into a main window, where all the action takes place. You can choose from 13 different styles, including Candy, Hundertwasser, and Seurat, or combine all styles together.
The app runs locally on your hard drive where all output is saved. Just drag and drop and wait for the results. It's best to start with images that are 1MB in size so as not to use too much CPU and RAM. However, higher resolution images will give you the best results.
The app outputs with a watermark by default, but if you purchase it for $20, you will be able to remove the watermark. It's compatible with macOS 10.10 and up.
Magic Video
Video is on its way to getting equal time in the AI-sphere with the help of PicsArt's new Magic Video (free on the iTunes Store), designed to do for video what Prisma does for still images. You can shoot video directly from the app or dive into your Camera Roll to bring up saved videos on your phone. Choose one, and from there you can tap on any of the 10 built-in filters to adjust how you want your movie to look. A slider lets you calibrate the quality of your footage from low to high, which will determine processing time. After that, you can continue to edit the video with adjustments like Multiply, ColorBurn, Overlay, Hard and Soft Light and others.
Magic Video, which is universal for both iPhone and iPad, is part of the PicsArt photo editing, collage and drawing app ecosystem that has been around the social mobile photo editing scene for awhile. Updates to the PicsArt app also include Magic Photo effects, which can be used alongside its multitude of photo editing tools, with all effects stored on the phone.
Icon8
This neural network-based app (free on the iTunes Store) specializes in selfies for your messaging program (either Messenger or Telegram right now, with others planned in the future) and exists mainly to create styles for faces by training its neural networks to render friendly facial features—though it can work nicely with landscapes and other images as well.
While other apps constantly add choices to their painting selections, Icon8 takes a different approach to boost engagement by offering about a half dozen or so selections per day and rotating them every few days based on popularity, so that the app stresses variety and originality as well as a genuine facial focus. The app also concentrates on messaging as a major use for artistic portraits and image enhancement. From the website, you can sign in with Facebook to use the app with Messenger or just download it from the app store.
Next Up: Check out these related slideshows
Today's Best Tech Deals
Picked by Macworld's Editors