SLIDESHOW
8 times Google savagely burned Apple during the Pixel announcement
Google wasn't afraid to play a little dirty during its big fall hardware event on Tuesday.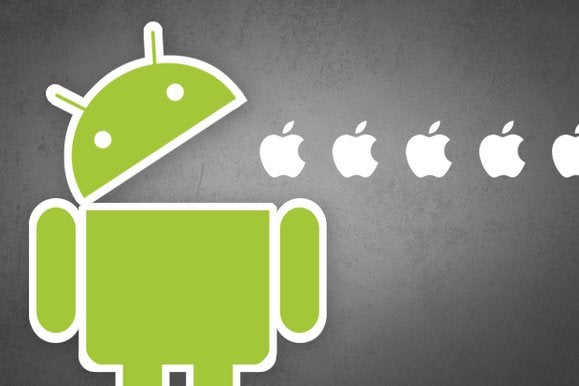 It burns! It burns!!!
Hot on the heels of Apple's big fall event, Google held an event of their own on Tuesday. The company announced a plethora of new products, including two new Android phones (the Pixel and Pixel XL), an updated Chromecast dongle (the Chromecast Ultra), a VR headset (the Daydream View), and some connected-home devices (Google Home and Google Wifi).
Both Google and Apple are known for taking subtle digs at each other's products during events and marketing campaigns, so we were expecting some shade to be thrown… but boy, Sundar Pichai and pals took it to a whole new level. They kept the zingers coming throughout the entire event. Read on to see some of Google's sickest burns against Apple.
Camera bump
We'll start with the low-hanging fruit: The camera bump. The iPhone has one; the new Pixel does not. Yet, this feature came up again and again on stage during the live demos. Google even slid it in its new promo video for the Pixel.
The iPhone 7's camera bump is a little annoying, but nowhere near a deal breaker—and iPhone sales numbers prove that. Plus, slapping a case on your phone will solve this problem.
Yawn. On to the next.
Blue bubbles to green bubbles
iOS and Android devices both include software to help users switch from one platform to the other. For example, iOS has a dedicated app for new iPhone owners to port their apps and data over to their iPhone from their old Android phone. With the Pixel, Google is going straight for the jugular: Its switching software can even copy over iMessages, and the phone ships with a Quick Switch adapter so that you don't have to perform the data transfer over the air.
Best camera ever?
Onstage, Google execs bragged about the Pixel's camera, stating that it was the best-performing smartphone camera on the market based on shoot-out benchmarking done by DxOMark. The Pixel got a score of 89 out of 100, where the iPhone 7 scored an 86.
Can you guess what phone was curiously missing from Google's intel? Yep—the iPhone 7 Plus, which rocks a two-camera system that's far superior to that of the iPhone 7. True, DxOMark hasn't reviewed the iPhone 7 Plus's camera yet, but Google certainly used that to its advantage during their event.
Ahem. Moving on!
Limited storage
Speaking of the camera, Google had One More Thing to add: "We think people are going to use this camera a lot, so as a special bonus for Pixel owners, we're including free unlimited storage for photos and videos at full resolution," said Brian Rakowski, Google's vice president of product management. Could this be a dig at Apple's iCloud Photo Library and iCloud Drive, which cost extra for iPhone owners if you want more than 5GB of storage? Hmmm. 
If that isn't, then this definitely is: "You can say goodbye to those painful Storage Full popups." Ouch.
Different size, same specs
The Pixel is available in two sizes—the 5-inch Pixel and 5.5-inch Pixel XL—similar to Apple's 4.7-inch iPhone 7 and 5.5-inch iPhone 7 Plus. However, the iPhone's two sizes vary slightly in specs, namely when it comes to battery life and camera capabilities. But the Pixel and Pixel XL?
"All the great features you heard about today work on both, and both of these sizes come with all of these amazing hardware specs," Google product manager Sabrina Ellis said during the presentation. 
Welp.
Really Blue
OK, this may not have been a total jab at Apple, but Pixel's color varieties seem… a little shady. Instead of picking between jet black or black, or between rose gold or gold (all iPhone finishes), the Pixel comes in Quite Black, Really Blue, and Very Silver. 
We get it, Google. Very clever. Wow. Amaze.
Like, new new?
"Need a new phone? Like new new? Like doesn't have a version number new?" 
Fine, Google. Talk to us in a year when your next Pixel phone comes out.
Enough with the headphone jack
This zinger from one of the Pixel promo videos is probably the sickest burn of them all: "3.5mm headphone jack satisfyingly not new."
This one is too fresh. It still stings!
Next Up: Check out these related slideshows
Today's Best Tech Deals
Picked by Macworld's Editors