Plausible? The report that the 6.1-inch model would be the entry-level iPhone never really sat well with us. While we understand the logistics of keeping a cheaper LCD iPhone in the lineup, the average customer doesn't understand the difference between OLED and LCD, so charging more for a smaller screen isn't going to be an easy sell. On the other hand, cutting the price of the existing iPhone X after just a year on the market by $250-$300 seems equally unlikely. We'll have to wait until Apple announced the models and pricing, but it seems as though this year's lineup will be confusing.
A trio of OLED screened iPhones gives Apple has some flexibility. Assuming the 6.5-inch iPhone starts at $999 like the current 5.8-inch iPhone X, the other two models would cost around the price of the iPhone 8 and iPhone 8 Plus cost now and make the choice a whole lot easier for consumers. But we'll probably have to wait another year for that to happen, since OLED costs will probably keep Apple from using it across the board until then.
2018 iPhones to come with 18W USB-C adapter in box
This rumor was reported on May 16, 2018.
In early May, we reported on a rumor posted the Chinese social network Weibo that claimed Apple is changing its included-in-box power adapters from a puny 5-watt USB-A adapter to a speedy 18W USB-C adapter (the iPhone connection side will still be a Lightning plug, don't worry).
Now Chargerlab claims it has the same information from an independent source, and has CAD drawings of the charger with a European plug. It dovetails nicely with the previous leak—the charger has the same new rounded oval shape, save for the part that plugs into the European wall sockets.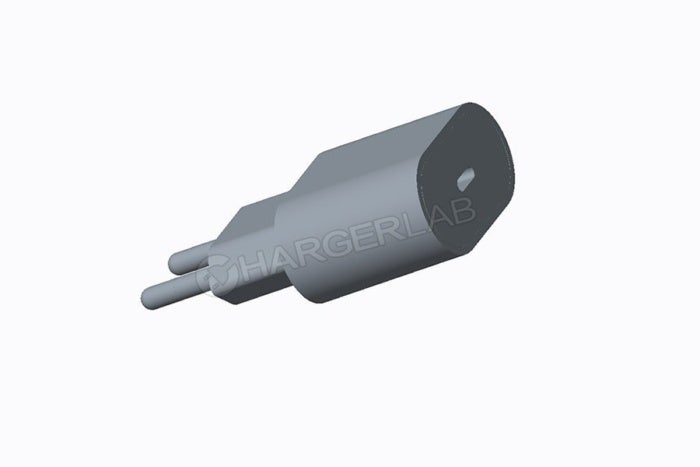 Plausible? It has been pretty embarrassing for the iPhone, an expensive premium phone, to ship with an ancient and slow 5-watt power adapter all this time. Cheaper Android phones have had faster chargers in the box for a long time. Most modern iPhones charge faster with the 12-watt iPad adapter, and the iPhone 8 and iPhone X explicitly support USB-C fast charging, though the only way to utilize it using Apple's official gear is to buy a $49 29W USB-C adapter and a grossly overpriced $25 USB-C Lightning cable.
It's long past time for Apple to pack in a much faster power adapter, and since most customers just use what comes in the box, it means the average iPhone buyer is going to notice a vast improvement in charging speed.
iPhone SE 2 won't come until September, multiple models under consideration
This rumor was reported on May 14, 2018.
The Japanese Mac Otakara blog, having previously reported that the new iPhone SE model is due in May, is now stating that Apple is considering among several possible models and has not yet entered production, pushing the release back to the September timeframe.
The blog states that the company is considering versions with the same general physical dimensions as the current iPhone SE, and even at least one with a large 6-inch display. The blog's source is a glass maker who says there are three glass designs under consideration, and all of them share a common quality: no home button and a cutout for the TrueDepth camera sensor.
Plausible? Well, May is starting to run past us, so a release this month is starting to look highly unlikely. There are now several different rumors stating that the new iPhone SE will have a "notch" and no Touch ID button, though it's hard to tell if that's just the typical rumor echo chamber or multiple points of independent confirmation.
We have mixed feelings about the idea of a 6-inch iPhone SE. Surely, a less expensive iPhone of that size would cut into sales of higher-priced iPhones, right? And one of the big selling points for the iPhone SE, at least in the US and Europe, is among those who want a "new" iPhone that is much smaller than even the non-plus models. On the other hand, big screen phones are the hot thing in a lot of Asian markets. A more affordable big-screen iPhone might do exceptionally well in places like China, which will help boost Apple's market share in the region.
Apple hasn't always been deeply concerned with market share, but as services becomes an increasingly large part of its business, having a bigger reach starts to matter more.
It's also quite possible that this supplier is merely conflating the iPhone SE successor and the 6.1-inch LCD-based phone already rumored to launch alongside the iPhone X successor, which would carry a much higher price tag than the iPhone SE.
LCD-based 2018 iPhone to use LG's MLCD+ display tech
This rumor was reported on May 10, 2018.
Prior rumors suggest that Apple is going to replace the iPhone 8/X lineup with a trio of phones: one that is physically similar to the iPhone X, one that is a plus-sized version of that, and a third cheaper model sized in-between with less expensive components, including an LCD display. 
A new report from Business Korea claims that Apple will fit that third model with an MLCD+ display from LG—the same technology used in LG's new G7 ThinQ.
MLCD+ takes the traditional red/green/blue subpixel arrangement of most LCDs and adds a fourth white pixel that has no color filter. This allows the display to be much brighter and use less power than traditional LCDs. LG claims that the display can cover 100 percent of the DCI-P3 color gamut, and indeed the G7 ThinQ earned high marks for its bright, colorful, accurate display. It's a step behind the best OLEDs, but ahead of most other LCDs.
Plausible? The rumor source here doesn't inspire confidence, as Business Korea isn't known for breaking fresh details from the supply chain. However, Apple is always concerned about display quality on its new phones and this seems like the most promising mass-producible LCD technology out there. The combination of high brightness (for HDR compatibility and direct sunlight viewing), low power consumption, and accurate colors in the DCI-P3 color gamut sounds like exactly the sort of technology for which Apple would look.
iPhone SE 2 to have iPhone X-style display with notch
This rumor was reported on May 10, 2018.
Case maker Olixar is already producing a screen protector for this year's iPhone SE (whether it is called the iPhone SE 2 or iPhone SE 2018). It is based on details gleaned from its supply partners in China, not on technical data from Apple. That part isn't unusual.
What is a surprise is that the screen protector is very clearly made for a phone with the general size and shape of the current iPhone SE, but with an iPhone X-style edge-to-edge display with a notch for the front camera.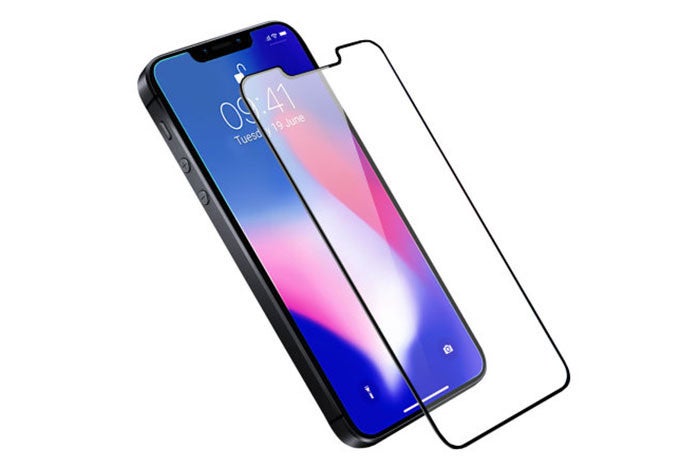 Plausible? We know Apple is all-in on the whole slim-bezel, edge-to-edge display with a notch for the front sensors thing. But the iPhone SE occupies a place way down at the bottom of the iPhone price stack, and we figured it would still be a couple years before it got a display layout to match the iPhone X and the other new iPhones coming in 2018.
A year ago, Olixar correctly predicted the form factor of the iPhone X, too. Maybe it got lucky, or maybe its sources are really good. If this comes to pass, we expect the iPhone SE 2 to be an even more popular choice among those who want a smaller iPhone, but we're worried about ballooning prices.
What's more, this screen protector leaves no room for a Touch ID sensor, and the notch is too small for the TrueDepth module used in the iPhone X. So either Apple is adding a costly new smaller TrueDepth module to it's bottom-end phone (not likely), or is incorporating a pricey and unproven through-the-display fingerprint reader (not likely), or is putting a Touch ID sensor on the back (ehhh...), or is going to ship a phone with no biometric authentication method (yikes!).
We still expect the 2018 model of the iPhone SE to be announced in the next month or two, so I guess we'll find out soon enough.
2018 iPhones to come with new 18W USB-C charger
This rumor was reported on May 2, 2018.
According to a post on the Chinese social network Weibo, which cites supply chain sources, Apple has a newly designed 18W USB-C power adapter that it will ship with the new iPhones this fall. The phones themselves will still have a lightning connector, they will just come packaged with the new power adapter and a USB-C-to-lightning cable.
It's impossible to know exactly what the track record is of this source, but it included a kinda-sorta-official-looking design diagram.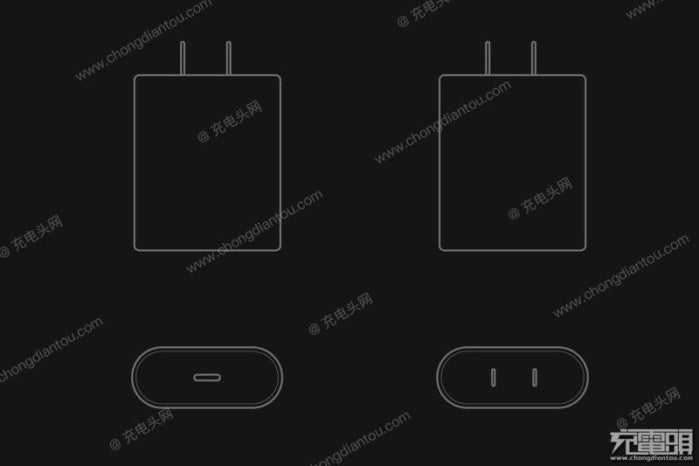 Plausible? It's tough to say. The design shown in the Weibo post breaks with years of tradition for Apple's various power adapters, and there's no track record of leaks here to rely on. On the other hand, Apple really should to do something like this. Apple still bundles paltry 5-watt USB-A adapters with its iPhones, when they are capable of charging much faster. We tested a variety of chargers, and found the 12-watt iPad adapter and 29-watt USB-C adapter (sold separately) to be vastly superior; they get the latest iPhones to 50% charged in half the time.
It really is time for Apple to start packing better power adapters in with its iPhones. They're premium products, but users are not getting a premium fast-charging experience without shelling out for a different adapter.
New iPhone SE in May, without headphone jack
This rumor was reported on April 20, 2018.
According to the Mac Otakara blog, the new iPhone SE is due to release in May and will not have a headphone jack.
The Japanese site spoke with "many iPhone case makers" at the Global Sources Mobile Electronics trade show. Those case manufacturers say they expect the upgraded iPhone SE to have the same size and dimensions as the current iPhone SE, and to continue using Touch ID. But they expect it not to have a headphone jack. That means, once the iPhone 6 and 6s are discontinued (likely late this year), Apple will not sell any iPhones with headphone jacks.
Though the outside physical dimensions and overall design is said to be nearly identical to the current iPhone SE, the case makers expect the phone to have Qi wireless charging just like the latest iPhones, which will almost certainly mean a switch to a glass back. The internals should get a bump, too, to an A10 Fusion chip (current iPhone SE models use the A9), which will improve speed and enable advanced image capabilities like support for the HEIF and HEVC compression standards.
Plausible? Apple seems hell-bent on getting rid of headphone jacks, but it does seem a little odd to do it on its "affordable" phone. All the other rumors lately agree on an upgrade to the A10 processor, and that the new iPhone SE will keep the same size and shape as the current model. Those rumors make perfect sense, too.
When it comes to wireless charging, put the odds at about 50/50. It adds a bit of cost and complexity, but not too much. Beyond that, we expect the iPhone SE 2 to have mostly internal changes, keeping the same size, shape, display, and low cost of the current model.
New iPhone SE coming soon
This rumor was reported on April 18, 2018.
While we had all but given up on the release of a new iPhone SE this year, a filing by the Eurasian Economic Commission suggests a sequel to the 2-year-old handset may indeed be on the way. As spotted by French site Consomac, the filing lists 11 previously unseen models of iPhone: A1920, A1921, A1984, A2097, A2098, A2099, A2101, A2103, A2104, A2105 and A2106.
Apple typically differentiates its iPhones by the modem inside them, and 11 is an abnormally large number of models (the iPhone X only has three, by comparison). However, Consomac notes that sales of this particular model have been approved in the Armenian, Belorussian, Kazakh, Kyrgyz, and Russian regions, which suggests Apple is expanding the iPhone SE's reach into more markets.
Plausible? It's been a while since we heard a rumor about the iPhone SE, but the last one did say it would arrive in the first half of 2018. And it should be noted that the Eurasian Economic Commission also outed the model numbers of the new 9.7-inch iPad, so it's safe to assume that the information here is accurate. Since it's way too early for iPhone X2 model numbers, it's probable that a new iPhone SE model could land before WWDC kicks off in early June.
New iPhone X could start at $899
This rumor was reported on March 26, 2018.
RBC Capital Markets analyst Amit Daryanani has issued a research note to investors that predicts the price of Apple's iPhone lineup this year. Specifically, it says that the second-generation iPhone X (whatever Apple will call it) will cost $100 less than the current model, starting at $899. A larger 6.5-inch "Plus" model will debut this year at a $999 starting price. 
The report does not mention price of the widely-rumored 6.1-inch LCD-based model, though it is expected to cost less than the two OLED iPhones, probably with lesser specs like a single rear camera or a less speedy processor. It makes sense for it to cost around $799.
Plausible? If true, Apple's iPhone lineup this year would probably look something like this:
iPhone X Plus (6.5-inch): $999
iPhone X (2nd gen 5.8-inch): $899
iPhone X LCD (6.1-inch): $799
iPhone 8 Plus: $669
iPhone 8: $549
iPhone 7 Plus: $549
iPhone 7: $449
That seems perfectly reasonable. There's no doubt that making the iPhone X available only to those who are willing to spend $1,000 or more makes it hard to obtain, but Apple had two other new phones this year (the iPhone 8 and 8 Plus) at other price points. Whatever Apple calls its iPhones this year, it will have to make sure there are new models available around $800 or less if it wants to maintain its sales volume.
Another report on iPhone specs
This rumor was reported on February 26, 2018.
Mark Gurman and Debby Wu's report for Bloomberg offers more details on the specs of the new iPhones that could be coming this fall.