Bloomberg says the largest iPhone, code-named D33, will be the same size as the iPhone 8 Plus, but the edge-to-edge screen makes the screen size an inch larger than the Plus phone. The OLED screen will have a resolution of 1,242 x 2,688 pixels. You'll probably be able to use split-screen mode on some apps, like you can on the iPhone 8 Plus.
The 6.5-inch iPhone will have Face ID, though Bloomberg did not specifically say if there will be a notch like that on the iPhone X. Apple is considering dual-SIM card support in some regions where the feature in popular (Europe and Asia), but the company would rather use E-SIM, which allows users to switch service providers without charging a physical SIM card.
The second new iPhone would essentially be an update of the current 5.8-inch iPhone X. Both of the new iPhones would have Apple's A12 processor and iOS 12. Apple may offer a gold finish for both the 6.5- and 5.8-inch iPhones, though Apple wanted to produce a gold iPhone X and ran into production problems.
The third new iPhone, according to Bloomberg, will be a new lower-priced model, but will feature an edge-to-edge LCD screen and Face ID. The edges will be aluminum, not the stainless steel that will be on the other two iPhones. The back will be glass to allow for wireless charging.
Plausible? There are a lot of similarities between the Bloomberg report and Ming-Chi Kuo's prediction this past January. Kuo also said that Apple will release a 6.5-inch iPhone and a new 5.8-inch model at the higher price range, with an LCD-based iPhone in the lower price range. Knowing what we do about iPhone sales, it's not surprising that Apple is hoping to boost sales by making an affordable iPhone with many of the bells and whistles of the high-end model. Now that there are two similar reports by people who tend to have a good track record on Apple's plans, it looks like we'll see three new iPhones this fall.
Two high-end iPhones and a new low-end model
This rumor was reported on January 23, 2018.
The ever-popular iPhone tipster Ming-Chi Kuo from KGI Securities, who predicts iPhone details based primarily on watching the supply and manufacturing chain, has issued a report with new details on what he believes will be some of the major differences between iPhone models this year.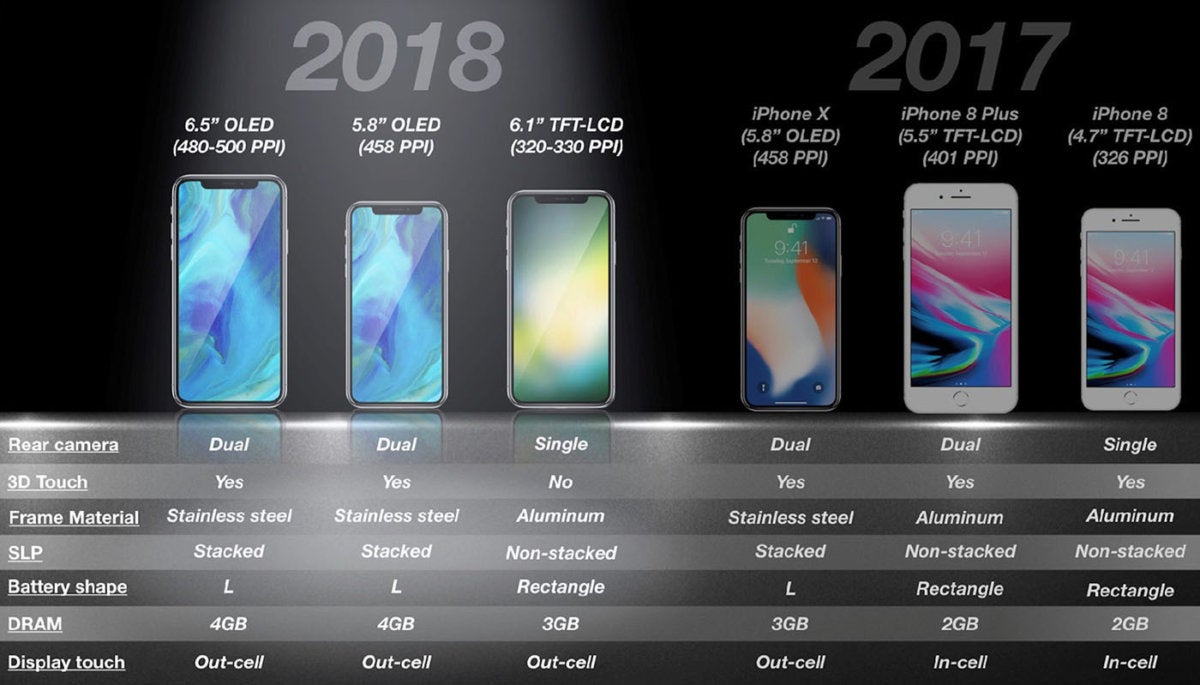 As previously reported, the new iPhones this year will, Kuo believes, consist of two models similar to the iPhone X—one at the same 5.8 inch size and one larger model. Size differences aside (and perhaps display resolution), these phones will be identical.
Then, instead of continuing to sell this year's iPhone X at a reduced price as Apple typically does, the company will instead produce a new LCD-based iPhone with many of the same design cues, including a taller aspect ratio and very slim bezels. We should point out that the image above shows bezels all around the display on the LCD model that may be too small to achieve with an LCD display.
Now, Kuo has predictions on what else will be different about that 6.1-inch model (which he expects to sell for $700-800, slightly higher than his original $650-750 estimate).
In addition to the LCD screen with a lower resolution, the 6.1-inch model will have a single camera instead of a dual camera setup, 3GB of RAM instead of 4GB, and an aluminum frame instead of a steel frame. Note that this is just the frame, not the body, which may still be primarily glass in order to enable wireless charging. Kuo believes the phone will also forego 3D touch. As far as construction goes, it should be simpler than the iPhone X (or it's replacements), by virtue of using a regular non-stacked logic board and rectangular, rather than L-shaped, battery.
Plausible? Most of these rumors seem reasonable as cost-saving measures, though they're a little disappointing. Apple's current lineup features the iPhone 7 Plus in the $669-769 price point and larger size of this new iPhone, at it has the dual-camera setup. Depending on what other new things Apple brings to the table in this device, buying the year-old (by then) iPhone 8 Plus might be a better value. Losing 3D touch would be odd, too. The only phone in Apple's current lineup that doesn't have this technology is the $349 iPhone SE. It would be rather strange for the company to take a step back in a new phone at a high price point.
iPhone X to cease production this summer
This rumor was reported on January 22, 2018.
Oft-accurate KGI analyst Ming-Chi Kuo is back with more 2018 iPhone rumors, and he's doubling down on larger displays. In his note, Kuo writes that "the addition of 6.5-inch OLED and 6.1-inch LCD iPhone models will boost Apple's market share in China, and that the US$650-750 6.1-inch LCD iPhone will make it easier for users worldwide to own a 3D sensing and full-screen design iPhone which offers an innovative user experience."
To back up his claims, Kuo says that the iPhone X hasn't made much of a splash in China, as the size and price of the phone dulled sales there. As such, he believes that the so-called "super cycle" of upgrades will kick in next year with the release of larger sizes of iPhone X-styled phones.
Speaking of iPhone X, Kuo says Apple will be ceasing production of the iPhone X in the summer, significantly earlier than usual. Apple traditionally continues to make older models after new ones arrive, but Kuo sees the 6.1-inch LCD model filling the role of the discounted iPhone X. Consequently, he's lowered his iPhone X 2018 sales estimates from 80 million to 62 million. In a follow-up note on Monday, he clarified this position, adding that price, not demand os the impetus for discontinuing production: "Lowering iPhone X's price after the (2018) new models launch would be a negative to product brand value given 3D sensing and OLED display are features of the new high-price model. Additionally, to sell iPhone X at a lower price may have a negative impact on shipments of the new 6.1-inch LCD iPhone."
LG to provide 6.5-inch displays
This rumor was reported on January 3, 2018.
A report from Electronic Times in Korea states that LG Display has an order with Apple to produce 15-16 million phone displays in 2018. The displays are all said to be 6.5 inches, which means one thing: LG is going to make the display for the supposed larger iPhone X sequel (call it an "iPhone X Plus"), while Samsung will continue to be the primary OLED display supplier for the new 5.8-inch model, just as they are with the current iPhone X.
15-16 million units for 2018 may not seem a like a lot, but consider all the factors. First, we're only looking at 2-3 months of supply, as the new iPhones are once again expected to land in October or November. Second, this is only the larger (and presumably more expensive) of the two new iPhone X replacements. And third, if other rumors are true, there will still be a less-expensive LCD-based iPhone in addition to the OLED models. So, we're looking at just a few months of sales for only the largest and most expensive of three iPhone models. Given that Apple usually sells 75-80 million iPhones in the 4th quarter of the year, the 15-16 million figure for the top-end model sounds about right.
An Apple custom power management chip
This rumor was reported on November 30, 2017.
A report in Nikkei Asian Review claims that Apple is working on its own power management chips for iOS devices, which it will start integrating into iOS devices in 2018. 
Current iOS devices use power management chips made by the UK company Dialog Semiconductor. These chips manage battery charging and the power supplied from the battery to the various components within the phone. Nikkei's sources say Apple's new chip will be the most advanced in the industry, and would allow Apple to deliver better performance with longer battery life.
There is some uncertainty as to the timing, however. One of Nikkei's sources says it will show up in some products next year, while another thinks it might not appear until 2019.
Plausible? Apple is driving hard to produce as much of its own silicon as possible. For example, it recently started integrating its own graphics processors instead of one licensed from PowerVR. The power management chip plays a crucial role in mobile devices, and seems an obvious component for Apple to bring in-house as opposed to more general commodity components like RAM or flash storage.
A refreshed iPhone SE may be on the way
This rumor was reported on November 22, 2017.
A report from China's Economic Daily News claims that an iPhone SE2 (that's a tentative name) is on the way. The report says it will be assembled by Wistron in India (as the current iPhone SE is) and land in the first half of 2018.
This coincided with an report from Focus Taiwan from a few months ago. Is this just a rumor echo-chamber, or independent verification?
Plausible? The current iPhone SE is getting a little old with it's A9 chip. The new one is said to be a relatively simple refresh, with a similar design and size and an upgrade to the A10. That certainly seems likely, considering the target markets and price point for the iPhone SE. But it is unlikely to satisfy those Apple fans who want all the good stuff found in the iPhone 8 and X in a small phone with a 4-inch display.
Faster modems and better antennas
This rumor was reported on November 17, 2017.
KGI Securities analyst Ming-Chi Kuo, always on top of the latest Apple supply chain gossip, says that we'll see much improved cellular baseband chips in next year's iPhones. It will again source chips from both Intel and Qualcomm, but most phones (70-80%) will sport the Intel chip, specifically an Intel XMM 7560 modem. The Qualcomm modem is expected to be the Snapdragon X20.
Both modems support 4x4 MIMO (current iPhones support only 2x2 MIMO) and 5x carrier aggregation, and should work with the newly-deployed 600MHz carrier bands, provided that Apple does all the necessary work on antennas and software. 
This means a big jump in maximum cellular performance, including gigabit LTE speeds and support for more frequencies in more areas. 
Kuo further claims that at least one iPhone model (probably the largest one) will support dual-SIM dual-standby (DSDS) with both SIMs offering LTE connections. Dual SIMs aren't common in the U.S., but there are some markets where it's an expected feature of high-end phones.
Plausible? Apple is behind its biggest Android rivals when it comes to cellular connectivity. In the right locations, the best Android phones support newer LTE technologies and faster real-world download and upload speeds. All the rumored features would leapfrog today's top-end Android phones, but of course premium 2018 Android devices will likely have these features as well. Getting on par with Samsung and Google's best in this area is something that needs to happen.
Three phones, three sizes
This rumor was reported on November 13, 2017.
Another rumor, again from analyst Ming-Chi Kuo at KGI Securities, is that Apple will have three models of iPhone next year. There will be a new phone the same size and design and the iPhone X along with a "Plus" model that features the same design only with a 6.5-inch display and a higher resolution.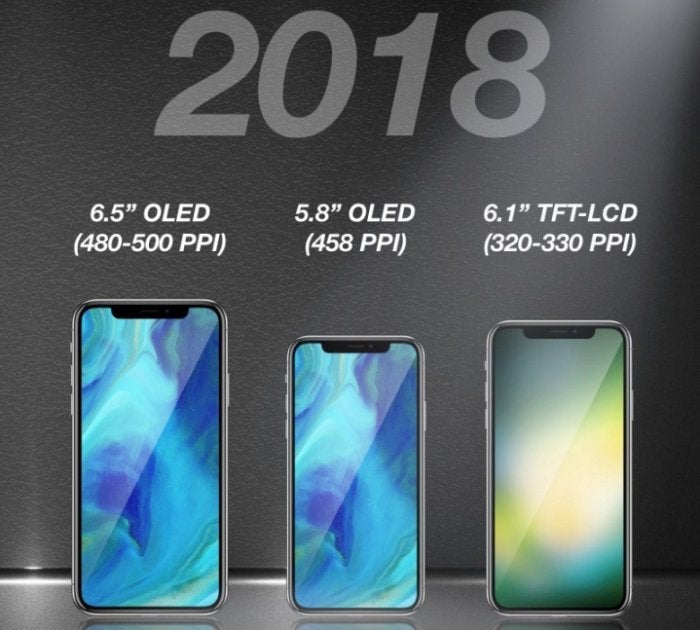 But Apple still needs a new but less expensive model to sell at a lower-than-$1000 price, which Kuo believes will take the shape of a 6.1-inch LCD based phone with the same aspect ratio, but a lower resolution. Kuo believes this phone will be priced between $650 and $750.
The LCD model pictured in KGI's mockup is unlikely to exactly match the final unit. Apple will likely need some bezels on the bottom or top to hold the LCD display control circuitry. But the KGI report does believe the bezels will be much smaller, as Touch ID and the home button will be gone in favor of Face ID and the TrueDepth camera. 
Plausible? A bigger plus-size model makes sense, as does a less expensive, lower-resolution LCD model meant to achieve a lower price. But Apple literally folds the bottom of the OLED display under itself to hide the display controller, a trick they can't pull off with an LCD, so we expect a little more bezel in the LCD version. The bigger unanswered question is whether the LCD version will have a single camera, like the non-plus iPhone models today. 
More frame parts, faster data?
This rumor was reported on November 6, 2017.
KGI Securities analyst Ming-Chi Kuo wrote a research note obtained by other Mac news outlets that details his thoughts on next year's iPhone. Kuo believes that the new phone will use a metal frame that is composed of more parts than the iPhone X, in order to improve data transmission quality. Kuo says that orders Apple has placed with Catcher Technology and Casetek are for two frames, one for a phone like the current iPhone X, and another for an iPhone X-like model with a larger screen.
Plausible? A new frame for better data transmission on next year's phone seems to imply that the current iPhone X isn't performing as well as it could be. But we haven't heard about transmission problems. It could be to support faster transmission speeds (like gigabit LTE) or the newer 600MHz LTE frequency band.