Over the last few years wireless charging has gone from novelty concept to a conventional function of any modern iPhone. We won't pretend that wireless charging is always an ideal substitute for plugging in, but it's a very hassle-free way to keep your phone topped off throughout the day. Freed from the bother of plugging and unplugging, a wireless charger on your desk is as good a place as any to set your phone, knowing the battery is being steadily replenished, and ready for your next outing. A wireless charger by your bed makes it easy to grab and go in the morning, or just to "check one thing" without fussing with the lightning cable.
We've tested a big heap of wireless chargers, and these are some of our favorites.
Update 06/16/21: Added reviews of the Moshi Sette Q dual charging pad and the RapidX Modula5 modular system.
MagSafe, the next generation
Apple officially gave up on its ambition to bring the AirPower wireless charger to market back in 2019. Instead, the company has moved ahead with a far more useful and intriguing idea: MagSafe. It debuted on the iPhone 12 (every model) but we expect it to continue to be available on future iPhones.
MagSafe combines a ring of magnets for secure attachment, an single-coil NFC to identify accessories, and a magnetometer to know when an item is attached, all around a more powerful Qi-based wireless charging coil (up to 15 watts, up from 7.5 watts in other iPhones). Note that a lot of devices are being billed as "MagSafe compatible," but that doesn't mean they support the faster charging or NFC—they merely have a ring of magnets in them. MagSafe compatible is not necessarily real MagSafe.
iPhones with MagSafe still work with regular Qi wireless chargers, they are just limited to the same 7.5-watt charging rate as earlier iPhones with them. And MagSafe is used for more than just charging—the magnetic attachment feature will make it possible to snap on all sorts of accessories.
Since MagSafe accessories are not all just for charging, and require an iPhone 12, we'll round those up in an article separate from this one.
Read more about MagSafe in our guide.
The best wireless chargers
Wireless chargers tend to come in three variants: stands, pads, and multi-device chargers. A pad is great for your bed-side table or lying inconspicuously on your desk, but there are times when a stand makes more sense. In particular, they're useful for iPhones with Face ID, as a good stand with a steep angle will point your phone at your face enough for Face ID to work. This makes it a lot easier to unlock your phone to quickly check something without taking it off the charger.
Stands are great for reading your phone while it charges, but sometimes you want it to lie flat. It's less conspicuous on your desk or bedside table, and easier to just plop it down in any direction. Wireless charging pads tend to be a little less expensive than stands, too.
Now that AirPods have an optional wireless charging case and the Apple Watch is so popular, we've also seen an explosion of 2-in-1 and 3-in-1 chargers meant to charge several Apple devices at once.
These are our picks for the best pad, stand, and multi-device charger, but there are a great many such products out there; you may find a different device at a different price better suits your priorities.
Logitech Powered 3-in-1 Dock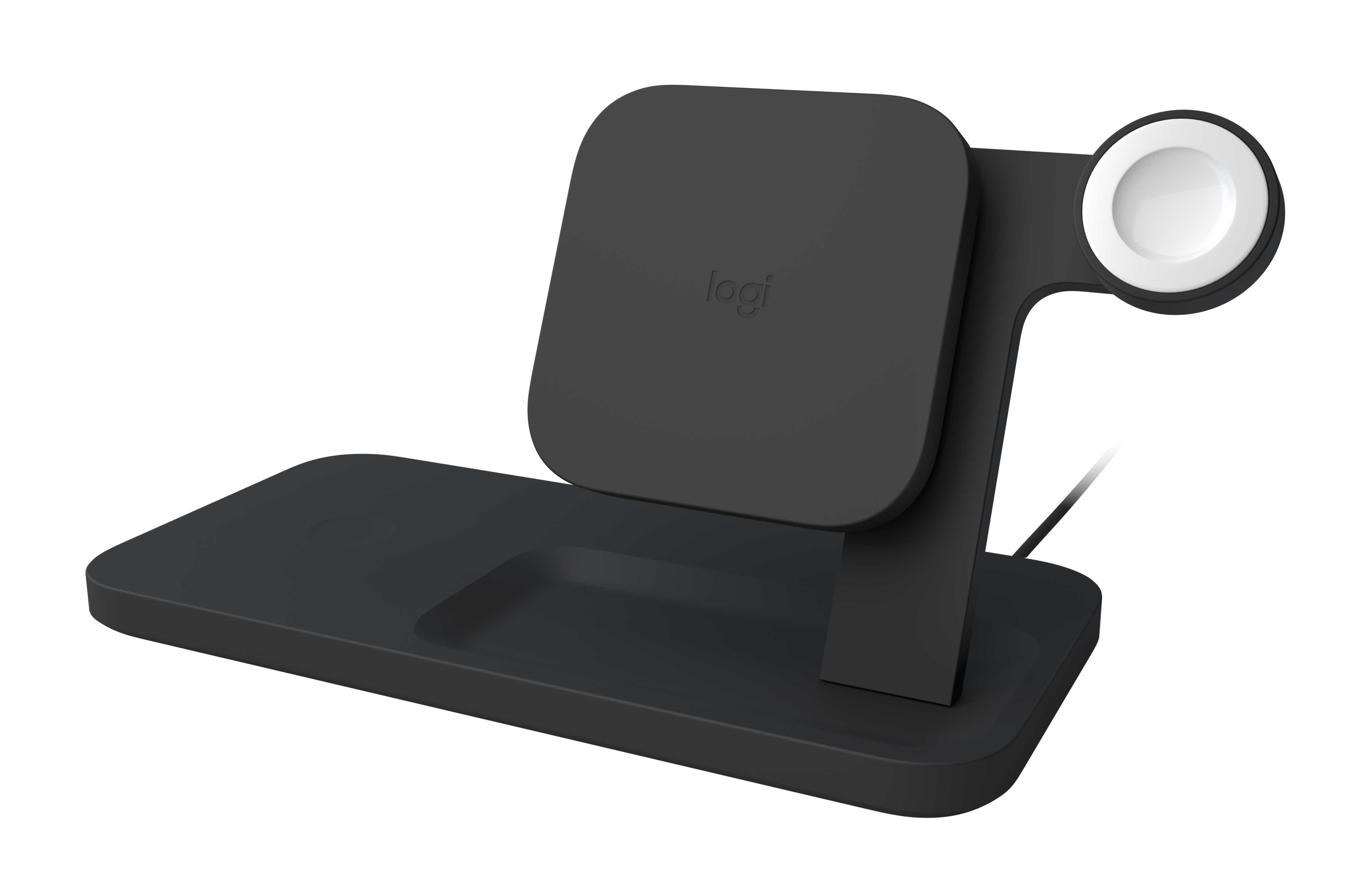 Most iPhone users don't really need a 3-in-1 wireless charging dock. It's only of use if you have an iPhone, Apple Watch, and AirPods with the wireless charging case, and you really want to charge them all in the same place.

If you want something clean and simple to put on your bedside table or desk to charge all that stuff at once, Logitech's Powered 3-in-1 dock is a quality solution, though at $129, it's going to cost you.

The dock is a little on the large side, but with clean lines and a nice matte finish that keep it from being an eyesore. It also includes its own Apple Watch charger, while many similar docks require you to insert your own.

The steep angle of the phone stand makes it easy to use your phone while it charges, and is well-placed to ensure Face ID works without requiring you to pick up your phone. The wide flat area to the left of the stand can charge any Qi-compatible device, including other phones or AirPods (with wireless charging case).

I had no trouble charging my phone with a thick case on it, either on the stand or the pad area, and you don't have to be too precise with the placement. The charging lights are tiny and dim, so as not to be distracting next to your bed at night.

The charging cable is a proprietary DC barrel connector, which is more annoying than USB-C or micro-USB, but not uncommon on these multi-device chargers. The cable is at least thin and flexible, with a nice matte finish, and a built-in cable management tie.

Logitech basically gets everything right about a dock that combines an iPhone charging stand, Apple Watch charger, and charging pad for AirPods (or other devices). The only real gripe I have is the price. If you see it listed for less than $100, it's a good buy. Otherwise, there are other options that might not be quite as nice, but are a lot easier on the wallet.


Moshi Otto Q
Moshi's Otto Q is meant to look like furniture. Moshi says it's "Inspired by Danish furniture" and the name is meant to invoke its purpose: an ottoman for your phone with Qi wireless charging. That might be a bit of a stretch, but the subdued grey fabric and slim profile does look good on almost any end table or nightstand.

The charger uses a USB-C connection (yay!) and Moshi supplies a USB-A to USB-C cable (yay!) that is about a foot shorter than it really should be (boo!). The price—around $40—is reasonable but as there is no power adapter included, you'll have to either use one of the many USB-A power adapter you probably have lying around or add the price of buying a new one.

With the right adapter (one with 9V output like most Quick Charge adapters), the pad supports fast 7.5W charging for iPhones and 10W charging for supported Android phones. In fact, Moshi says it has been tested to be the fastest wireless charger by the German magazine Mac&I. I don't know about that (we don't test charging speed of all wireless chargers), but it definitely charged up my iPhone 11 Pro quickly and reliably, even with a relatively thick case on it.
This is a great wireless charger, it just needs to cost a little less given that it doesn't come with a power adapter and the included cable is shorter than I'd like.
Belkin Boost Charge Wireless Charging Stand
Belkin's Boost Up wireless charging stand always worked well, but we weren't really fans of its high price and proprietary AC adaptor. Also, it was sort of ugly.

With the new Boost Charge wireless charging stand, Belkin has made a couple of welcome tweaks. Instead of a proprietary power adapter that ends in a barrel plug, it uses a standard USB power adapter with micro-USB cable. That's a great shift—there's no real need for devices like this to give us yet another cable and plug we can't use with any of our other gear.

Unfortunately, the design is nearly identical. A couple of small LED charging indicator lights are gone, and the finish is matte instead of glossy, but that weird retro-future circular pod design is the same as it ever was. It's comfortable and easy, but it doesn't exactly look good on your desk.

The stand supports 7.5W charging on iPhones, and for Android phones up to 10W, so you get the fastest charging available. I had no trouble getting a solid charging connection with a relatively thick case on my iPhone XS Max, too.

The price is a lot more reasonable this time around. Where the previous model retailed for an extravagant $70, the new one tops out at $50. That's still more than we'd like to pay for a basic plastic wireless charger, but it's a lot more reasonable.
Other wireless chargers tested
While these other chargers weren't our favorites, they may suit your own needs. There are only so many different ways you can wrap a copper coil in a hunk of plastic, so it's safe to say that your own personal sense of style and pricing sensitivity might a different charger the right choice for you.
Are you interested in a charger you don't see listed here? That's not surprising—while we try to cover the most popular brands, there are literally hundreds of wireless chargers on the market. We can still help make sure you get a product you're happy with, though. The next page contains some helpful general advice to consider when deciding which wireless charger to buy.
Note: When you purchase something after clicking links in our articles, we may earn a small commission. Read our affiliate link policy for more details.
I have written professionally about technology for my entire adult professional life - over 20 years. I like to figure out how complicated technology works and explain it in a way anyone can understand.