GALLERY
HomePod white rings: 10 ways to protect your wood furniture
They might not always be the prettiest options, but these eight products should protect your furniture from the white rings the HomePod leaves behind.
The HomePod has a ring problem. Somehow, after "years" of development, the folks at Apple neglected to discover that the base of the long-awaited HomePod sometimes leaves unsightly white rings on finished wood surfaces.
Apple itself has acknowledged the device sometimes leaves "mild marks," and added that the streaks "will often go away after several days" after moving the speaker to another location.
We haven't seen the problem ourselves, but we understand that it's best not to take chances. With that in mind, we've found a few coasters, doilies, and, er, books that will keep your furniture safe from the excesses of Apple's latest device. For the time being, you might say that they're "sound" investments.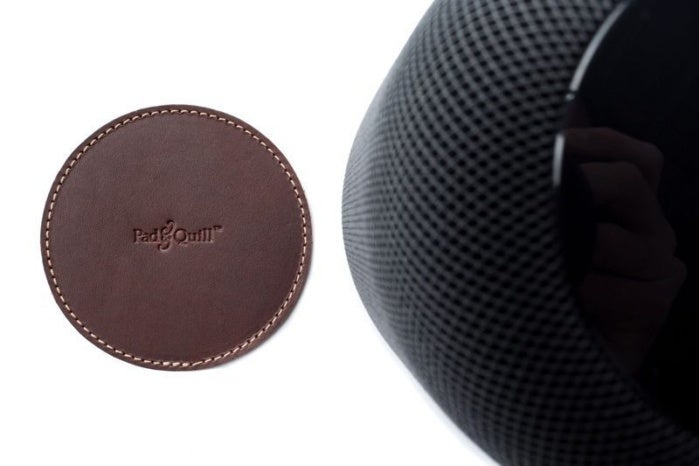 Pad & Quill Leather Coaster for HomePod
Pad & Quill leather HomePod coaster
You've got to admire Pad & Quill for speed. Mere hours after the news about the HomePod's white rings started streaking across the 'net, longtime Apple accessory maker Pad & Quill whipped up a small leather coaster to tuck under Apple's new smart speaker. It's just four inches wide, so you'll barely see it peeking out from under the device (but Pad & Quill left enough room so guests can admire the classy leather). The little leather circle costs $20, but that's likely less cash than it will cost to refinish your furniture.
MERES Aluminum Mount Holder Stand Desktop Bracket for...
Meres aluminum HomePod mount
Not big into leather? Maybe you'll like some heavy metal. Meres' 14.1-ounce mount imprisons your pesky HomePod in a case with aluminum bars that keep the device's streaking potential locked down. Meres was even nice enough to lift the mount a centimeter off the surface so the HomePod won't get damaged by spilled liquids. But wait! Meres says it comes with a rubber mat "to avoid vibration," but it's not visible on any of the product photos. In other words, be careful that you're not trading some merely ugly white streaks with some seriously harmful scratches.
Cork Coasters - 3.5" Round x 1/8" Thick (Set of 25)
Cork coasters
Ah, the cork coaster. You see it in seedy bars, on balconies in tropical resorts, or even on the breakfast table of grandma's house. And maybe, just maybe, you'll soon find it under your $350 HomePod. A single cork coaster from the Jelinek Cork Group measures just 3.5 inches, which is exactly the width of the HomePod's problematic silicone base. That means it'll be almost invisible unless you're looking underneath the device. Unfortunately, you'll have to get 25 at once, but all those other coasters might come in handy when Apple finally releases multi-room support.
8 Pack Coasters - Drink Coasters - Black Coasters...
Juvale Black Slate Coasters
Juvale's slate coasters look cool and sleek, and with a width of four inches, they're wide enough to support your HomePod's base without being too distracting. Better yet, they each come with four pads on the bottom in order to protect your wooden surfaces from scratches—or, of course, unsightly HomePod rings. Dropping $15 gets you a pack of eight along with a snazzy stand, and they're attractive enough that you might not mind tossing the seven extra coasters on the dining room table.
Blue Computer Motherboard Processor CPU Memory Coaster...
Motherboard coasters from Graphics and More
Stylistic pairings not really your thing? More of a fan of the Clash than the Cure? Then you'll love these four blue coasters featuring a photo of a motherboard that will highlight your love of modern tech while failing to pair well with the aesthetic grace of the HomePod. With a width of four inches, though, a single one of these plastic and cork coasters should keep the streaks at bay just fine.
Mac OS X Server 10.4 Tiger - 10 Client [OLD VERSION]
Old Mac OS installation discs
In fact, while you're at it, if you're unwilling to wait on some borderline tacky motherboard coasters, why not whip out some of those old Mac OS installation discs? Even if you're not too happy about the current state of OS X, we highly doubt you're going to be tossing those back in the drive (assuming you can even find a disc drive on your modern Mac). If that won't do, consider using the DVD for Ashton Kutcher's 2013 Jobs biopic.
Elesa Miracle 7 Inch 4pc Handmade Round Crochet Cotton...
Lace Doily from Elesa Miracle
Modern design, meet Victorian stuffiness. Jony Ive might faint at the sight, but you could always just yank a delicate lace doily from your attic and slip it under the speaker. If that's too much trouble, check out these seven-inch lace doilies from Elesa Miracle. But exercise caution. After all, they're doilies, and they have holes. Will the white rings still leave their dastardly marks through the spaces in the lace? We shudder at the thought.
Apple Mac mini/2.6GHz (Late 2014)
Old Mac mini or Apple TV
Apple says the Mac mini is "just big enough to fit everything you want in a desktop," and at 7.7 inches wide, it's also just big enough to support your HomePod without stealing the show from the newcomer. We used an older model we had stuffed in the back, and we like to think of it as representing the way Apple's past supports its future. Want to shake it up a bit? Use an old Apple TV instead.
Walter Isaacson's Steve Jobs biography
A couple of critics called Walter Isaacson's 2011 biography of Apple's renowned co-founder a "doorstop," but now it can be a speaker base as well! With 656 pages of meaty gossip padded between the HomePod and your wood, you'll ensure that no one ring rules them all. Place it with Steve Jobs' iconic photo face-up, and you can imagine Jobs looking up at the HomePod and contemplating the company's present product line. Is that a wince or a smile?
The base of the HomePod box
Think different. In fact, think about not even taking the HomePod out of the base you found it in when you opened the box. Apple's designs for its packaging are often just as attractive as the devices themselves, so surely you wouldn't mind letting the HomePod sit in its packaging base on your lovely finished wood countertop, right?

Right?
Next Up: Check out these related slideshows