Let's face it: Kids want iPhones. Their favorite celebrities are seen using them, they see their parents using them, and some of their friends have them. But which iPhone is best for your kid? There are lots of factors to consider, not the least of which is the age of the child in question.
Whatever iPhone you get, you should consider using Screen Time to manage their use. Built into iOS, Screen Time lets you set limits on how long your kid can use their phone, what apps they can download and use, and when they need to put it down for the night. It's a great way for busy parents to keep tabs on what their kids are doing when they're not within eyeshot, and ought to be the first thing you set up.
Now onto the iPhone itself. For toddlers that need a simple device for watching parent-approved videos and playing some games or educational apps, we recommend avoiding iPhones altogether and getting a basic iPad. It's affordable, you don't have to worry about cellular connectivity, and the large size is easy for toddlers still working on their fine motor skills. You can check out our best iPad for kids guide to see if this would be a better fit for your child, and we recommend a look at our best iPad deals roundup so you can get the best prices.
But, once a child gets old enough for phone connectivity to be useful (for mobile internet, texting friends, or being contactable by you), it's time to step up to a proper iPhone. Here's our recommendations.
Best iPhone for kids
Buy a refurbished iPhone
Before you buy one of the phones mentioned above our advice is to explore the second-hand and refurbished market. Buying a second-hand or refurbished iPhone can save you a lot of money.
Your first port of call should be Apple's own Refurbished store where Apple sells ex-display and returned iPhones that have been refurbished. There are various benefits to buying from Apple's Refurbished Store in the U.S. or U.K., including the fact that all products in the Refurbished Store come with a one-year limited warranty.
But Apple's not the only place that sells refurbished iPhones though; there are plenty of companies that make a living from refurbishing and selling iPhones.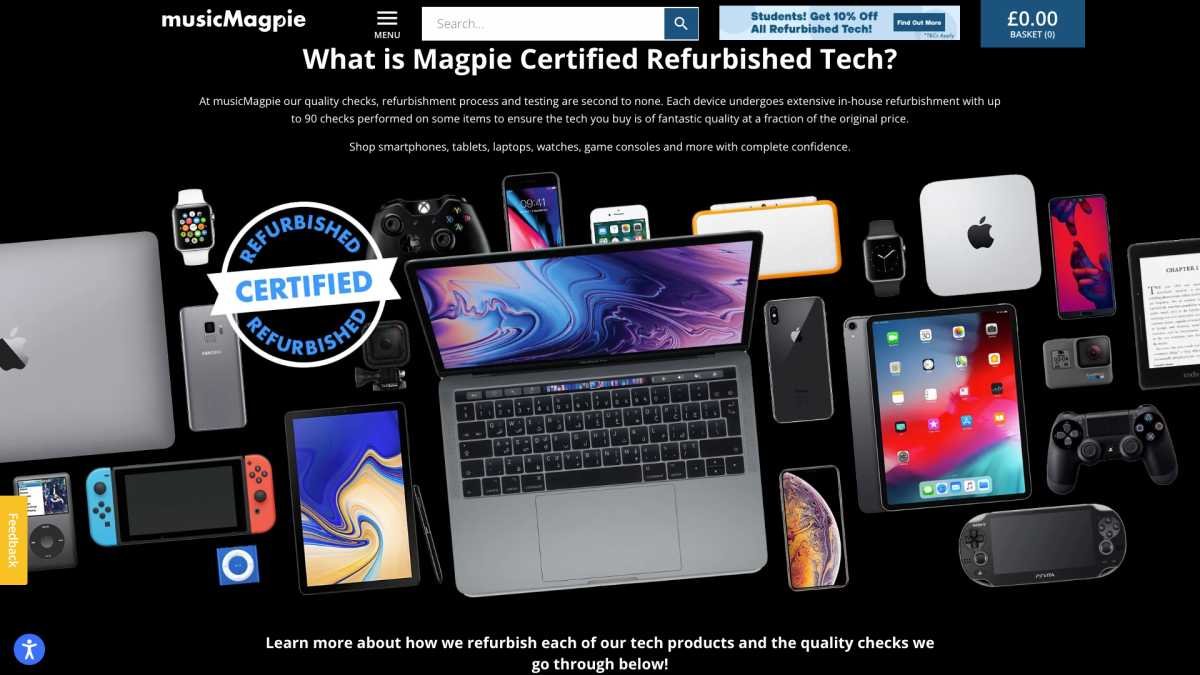 musicMagpie
In fact, there is a growing marketplace for older devices that are fixed up and sold on to prolong their lives. Companies like musicMagpie (UK), Decluttr (US), Amazon and eBay are all now providing this service, along with one-year warranties and money-back guarantees if you're not completely satisfied with your purchase. Of course, investing in older tech is also better for the environment, as it stops the iPhones from being thrown into land-fills even though they are capable of providing years more service to a happy kid.
So, they come with guarantees, save you money, and protect the planet. What's not to love?
The other advantage is that you can pick up older devices that will be great for children but not blow a hole in your bank account. Here's a few models that can be picked up for great prices and would be more than good enough for a young user:
iPhone SE (2020): Basically identical as the iPhone SE (2022) only with an older processor and no 5G.
iPhone 11: Great all-rounder that introduces kids to Face ID. Dual 12MP rear cameras, A13 Bionic chip, IP68 water resistance and nice colours make this an excellent choice.
iPhone XR: Same build as the iPhone 11 but with the previous generation A12 Bionic processor and only a single rear camera. Still a solid iPhone.
Give them an iPhone you already have
Another route to explore is handing over your current iPhone and buying yourself a new one! If you've had yours for a while, then it may be out of its contract period, but if you bought it outright then all you need to do is get a new SIM card for your youngster, give them your handset, then head off to the Apple store to give yourself a present for being such a magnanimous parent. If you're unsure what to treat yourself to, our best iPhone roundup should prove a helpful guide.
Before you hand over your old iPhone make sure you set it up correctly for your child. Have a look at 5 things to do before giving an old iPhone or iPad to your kid and How to set up parental controls on iPad & iPhone.