Apple's previous Mac Pro was introduced in 2019 and since then Apple has transitioned every other Mac to its own chip architecture, starting with the M1 in November 2020 followed by the M1 Pro, M1 Max, M1 Ultra, then the M2 in June 2022, and M2 Pro and M2 Max in January 2023. The Mac Pro, which was still using an aging Intel processor, was looking very dated.
Finally, four years after the 2019 model was unveiled, Apple introduced a Mac Pro with Apple silicon inside at WWDC in June 2023. The new Mac Pro features the M2 Ultra combining the performance of Apple's most powerful chip with the versatility of PCIe expansion. The Mac Studio has also been updated with the same M2 Ultra chip. Read our review of the Mac Studio with M2 Max.
Updated June 19 to note a potential issue with Apple's expandable storage.
New Mac Pro M2 Ultra release date
Apple said way back in June 2020 that it planned to transition all of its Macs to its own chips within two years. Whether this is interpreted as two years from June 2020, or two years from when Apple introduced the first M1 Mac: November 2022, Apple missed its deadline. As Bloomberg's Mark Gurman, who seems to have some good sources, put it in a December 2022 Power On newsletter: Apple is "behind schedule".
Well, Apple seems to have caught up at last because the Mac Pro with Apple silicon is now here–and you can order one now. This time there is no need to wait until the end of the year (as was the case after previous WWDC Mac Pro launches).
You can order the new Mac Pro from Apple and select retailers now.
New Mac Pro M2 Ultra price
There are two standard versions for the Mac Pro, a Tower and a Rack.
They are priced as follows:
Mac Pro Tower, M2 Ultra, 24-core CPU, 60-core GPU, 32-core Neural Engine, 64GB Unified Memory, 1TB storage: $6,999/£7,199
Mac Pro Rack, M2 Ultra, 24-core CPU, 60-core GPU, 32-core Neural Engine, 64GB Unified Memory, 1TB storage: $7,499/£7,699
That is in contrast to the Mac Studio, which starts at $1,999/£2,099 (was £1,999) for the M2 Max version, rises to $3,999/£4,100 (was £3,999) for the M2 Ultra version, and tops out at $7,999/£8,999 (was £7,999) if you fully spec it out.
There are also lots of build-to-order options that will bump up the price, including:
M2 Ultra, 24-core CPU, 76-core GPU for $1,000/£1,000 extra
128GB Unified Memory for $800/£800 extra
192GB Unified Memory for $1,600/£1,600 extra
8TB SSD for $2,200/£2,200 extra
So the ultimate Mac Pro could cost $12,299/£12,499.
New Mac Pro M2 Ultra design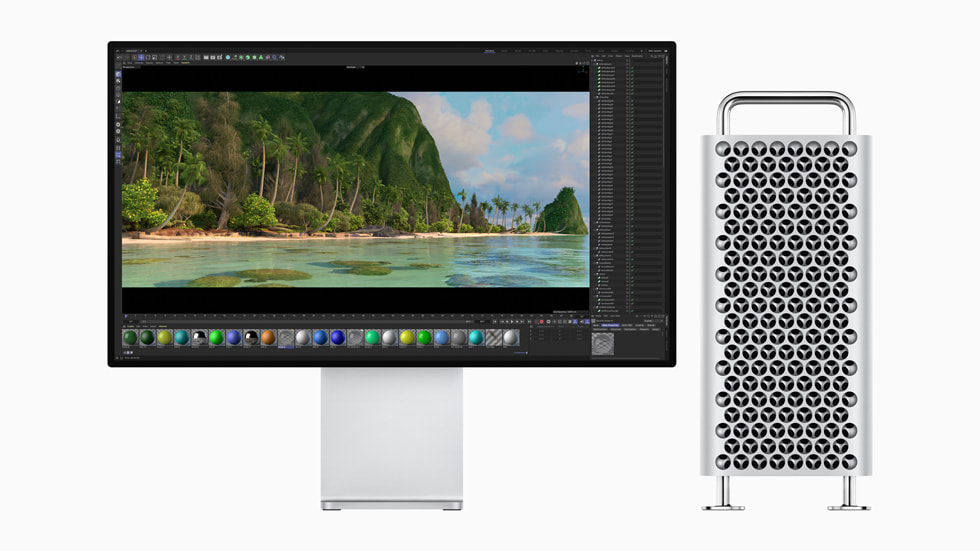 Apple
The new Mac Pro doesn't have a new design, but this is probably a good thing and it was expected that the new Mac Pro would look the same as the 2019 model."
Maintaining the same design seems wise given the problems Apple encountered the last time it made the Mac Pro smaller. This design allows for PCIe expansion.
New Mac Pro M2 Ultra spec
Apple says the 2023 Mac Pro is up to 3x faster than the previous-generation Intel-based model, which can't be hard, given that model is now four years old.
Like the Mac Studio the new Mac Pro with M2 Ultra can support up to 192GB of unified memory, which Apple says is "more memory than the most advanced workstation graphics cards, taking on demanding workloads other systems can't even process."
One major difference between the Intel-based Mac Pro and the new Apple silicon model is the fact that every Mac Pro ships with Apple's most powerful 24-core CPU, rather than the number of cores at the entry level being just 8.
There is also an up to 76-core GPU as standard, as well as twice the memory and SSD storage of the previous entry-level model.
There is an option to configure 192GB memory with 800GB/s of unified memory bandwidth. Apple says this is more memory than the most advanced workstation graphics cards and that it makes it possible to render things that couldn't be done before. "Now every Mac Pro has the performance of not just one but seven Afterburner cards built in," says Apple.
The new Mac Pro and the M2 Ultra Mac Studio have a lot in common. For example, they both share the same media engine, so both can play an unprecedented 22 streams of 8K ProRes video.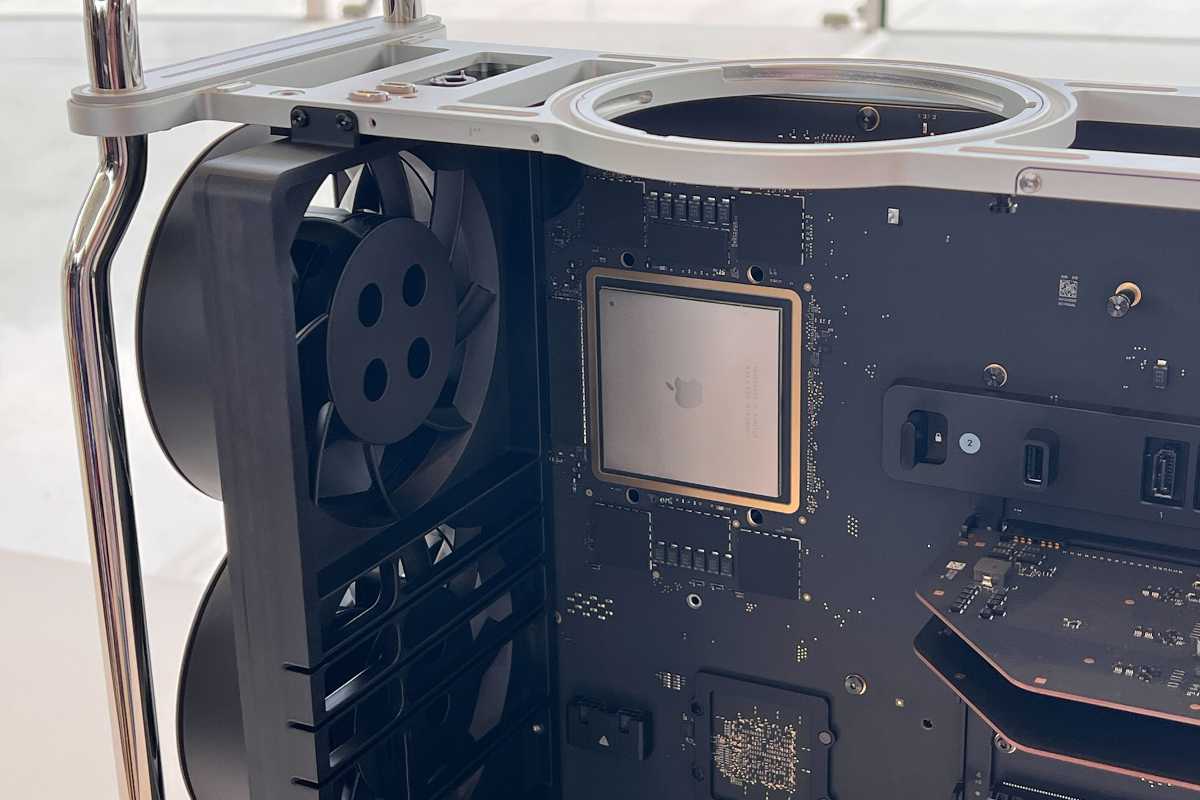 Foundry
New Mac Pro M2 Ultra expansion
One difference between the Mac Pro and Mac Studio models is the better selection of ports on the M2 Ultra Mac Pro, including eight build in Thunderbolt ports (six on the back and two on the top). This is also an improvement on the 2019 Mac Pro which had half that number.
There are also three USB-A ports, two higher-bandwidth HDMI ports (that support 8K resolution and up to 240Hz frame rates), two 10Gb Ethernet ports, and a headphone jack (which supports high-impedance headphones).
But the big difference between the Mac Pro and Mac Studio is the PCIe expansion. PCIe expansion means that pros we rely on internal expansion for their workflows will still be able to take advantage of the M2 Ultra. The new Mac Pro features seven PCle expansion slots, with six open expansion slots that support gen 4, which is 2x faster than before, according to Apple.
The Mac Pro for 2023 supports up to six Pro Display XDRs, and offers support for Wi-Fi 6E and Bluetooth 5.3.
Unfortunately, there are reports that some internal drives are spontaneously disconnecting.
Apple has publicly acknowledged the existence of a bug afflicting the tower's internal storage. In a support document, Apple addresses the possibility that owners of the new Pro could unexpectedly see the error message "disk not ejected properly." The error may occur whether the Mac Pro is put to sleep manually or goes to sleep automatically. Apple's temporary fix is to recommend restarting the Mac Pro. Apple says a fix for the issue is planned.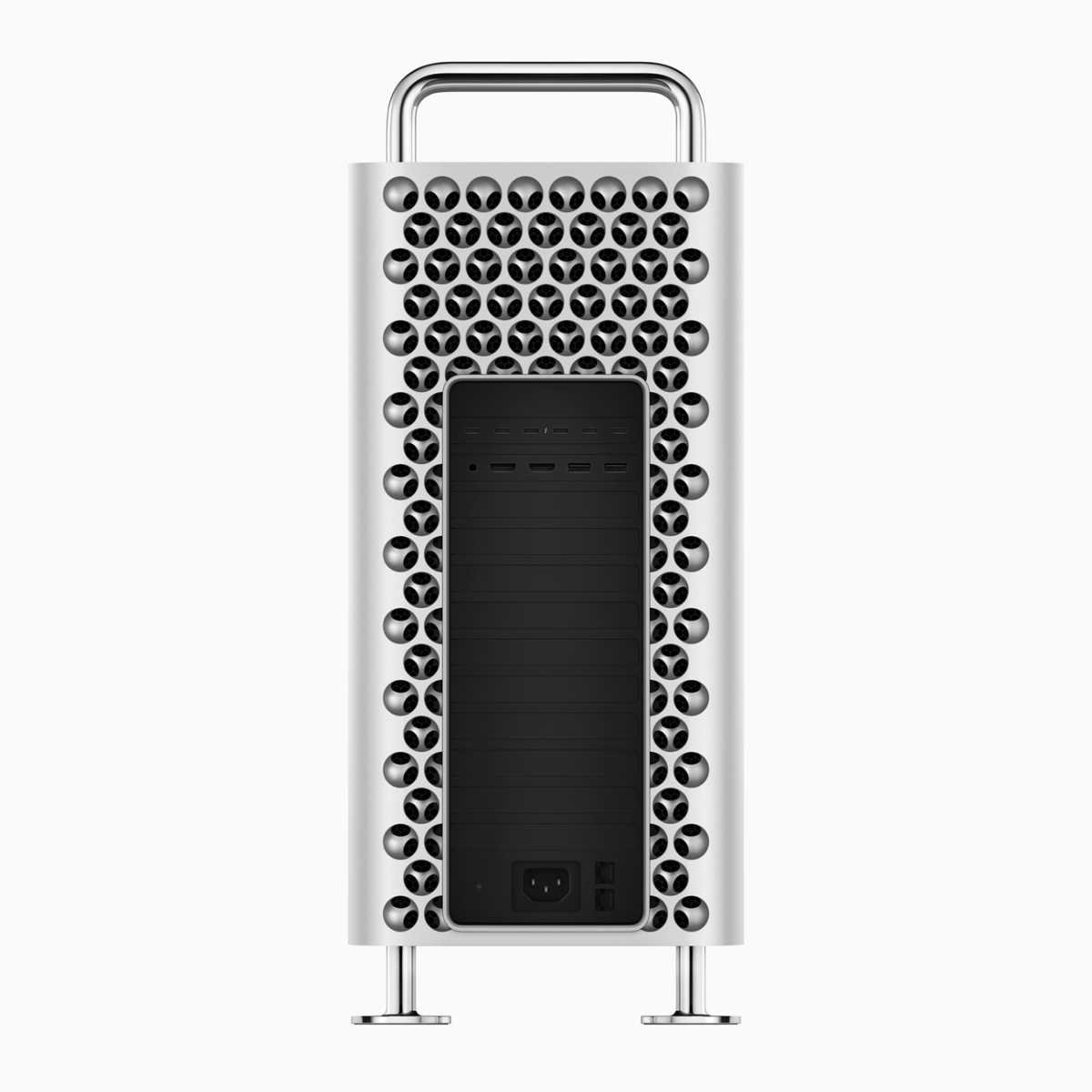 Apple