You're undoubtedly accustomed to using two keys to copy and paste text as well as save your documents. Those keystrokes are so common that they've become second nature. But in addition to those constant timesavers, there are many more easily memoizable and incredibly useful Mac keyboard shortcuts that can save you a lot of time and brain space. Here are 10 suggestions that will make the most difference if they're integrated into your typing routine.
Open yet another new tab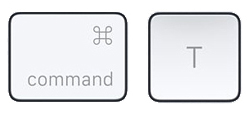 IDG
If like us you're addicted to having excessive tabs open at any given time, you probably already know this one, but for everyone else, you don't have to go to the File menu or press the plus symbol every time you want to open a new tab. ⌘-T will do the trick.
---
See double (files)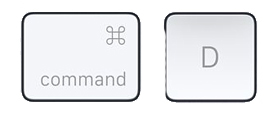 IDG
When you need to create a copy of a file, right-clicking and selecting Duplicate might seem like the easiest way, but we've got one better. Click on a file and then hit ⌘-D to make a copy. And it's easy to remember too: D is for "double."
---
Float on your iCloud
IDG
If you're constantly clicking over to the Finder to open your iCloud Drive, this keystroke will save you countless seconds each day. Just take the swift Shift-⌘-I expressway to your iCloud to retrieve old or store new files in a flash.
---
Take off with AirDrop

IDG
AirDrop is already a super-easy way to send someone nearby a photo, song, document, or another file right away, and this keystroke makes it that much quicker. Now you won't have to use Spotlight to find the AirDrop app or use the sharing menu.
---
Get some direction in your life
IDG
We all need a little help sometimes and moving the cursor all the way up to the Help menu is very tedious. But there's another way—help with the app you've got working in the front is just three keys away: Shift, ⌘, and the question mark, which should help with memorizing it, too.
---
Have a new folder frenzy

IDG
You probably already have this shortcut in your back pocket if you're prone to over-foldering your desktop, but it's just as handy if you need just do a little decluttering.
---
Skim a document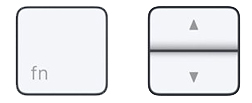 IDG
The function key on your keyboard is more than an abbreviated expletive—it unlocks all sorts of cool tricks on your Mac. Our favorite is the combo of Fn and the arrow keys will help you jump up to the top of a document (or bottom, with Fn-Down Arrow), and that's handy if you just want to skim and get the gist of the text.
---
Get Preferences on demand
IDG
When you need to visit preferences, you probably know to click the app's name in the menu bar and then slide your cursor down to Preferences. But there's an even easier way: save precious seconds by pressing ⌘-Comma (,) to automatically pull up a pop-up Preferences window for whichever app you're using.
---
Make files disappear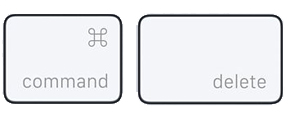 IDG
We all have things that we need to throw away, but dropping everything into the trash doesn't have to be a drag—just click on the file you want to get rid of and press ⌘-Delete to remove it off your desktop with a satisfying audio click that lets you know it's out of your hair for now. And a bonus tip: if you want to retrieve it, just press ⌘-Z to restore it to where it was.
---
Instant Trash collection

IDG
A discarded file isn't really gone until you actually empty your Trash, but you can save yourself the time of going up to the Finder and selecting Empty Trash with a quick stroke of the keys: Shift-⌘-Delete. You'll still be asked if you're sure you want to "Permanently Erase the Items in the Trash," which you can answer with a simple tap of the Return key.