The NVIDIA GeForce NOW cloud gaming service continues to shatter barriers that once prevented many users from being able to access high-end gaming, including Mac owners or those who couldn't afford a fully-loaded PC rig every few years. The latest move from GeForce NOW is a monthly option for the new RTX 3080 membership tier that eliminates the six-month subscription commitment to access additional features.
GeForce NOW lets users play the latest PC games on their existing hardware, including Macs and iOS devices within the Apple ecosystem. It supports more than 1,200 PC games as well as nearly 100 free-to-play games. The service also includes access to new offerings from Electronic Arts, like Need For Speed: HEAT and Plants vs. Zombies, among others.
GeForce NOW does not require that users purchase games through their service. Instead, they support games bought through other digital stores, including Steam, Epic, Origin, Ubisoft Connect and GOG.com. While not every game is supported, the service continues to add games weekly through GeForce NOW Thursday announcements. In many cases, new games that launch regularly on other services also are available on the same day on GeForce NOW, such as Dying Light 2 Stay Human and Destiny 2: The Witch Queen Deluxe Edition.
The new RTX 3080 tier, at $19.99 per month, lets gamers access GeForce NOW with the best graphical fidelity and additional benefits. For example, gamers get exclusive access to RTX 3080 gaming servers with RTX ON, eight-hour session times, and resolutions of up to 1440p at 120 fps for PC and Mac users. Gamers accessing GeForce NOW on NVIDIA's SHIELD TV can achieve up to 4K resolution with HDR at this tier level.
Mac owners can play these games at native display resolutions, up to 1440p for most iMacs, and 1600p for most MacBooks. Newer MacBook owners can stream games natively at 120 FPS with ProMotion 120 Hz displays, or they can connect an external monitor to play at 120 FPS on any Mac.
Other tiers continue to be available, such as Priority and Free levels, which reduce session length and provide access to 2nd gen servers.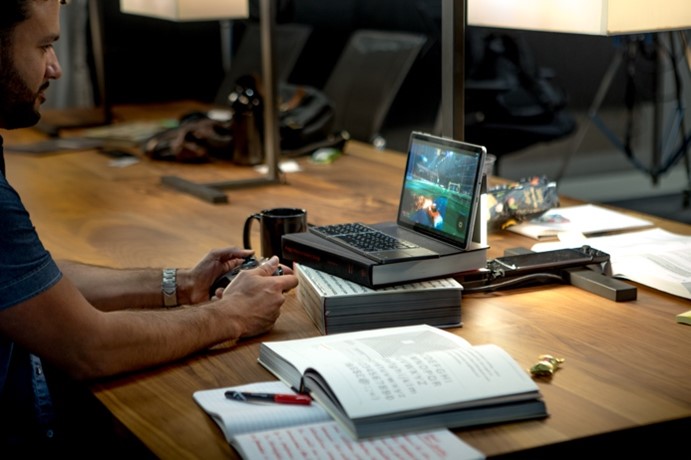 NVIDIA
Gaming for All
NVIDIA's goal with GeForce NOW is to provide a cloud gaming service that feels as close to playing on a standard gaming PC – and in some cases, even better. To achieve this, the company continues to innovate on hardware and software to improve gaming performance.
For example, NVIDIA operates more than 30 GeForce NOW data centers that support gamers in more than 80 countries.
"We learned through early cloud gaming services that you need to strategically deploy your data centers near major metropolitan areas, as well as near fast Internet backbones," says ,Andrew Fear Senior Product Manager for GeForce NOW. "Our infrastructure lets us reach millions of gamers in most major cities, where most games with a good Internet connection will have a latency of 20 milliseconds or less."
Gamers require low latency and no packet loss. Users that stream music and movies likely don't notice slight buffering or video frame loss, but for gaming it can mean the difference between success and failure. High latency causes delays between pressing a button and seeing the result on screen. Network packet loss results in missed frames, which can be critical in games that require precision shooting, jumping, or dodging.
NVIDIA also improved its servers with its third generation of 30 Series GeForce RTX GPUs designed specifically for cloud gaming. Architecture changes are made in each generation to improve video encoding quality and speed. The service also innovates on software to find ways to reduce latency.
For example, with the launch of the RTX 3080 membership, NVIDIA introduced an advanced Adaptive Vsync mode. It synchronizes frame rendering with exactly the time needed for the gamer's refresh rate.
For additional details on the GeForce NOW service, visit us here.
About the author
Keith Shaw is a freelance digital journalist who has written about technology for more than 20 years.