At a Glance
Expert's Rating
Pros
Cheaper than iPhone 5c, iPhone 5s
can run iOS 7
Cons
Smaller display than iPhone 5c, iPhone 5s
older 30-pin connector
slower than new iPhones
camera not as good as new iPhones
poor battery life
Our Verdict
If you want an iPhone but don't want to pay out the premium for the newer models, the iPhone 4S is still a great option. We know lots of people (some of the Macworld team included) that are perfectly happy with their iPhone 4S two years on. It takes good photographs, is speedy enough for most people, will be able to run iOS 7 and is really good-looking. Its downfalls are the smaller display and the poor quality front-facing camera, as well as the fact that it still uses the older 30-pin connector that's been replaced by the Lightning connector in newer models. Battery life is also a concern, but the newer iPhones don't offer much in the way of an improvement here.
Apple's iPhone 4S may not be the newest iPhone available, but it's still a popular choice among smartphone buyers. In fact, the iPhone 4 and iPhone 4S together made up almost half of all US iPhone sales before the launch of the iPhone 5s and iPhone 5c, despite the newer iPhone 5's availability.
First launched in October 2011, the iPhone 4S was replaced as Apple's marquee phone by the larger-screened iPhone 5, which launched in September 2012. The iPhone 5s and iPhone 5c were unveiled on 10 September 2013, and will be available to buy on 20 September.
The iPhone 5 was dropped from Apple's iPhone line-up with the launch of the two new iPhones, but the iPhone 4S lives on, and is a cheaper alternative for those who are happy with an older iPhone if it means a lower price.
How much does the iPhone 4S cost?
From Apple, the iPhone 4S costs £349, and is available in black or white. It'll ship with iOS 7 installed and is only available as an 8GB version.
That's significantly cheaper than Apple's new iPhones. The iPhone 5c is available from £469, while the iPhone 5sw ill set you back at least £549 from Apple.
What's the difference between iPhone 4S, iPhone 5c and iPhone 5s?
The most noticeable difference between the iPhone 4S and the iPhone 5c and iPhone 5s is the bigger screen size. Plus, the iPhone 5s has a thinner design with an aluminium backplate, while the iPhone 5c has a colourful polycarbonate shell.
Above: Apple's two new iPhones. iPhone 5c (left) and iPhone 5s (right).
When it comes to features, the iPhone 4S lacks the camera improvements found in the iPhone 5s, and doesn't have the iPhone 5s's new fingerprint sensor, either. Plus, the iPhone 4s has a less powerful processor than both the iPhone 5c and iPhone 5s models, has a less impressive battery life, doesn't support 4G and uses the older 30-pin dock connector.
You can check out our iPhone 5c hands-on review and iPhone 5s hands-on review for more information about the new iPhones.
We've had our iPhone 4S for two years, and this reviewer uses it on a daily basis. Read on for a closer look at the iPhone 4S, its specs and features and how they compare to Apple's newer models, and how the iPhone 4S fares two years on.
iPhone 4S review: Design
The iPhone 4S, despite being two years old, is still a good-looking piece of kit. We use a white model, but there is also a black model available.
It still looks and feels expensive, and, while it's thicker than the newer iPhone 5c and iPhone 5s models, it's still only 9.3mm (the iPhone 5s is just 7.6mm thick). It does feel heavier though, at 140 grams.
What's worth remembering, though, is that the iPhone 5s and iPhone 5c both have 4in screens, rather than the iPhone 4S's 3.5in display. We find that the smaller display means the iPhone 4s fits in our pocket nicely, and is easy to carry around in a small bag. Of course, there are disadvantages to having the smaller screen, but we'll come to that later.
The iPhone 4S doesn't have the aluminium backplate that the iPhone 5s sports, but has a completely glass back instead.
iPhone 4S review: Display
The iPhone 4S 3.5in display is 960-by-640 pixels, with a screen resolution of 326 pixels per inch, making it Retina standard, meaning that the average human eye can't see individual pixels at normal viewing distance.
In comparison, the iPhone 5s and iPhone 5c both share the same 4in Retina display, at 1146-by-640 pixels and, again 326ppi.
This means you'll still get the same crisp picture from your iPhone 4S as you would from your iPhone 5s or iPhone 5c, but you'll get an extra 0.5in diagonally if you opt for one of the newer models. We find the iPhone 4S's smaller display perfectly adequate for viewing images, using apps and browsing the web.
A disadvantage to the smaller display is that it has a 3:2 aspect ratio. The 4in display that the iPhone 5c and iPhone 5s sport has a 16:9 aspect ration like your HTDV, which is perfect for wide-screen video viewing.
Another difference that comes with the smaller display is that you'll get four rows of app icons on your Home page, instead of the five rows that the 4in display allows.
iPhone 4S review: Cameras
The rear-facing camera in the iPhone 4S is an 8-megapixel iSight camera. It has an f/2.4 aperture and can shoot 1080p video.
Comparing the iPhone 4S camera first to the iPhone 5c, there isn't much difference. The 5c has the iPhone 5's camera, which means the only difference between for the iPhone 4S is the lack of a sapphire crystal lens cover, which Apple claims offers noise reduction, clearer and sharper images and better low-light images.
The iPhone 5s camera, on the other hand, is much improved. It still has 8-megapixels, but they're bigger at 1.5 microns. The camera also has a f/2.2 aperture and a dual-LED flash, which means massively improved low-light photos.
We use the iPhone 4S to take photographs on a regular basis. The images as they're shot are not always great, but apps such as Camera+ and Snapseed mean the photos can be improved quite significantly with some editing. You can see some examples of our (unedited) iPhone 4S photographs below.
Above: An example of the iPhone 4S's camera performance indoors.
Above: An example of the iPhone 4S camera performance outside (on a not very nice day, mind)
As keen photographers, the new camera in the iPhone 5s is one of the things that could convince us to ditch our iPhone 4S in favour of an iPhone 5s. However, if the camera isn't a big factor in your decision, you'll find that the iPhone 4S photographs are still quite impressive and ideal for snapping photos to share on Facebook, for example.
When we get our hands on the iPhone 5s and iPhone 5c, we'll test the camera and update this review with comparison images so you can see how different the photographs will be to those taken using an iPhone 4S.
The front-facing camera, which Apple calls the FaceTime Camera, is much less impressive now that it's two years old. It's VGA-quality, which means it captures 640-by-480 pixel images and video. For FaceTime, it's sufficient, but if you want to take a photograph with it (what with the growing 'selfie' trend) you might be disappointed by the quality of the image it produces.
The iPhone 5c and iPhone 5s have significantly improved front-facing cameras. They're 1.2-megapixels (1280-by-960 pixels) and can capture 720p HD video.
iPhone 4S review: Performance
Apple's iPhone 4S is powered by an Apple-designed dual-core A5 processor. It's the same processor that you'll find in the iPad 2. While not as speedy as the iPhone 5c A6 processor or the A7 processor found in the new iPhone 5s, it's not slow either.
Geekbench scores of the iPhone 4S average at 635, which is much slower than the 1655 that the iPhone 5 scores. The iPhone 5s is apparently twice as fast as the iPhone 5, which will make the 4S noticeably much slower than the newest flagship iPhone.
We've found the iPhone 4S can handle most of the tasks we want to carry out swiftly, but if speed is top of your priority list then the iPhone 4S probably isn't for you.
Apple claims that the iPhone 4S provides up to eight hours of talk time on 3G, up to 200 hours on standby, up to six hours of 3G internet browsing or up to nine hours of WiFi internet browsing. For video playback, Apple says the iPhone 4S's battery will last for up to 10 hours, and audio playback can continue for up to 40 hours.
That's all well and good, but how does that translate into every day life? We're not realistically going to spend 10 solid hours watching videos on our iPhone 4S and not doing anything else with it, for example.
We've found that we need to charge our iPhone 4S every day, without doubt. Often, twice a day. If we're heading out to a concert and want to take lots of pictures and video, we usually carry a battery booster with us.
Our long commute filled with Twitter and Facebook browsing sucks a good chunk out of our battery life, and we often plug our iPhone 4S in to charge while we're in the office before heading back home. If we don't, and plan on using our iPhone 4S for heavy browsing during the hour long commute back home, we're often left with just 10 per cent battery life by the time we sit down for dinner.
The battery life is one of the iPhone 4S's biggest downfalls. That said, the iPhone 5c and iPhone 5s don't have exceptional battery life either, though Apple has made some improvements. The talk time has been boosted from eight hours to 10, for example, and internet use is also one or two hours improved.
There are some tricks to help improve your iPhone 4S's battery life, such as turning off location services and 3G, for example, but it's not ideal.
The iPhone 4S camera does also have image stabilisation for video and face-detection, which help you stay in focus.
iPhone 4S review: Siri
The iPhone 4S has Siri, just like the iPhone 5c and iPhone 5s. However, how much you'll actually use the voice-activated personal assistant is a different matter.
On paper, Siri sounds great. You can use it to search the web, call people, send text messages, get answers to quick questions and find out whether you'll need to take an umbrella with you to work today.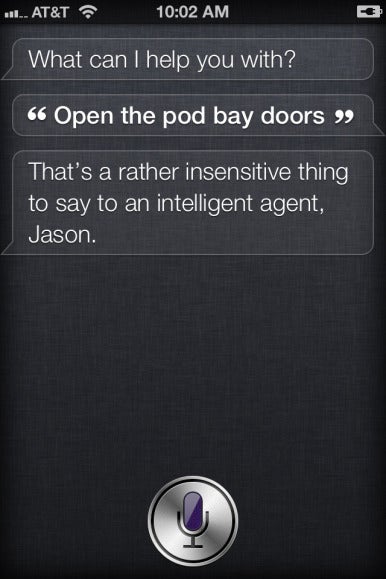 Honestly, we hardly ever use it. At first, we asked it all sorts (including "Who let the dogs out?" and "Where can I bury a dead body"). But those aren't particularly practical uses for the feature. Now, we use it to set alarms ("Wake me up at 6.30") or sometimes to call someone ("Call Ryan")
We've attempted to use it while out and about, but the requirement of internet connection means sometimes we can't even get Siri to listen. iOS 7 is going to bring improvements to Siri, but we'll have to wait until we've tried them before we pass judgment on that. iOS 7 does mean that Siri will be coming out of beta, too. It's been beta software since it launched with the iPhone 4S in 2011.
One good thing is that Siri understands us pretty well, and doesn't struggle to process what we're saying unless it's a really complicated sentence or we've spoken too quickly.
Another reason you might want to speak to the iPhone 4S is to use the Dictation feature. You'll find it when you're typing messages or emails. You can tap the Dictation icon to the left of the space bar to have the iPhone 4S transcribe whatever you say. You'll need to say your punctuation too, though.
If you haven't got access to the internet (either through 3G or WiFi), you won't be able to use the Dictation feature, though, as it sends what you say to a server that analyses your speech and converts it into speech. If you are online, it's a quick process, though.
iPhone 4S: iOS 7
Good news is, iPhone 4S will be able to run iOS 7, Apple's new mobile operating system. iOS 7 has been completely redesigned, and has lots of new features, many of which will benefit iPhone 4S users just as much as users of the newer iPhones.
Above: iOS 7 will bring a whole new look to iPhones and iPads.
New features include Control Center, which gives easy access to lots of settings and functions, improved Multitasking, new Camera and Photos apps and improved Safari.
There will be some features that iPhone 4S owners miss out on though. Filters in the Camera app will only be available on iPhone 5 or later, as will AirDrop.
For more information about iOS 7, check out our preview here.
iPhone 4S: Some final notes
As we mentioned, our iPhone 4S is two years old. If you buy one from Apple, it'll be brand new, so won't have any of the problems we're about to mention straight away. However, they're worth bearing in mind if you're planning on getting a 24 month contract, as you could begin experiencing the same problems before your contract's up.
Our iPhone 4S still works, but there are some annoyances that come with its age. The battery is sometimes unreliable, and once we get down to less than 10 per cent, we're never sure whether our iPhone will make it down to one per cent or decide to give up on us now.
Additionally, the lock/power button doesn't work. We know which part we need to replace, but we haven't yet. We also know that we're not alone in this problem, it seems to be common among iPhone 4S users. We have found a handy workaround for this, though.