If you spend hours typing each day, it's important to find the keyboard that suits your needs – whether that's a mechanical keyboard that provides satisfying tactile feedback or a keyboard packed with media controls and macOS shortcuts. There are plenty of options to choose from, and here we look at some of the best keyboards for Mac to help you decide.
We have all sorts of Mac keyboards in this round-up, including Apple's 2021 Magic Keyboard with Touch ID and the cheaper, and still-on-sale, Magic Keyboard. We have some wired keyboards (for those fed up with searching for new batteries every few weeks) as well as ergonomic solutions to help you avoid RSI, the best gaming keyboards for Mac, and some pretty stylish offerings that give Apple a run for its money.
And, talking of money, there are quality Mac-ready keyboards out there that cost a lot less than Apple's – and do more too.
You might also be interested in discovering the best mice for Mac if you want to fully upgrade your workstation.
1. Logitech MX Keys Mini – Best For Home Users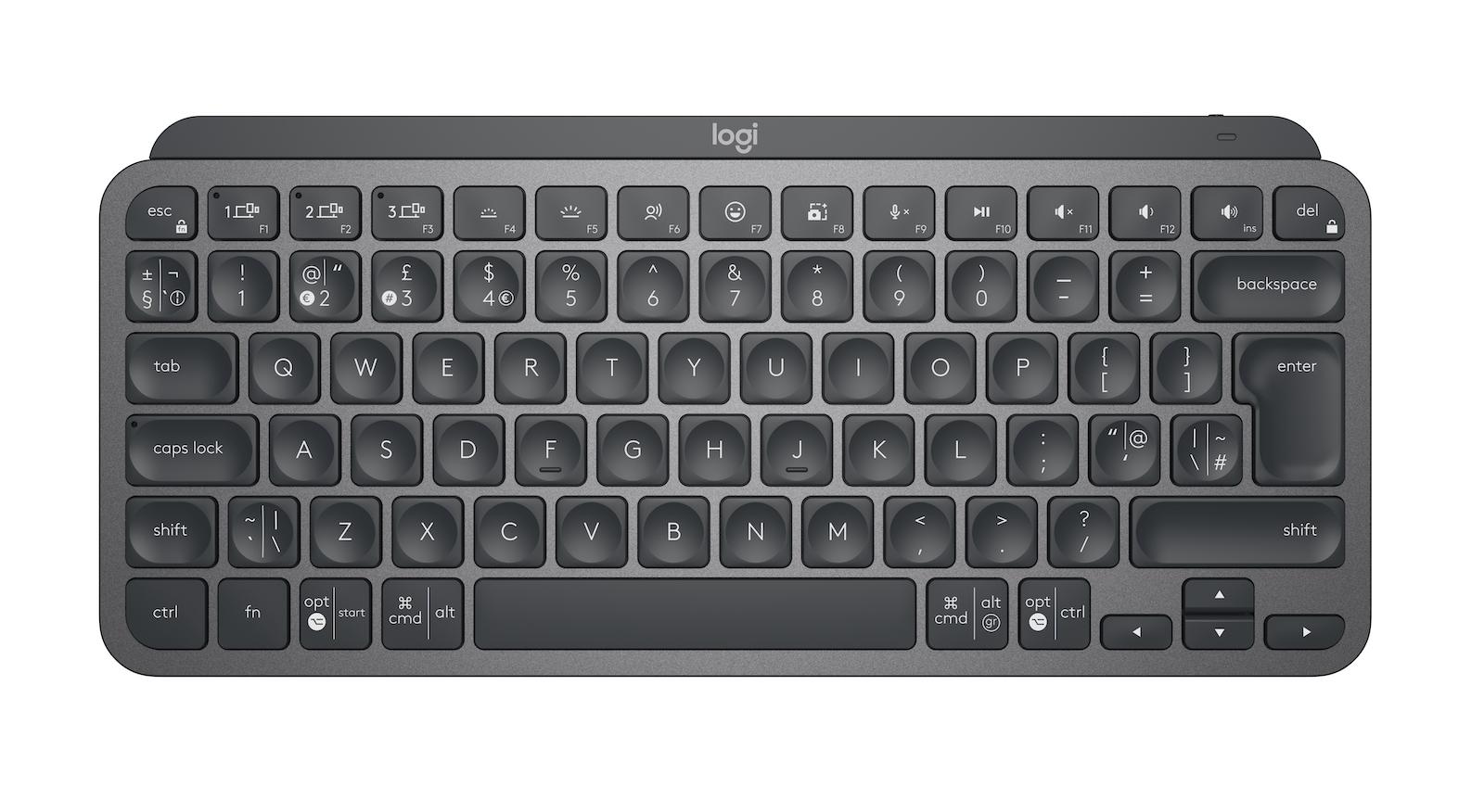 Pros
Five month battery life (if backlight turned off)
Function keys mimic those on Mac keyboards
Cons
Keyboard backlight can drain the battery quickly
Logitech's Craft and Ergo K860 keyboards are both designed for specific types of users, but if you're just looking for a good general-purpose keyboard then its MX Keys range is hard to beat.
The latest model in the range is the new MX Keys Mini and has a compact, low-profile design that clearly pitches it as an alternative to Apple's own Magic Keyboard. And, to be honest, Logitech's years of experience with mice and keyboards really give it the edge.
The basic design of the MX Keys Mini is impressive. Available in a variety of colours, it's heavier and sturdier than the Magic Keyboard, with firmer keys that feel more responsive when typing. The keyboard has a backlight too, with a sensor that automatically activates the backlight as your hands approach the keyboard, and then turn it off after a few seconds when you move away.
The backlight does drain the keyboard's rechargeable battery, lasting only 10 days if you have the backlight on full brightness the whole time. However, turning the backlight off extends that time to a full five months – far longer than the single month provided by Apple's Magic Keyboard.
The top row of Function keys works automatically with the Mac, allowing you to adjust the backlight, volume and other controls. Logitech's Options app also allows you to program the Function keys to perform different tasks, such as opening Mail or Safari.
There's also a larger version, simply called the MX Keys, which has a separate numeric keypad as well – and this has recently been on sale at the same price as the MX Keys Mini, although it's not clear if that price cut will turn out to be permanent.
2. Apple Magic Keyboard With Touch ID – Best for M1 Macs
Cons
Touch ID won't work with Intel-powered Macs
Slimline so keys don't 'travel' much
Smaller version is cramped
MSRP:
$149; $179 with numberical pad
At first glance, the two Magic Keyboard models launched by Apple in mid-2021 look very similar to the original models – which are still available and reviewed here as well. However, these newer models bring a number of new features that aren't available on the older Magic keyboards. For starters, these new models are officially referred to by Apple as (1) the Magic Keyboard With Touch ID For Mac Models With Apple Silicon, and (2) the Magic Keyboard with Touch ID and Numeric Keypad for Mac Models with Apple Silicon.
That's a bit of a mouthful, but Apple is making it abundantly clear that the new keyboards are specifically designed for the latest Mac models that have Apple's home-grown M1 processors. You can use these new keyboards with older Macs that have Intel processors, but you'll really only be able to use them as basic QWERTY keyboards for typing, as most of the new features – including the Touch ID sensor that sits in the top row of Function keys – won't work on Intel Macs.
The basic design of the two keyboards hasn't actually changed that much, with the same slimline design and month-long battery life as their predecessors. The smaller Magic Keyboard With Touch ID is priced at quite a premium for the Touch ID sensor. And, like the standard Magic Keyboard, it feels rather cramped, with a small Space bar and cursor keys. The lack of 'travel' – the up and down movement of the keys as you press them – also makes the keyboard feel a bit lifeless for people who type a lot and need a bit more tactile feedback when they're typing up a storm. Then again, you might feel that your fingers have to do less 'work' compressing the key. Apple also introduced new versions of the Touch ID keyboard with black keys in early 2022.
The key feature of these new keyboards, though, is the Touch ID sensor, which sits by the F12 button on the top row of Function keys. This works just like the Touch ID sensors on the iPhone and iPad, and – on Macs with Apple Silicon – you'll see a new Touch ID panel appear in System Preferences when you first connect the keyboard. This allows you to store up to three fingerprints, which you can use to unlock your Mac, or to make secure payments on the Apple Store, or other online stores that support Apple Pay.
There are a few other new features as well, including an Emoji command on the Fn key in the bottom-left corner of the keyboard, which displays the Emoji viewer panel so that you can quickly add emojis to any document or message that you're typing. There are new Function commands too, for activating Spotlight, Dictation and Do Not Disturb.
As always, the larger version of the keyboard is even more expensive but the numeric keypad will be useful for people who do a lot of number crunching at work.
There's more room to provide a larger Space bar too, and larger navigation keys. Even so, the thin keyboard panel means that the keys still feel a bit lifeless, so business users and budding novelists may prefer to look at one of the larger and more solidly built keyboards available from other manufacturers.
3. Logitech Craft – Best for Creatives
Pros
Backlit keys with proximity sensor
Microsoft Dial-esque input dial
Cons
Given the lack of interest in the Touch Bar we aren't convinced by the dial
The Craft is Logitech's wireless keyboard designed for creatives across Windows and Mac, and it's incredible. The keyboard is sleek, gorgeous and features a solid body, providing a sturdy keyboard that will never move when in use.
The Craft features increased key stability that doesn't only reduce noise when compared to similar keyboards, but the spherical key imprint makes it easier to orient your fingers and type quickly and accurately. The typing experience is near perfection, with both comfort and accuracy in mind.
It features backlit LED keys like many other keyboards, but with a difference. Thanks to a built-in proximity sensor, the keys will only light up when your hands are near the keyboard. Admittedly it's only a small feature, but it really highlights the attention to detail required to develop this keyboard.
Of course, the key feature of the Logitech Craft is the Microsoft Dial-esque input dial on the top-left of the keyboard. The dial is completely contextual, and the functions will change depending on the app you're using.
This is done automatically for popular apps like Google Chrome, Photoshop and Illustrator, but it can also be set up manually via the Logitech Options app. Tapping the dial provides access to a range of functions, from volume control to brush size to tab switching. Whatever you need, the dial can provide it.
The Logitech Craft is stunningly gorgeous and impressively practical, and is a must-have for all Mac power users, not just creatives.
4. Apple Magic Keyboard – Best for Intel Macs
Pros
2021 model includes a USB-C-to-Lightning cable
Cons
No Touch ID
Slimline so keys don't 'travel' much
Navigation keys are a bit fiddly to use
Apple's keyboards are a bit confusing at the moment, with two generations of keyboards available, and each generation offering two different keyboards, with or without a numeric keypad.
The older generation of Magic Keyboards is still available, and is now intended primarily for use with older Macs that have Intel processors. These older keyboards lack the Touch ID sensor that is available with the two new keyboards that Apple launched in the summer of 2021.
However, Touch ID and some of the other features of the new keyboards don't work with Intel-based Macs, so if your Mac has an Intel processor then these older keyboards are the best options available from Apple – although, of course, there are plenty of other keyboards available from other manufacturers, which we review here as well.
The smaller Magic Keyboard can be expensive, but its elegant slimline design started a trend for 'low-profile' keyboards that many other manufacturers now follow too.
The aluminium body does feel quite sturdy, but the slimline design means that the keys don't 'travel' very well, so speedy typists might prefer a larger keyboard that is actually designed to do some proper work rather than just looking pretty.
The Space Bar and the little set of navigation keys in the lower-right corner of the keyboard are also rather small and fiddly. To be fair, though, the compact little keyboard does squeeze in quite a few useful features, with the top row of Function keys providing controls for brightness, volume and playing music.
The Magic Keyboard works as a standard Bluetooth keyboard, and Apple says that its rechargeable battery will last for about a month at a time. Like all Apple keyboards it has a Lightning port for charging, but the latest version of the Magic Keyboard – also updated in Summer 2021 – now includes a USB-C-to-Lightning cable, so make sure you don't buy an older model from other online stores, which might still have a USB-A cable instead (unless, of course, you've got an old Mac that only has USB-A connectors).
And, of course, there's the larger version, called the Magic Keyboard with Numeric Keypad. This is also quite expensive but adds a numeric keypad for people who need to do a bit of serious number crunching every now and then. This keyboard also has a larger set of navigation keys, which is very useful for scrolling through long documents or web pages, and an additional set of navigation keys that allow you to quickly jump to the top or bottom of a document.
The larger keyboard layout also means that there's room for some additional Function keys too, going right up to F19 (rather than F12 for the smaller Magic Keyboard). It's a shame, though, that the options in the macOS for programming your own keyboard shortcuts are fairly limited, so power users might prefer to use a third-party utility such as USB OverDrive or HotKey App, to make full use of these extra Function keys. This larger keyboard has the same month-long battery life as the smaller Magic Keyboard, although it's showing its age a little as (surprisingly) its charging cable still has a USB-A connector.
You can find the best prices for Apple Keyboards and Mice in our monthly deals round-up.
Read our full
Apple Magic Keyboard review
5. Logitech Ergo K860 – Best For Ergonomics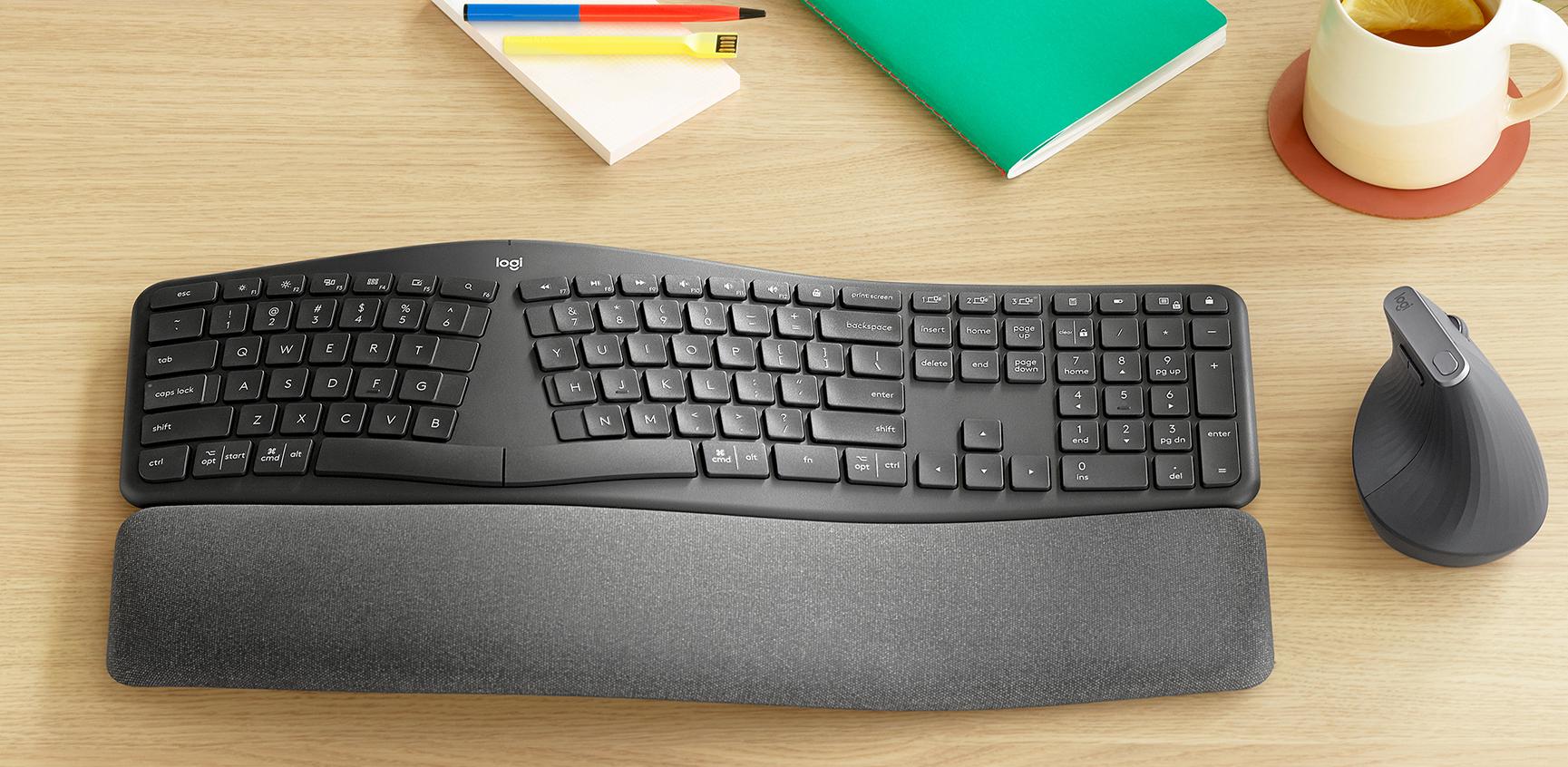 Pros
Ergonomic split keyboard layout
Command and Option keys are labelled as such
Function keys work as they do in Apple keyboards
Cons
Doesn't have a rechargeable battery
There are several companies that make ergonomic keyboards, but Logitech's K860 is one of the few that fully supports the Mac with its Options app.
The key feature of the K860 is, of course, its split keyboard layout, which splits the QWERTY section in half and positions the two halves at an angle that is designed to reduce strain on the wrists and fore-arms. You can adjust the legs to change the tilt of the keyboard in order to find a comfortable typing position, and there's a padded wrist-rest included as well, so the K860 is a really good option for people who spend a lot of time working on their keyboard and want to avoid repetitive strain injury (RSI).
The K860 is a sturdily built, full-size keyboard with a large numeric keypad and additional sets of navigation and cursor keys. Like most Logitech keyboards the K860 is designed for both Macs and PCs, with the Command and Options keys clearly labeled (although you'll still need to select the correct functions for these keys using the Keyboard Preferences panel on your Mac).
The top row of Function keys work automatically with Macs for adjusting brightness, volume and other settings. There's also a set of buttons that allow you to pair the keyboard with three different devices and switch between them as required. You can even use the Options app to reprogram the Function keys to perform different tasks as well.
You can pair your Mac with the K860 using either Bluetooth or the wireless adaptor that's included in the box (this has a USB-A connector, but worked fine when I used an adaptor to connect it to my USB-C MacBook). It's a bit odd that the K860 doesn't have its own rechargeable battery, but Logitech says that the two AAA batteries included with it should last for a full two years.
6. Penclic KB3 – Most Comfortable Keyboard
Pros
Comfortable and ergonomic design
Wireless with rechargeable batteries
Works with iOS
Cons
Uses Micro-USB for charging
Penclic is a Swedish accessory company with a specific focus on products that help reduce repetitive strain injury and other desk-related ailments.
That means the KB3 has a firm focus on ergonomics, with a light key travel, comfortable spacing, full-sized keys, and a subtle gradient to the aluminium body.
The KB3 is a similar size and style to Apple's own Magic Keyboard, but opts for a more colourful design, the black body broken by orange and teal highlights to illustrate the various secondary key functions.
Like the Magic Keyboard it's wireless and rechargeable – though it uses Micro-USB – and is compatible with iOS. It also has the added benefit of working with Windows and Android in case you ever need to break out of the Apple ecosystem.
7. Logickeyboard Final Cut Pro X Keyboard – Best For Video Editors
Pros
Features FCP editing commands printed on the relevant keys
Keyboards are available for other apps such as Logic Pro X
Cons
Niche market – although it can be used as a standard keyboard
Video-editing programs such as Apple's Final Cut Pro X often use dozens of keyboard shortcuts to activate various editing tools and commands, and trying to remember all those shortcuts can be a real headache when you're trying to get your work done in a hurry.
Logickeyboard produces specialised keyboards designed for Final Cut and other creative applications. The basic design of the keyboard is very similar to Apple's own keyboards, with a slimline design and aluminium casing, and a handy pair of USB ports for plugging in a mouse and other devices.
It has all the same function keys as Apple's keyboards, so you can control iTunes or adjust the brightness and volume. And, of course, it can be used as an ordinary keyboard for typing in Microsoft Word and other programs, and there's a numeric keypad for data entry as well.
However, it also has the most important Final Cut editing commands printed on the relevant keys, and the keys themselves are colour-coded for quick access.
LogicKeyboard also makes similar keyboards for other apps, such as Apple's Logic Pro X and Adobe's After Effects.
8. Trust Torac – Best For Gaming
Cons
No Mac app, but no Windows app either
USB-A only
Primarily designed for PCs
Most gaming keyboards are festooned with glowing lights and other eye-catching features, but they generally require an app that will allow you to configure all those features properly. And, sadly, Apple's terrible record of ignoring gaming on the Mac means that few gaming companies bother to produce Mac versions of their apps.
Trust doesn't provide a Mac app for its Torac keyboard – but there's no Windows app either, as the keyboard simply provides a few standard functions and commands that are directly controlled by its built-in Function keys. And, at just £34.99, it's a bargain compared to most of its more expensive rivals, and affordable enough for general purpose use even if you're not a dedicated gamer.
Despite the low price, the Torac is sturdily built, so that it can take a pounding during long sessions of gaming. However, the smooth, quiet action of the keys is quite comfortable for typing, so you'll also be able to get some serious work done when you need to.
It's a standard USB keyboard, with a USB-A connector – so you'll need an adapter for Macs that only have USB-C – and the USB connection also provides power for the multi-coloured backlight effects. There's a special key that lets you switch between solid colours, or a slow pulsing light, while the Page Up/Down keys also allow you to adjust the brightness of the backlight.
The top row of Function keys includes controls for Play/Pause, and adjusting volume and brightness, and these work on a Mac simply by pressing the Fn key down by the Space bar (although this sits to the right of the Space bar, which is a little odd).
The Torac is primarily designed for PCs, so it has the standard Windows and Alt keys on the left of the Space bar, but it's easy to make these keys work like the Mac's Command and Option/Alt keys by using the Keyboard Preferences panel on the Mac.
However, there are a few other Function keys that don't work on a Mac, so if you want to have complete control over the Torac's controls then it might be worth investing in a third-party app such as USB Overdrive (usboverdrive.com) or the free Kotkeys App (on the Mac App Store).
9. BakkerElkhuizen UltraBoard 950 – Great For Use With Multiple Devices
Pros
Can pair with four separate devices, including iPad
Cons
Lightweight plastic design
MSRP:
$74.99 (for wired version)
BakkerElkhuizen makes a wide range of mice and keyboards, but the UltraBoard 950 is its best option for Mac users, and is a good alternative to Apple's compact Magic Keyboard.
This little Bluetooth keyboard is very versatile too, as it can pair with four separate devices, and can switch between Mac and Windows layouts for the Command and Options keys just by using a simple keyboard shortcut, I had no trouble pairing it with my office Mac, a Windows laptop, and even my iPad too.
The compact keyboard doesn't have a separate numeric keypad, but it can use the Function key to assign the numbers 1-9 to a group of letter keys on the QWERTY section of the keyboard so that you can do some light number-crunching if you need to (Bakker does make a larger keyboard called the UltraBoard 960, which has a proper numeric keypad, costing around £70/$72, but this is only available as a wired USB keyboard with no Bluetooth).
All the top row of Function keys on the UltraBoard worked with my Mac, for controlling brightness, volume and media playback. The extra set of four additional Control keys on the top-left corner didn't seem to work with my Mac, though, and the UltraBoard doesn't provide a Mac app for programming these keys, so you'll need to use a utility such as USB OverDrive if you want to use these extra keys as well.
Battery life is similar to Apple's Magic Keyboard, at around 4.5 weeks. Our only complaint is that although the keys travel quite well and feel comfortable for typing, the lightweight plastic design of the keyboard doesn't feel as sturdy as some of its rivals, so more heavy-handed typists might prefer something a little more solidly built.